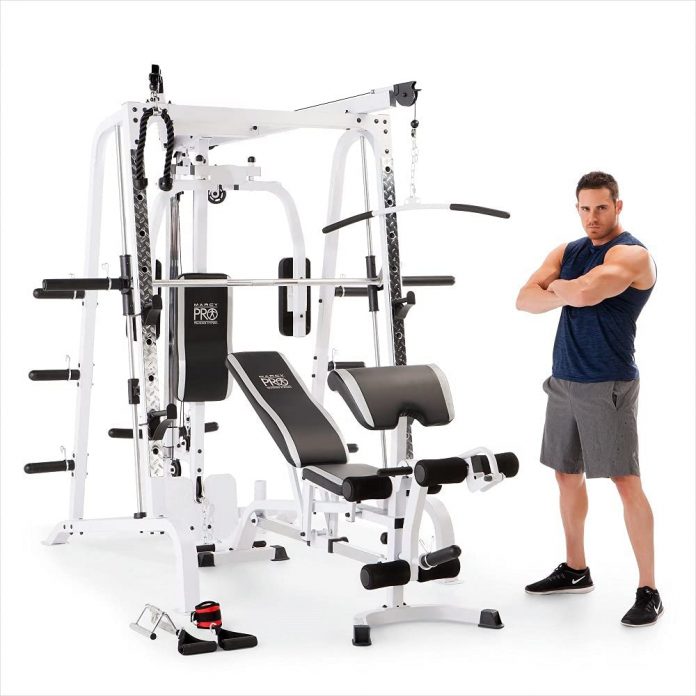 Smith machines could be found in gyms all over the world, both in commercial and residential settings. And there's a reason behind it. This tried-and-true piece of equipment may be utilized for everything from devising full-body exercises to acting as a spotter while lifting alone. The hooks allow you to re-rack the bar at different spots, which is very beneficial if you don't have a partner to spot you on leg or chest day.
Because smith machines have seen a lot of innovation, we looked at a variety of manufacturers — both well-known and lesser-known — to discover the finest smith machines for a variety of uses. When compared to buying a couple of dumbbells and kettlebells, these devices aren't inexpensive. However, smith machines provide more options and control than free weights if you're looking for an all-in-one solution that can virtually handle whatever training you put at it.
Marcy Smith's Cage Workout Machine 
The Marcy MD 1090-G Smith Machine With Lat Pulldown is a terrific whole body training home gym system with a built-in smith machine as one of its key features.
The Marcy Workout Cage's attraction, on the other hand, is that it is a very adaptable training machine that caters to gym users who want a little bit of everything in their home gym equipment. This option also features high and low cable pulleys for cable crossover type workouts, a barbell rack for classic free weight lifts, a pec deck station, and a bench that supports both upper and lower body isolation exercises, in addition to the smith function.
Buy Marcy Smith Cage Workout Machine
Force USA G3 Monster
Buy FORCE USA Monster G3 Power Rack
The 1090-G G3 Smith Machine With Lat Pulldown is a higher-end variant of the 1090-G. Force USA followed Marcy's lead in creating a flexible piece of home gym equipment that combined numerous aspects of a commercial gym into a single combination smith machine for this model.
This unit's vertical smith machine can handle up to 772 pounds and has 14 safety bar lockout configurations.
Other features include:
A Power Rack Station with Westside hole spacing, a 992-pound weight capacity, and long safety bars.

Pull-up / Chin-up Bar with Plated Loaded Dual Pulley Functional Trainer
BodySolid Powerline PSM144x 
This Body-Solid PSM144x Smith Machine With Lat Pulldown is a low-cost, no-frills solution with the ability to upgrade to a full-fledged home gym system through certain dealers. Its bar weighs 32 pounds and can support up to 400 pounds at a 0-degree angle. There are 14 distinct lockout positions available with this feature.
Buy Bodysolid Powerline PSM144x
The appeal of this product is that it is both inexpensive and small. As a result, customers with limited space or funds can select the basic option and then upgrade later. You may also opt to add a lat pulldown or a pec deck accessory to the smith machine later.
Powerline's 10 Year Warranty is included with the bar, which uses Standard Sized Plates (1″ Hole Space).
Body-Solid GS348Q 
Body-Solid is a well-known manufacturer of high-quality home gym equipment. The GS348Q is another excellent option for use in a home gym. The smith machine's specifications state that it includes a 7-degree angled movement and a whopping 20 lockout positions. The BS348Q's bar weighs 25 pounds.
Buy Body-Solid GS348Q Lat Pulldown Machine
The smith machine also has the capability of a half rack, which makes it a unique alternative. 14 barbell catches and safety bars are located on the frame's exterior edge for free-weight barbell activities. This additional capability is ideal for home gym owners who want to combine barbell and smith machine training.
In GS348Q Bodysolid lat pulldown, six Olympic Weight Pegs and a barbell vertical storage post are included. Upgrades to a Lat Pulldown Attachment and a Pull Up Bar are available.
Valor Fitness BE-11 Smith Machine
The BE-11 from Valor Fitness is another basic and small option that is similar in size and price to the Body-Solid PSM144x. One noticeable distinction is that this model has a 3-degree smith angle. The bar weighs 36 pounds and employs Olympic plates, making it somewhat heavier than the PSM144x. The BE-11 has a 500-pound weight capacity and features the standard 14 bar lockout locations.
Buy Valor Fitness BE-11 Smith Machine
This option includes four Olympic plate storage pegs (2″ Weighted Plates)
The BE-11, unlike the PSM144x, does not offer a lot of upgrade options, however, it does have the option of adding a Counter Balance Kit.
Marcy Smith Cage Machine SM-4008
Marcy also offers this type as a home gym alternative. The Marcy MD-1090G has many of the same characteristics.
Buy Marcy Smith Cage Machine SM-4008
Marcy's smith cage is one of the greatest all-around gym smith machines that are well worth the money. It has a bench, footplate, two handles, a leg developer, rows, and curl bars, allowing it to be used for a variety of workouts.
The adjustable stops on the press bars allow for safe and effective exercises. The upper pulley system is self-contained and can accommodate cable crossing. The leg developer lets you focus on your lower body muscles efficiently, while the pull bar allows you to work on your upper body muscles easily.
This option comes with an adjustable bench and back pad, allowing you to modify the intensity of your workouts.
Ft2 Inspire Fitness Machine
With the Ft2, Inspire Fitness designed a very unique product. This is a high-end functional trainer with a lot of features that can be used to feed a range of activities in a home gym. Two sets of 165-pound weighted stacks with a 2:1 resistance ratio are included in this functional trainer. All forms of pulley-type workouts, such as the cable crossover and triceps rope pushdown, are powered by the weighted stack. The same weighted stack is also utilized to power a vertical sliding bar for smith exercises, obviating the requirement for weighted plates on this machine.
Buy Inspire Ft2 Inspire Functional Trainer
Attachments:
Triceps Rope, (2) D Handles, Straight Bar, EZ Curl Bar, Ankle Strap, Inspire Fitness Bench
Smith Machine by Titan Fitness
The Smith machine from Titan is a mid-tiered alternative that looks a lot like the Valor Fitness BE-11. The maximum weight capacity of this item is 600 pounds. The Titan option, on the other hand, lacks the amount of bar lock-out places. The Titan has just eight lockout locations, which are located in the center of the frame, whereas most other alternatives have 14 or more.
Buy Titan Fitness Smith Machine
Olympic-sized plates are used. The purchase includes counterbalances and storage pegs.