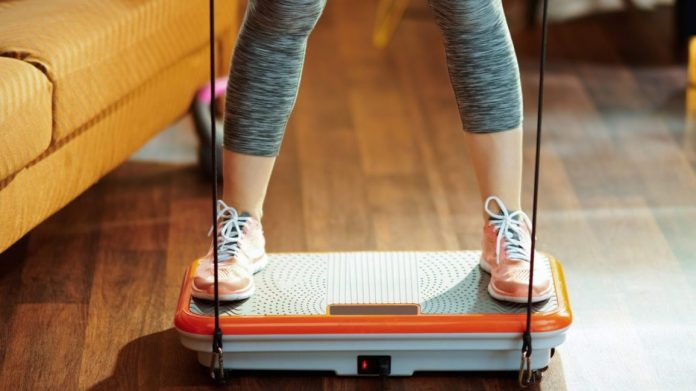 Aging is a normal process in which our bodies eventually accept to slow down our daily routines. We must accept the truth of aging and tag along with it, whether in our daily lives or our training sessions.
It does not imply that one should begin to think of themselves as weak and fragile. Thankfully, the whole body vibration workout tunes in with your energy to keep you fit, healthy, and joyful throughout the day.
First, let's define what a whole-body vibration workout is, and then let's learn how to do it.
What Is Whole-Body Vibration Machine?
The whole body vibration machine is based on the idea of releasing energy through vibrations. The same energy assists your body in performing its reflexes.
Simply sitting, standing, or laying might give you the sensation of a training session because this activity helps to stretch and contract muscles. The external stimulus is supposed to be repeated around 3,000 times in 60 seconds!
HOW Does Whole-Body Vibration Machines WORK?
Let's look at the primary and appropriate exercises after looking at the entire body vibration machine's agenda.
You should be aware that the whole body vibration machine is an optional addition to your gym workout. The only difference is that it is beneficial for individuals who have been recommended to reduce the intensity of their workout.
So, using your body weight as a simple method, try easy and basic exercises appropriate for your level of intensity. Squats, bending exercises, stretches, push-ups, sit-ups, dips, planks, lunges, crunches, and other exercises are a few of the options.
You can mix and match the exercises and try out different combinations now that you know what works for your body.
Whole-Body Vibration Exercise Works Best For?
You may have already gotten a sense of how the whole body vibration exercise is structured.
The idea is to keep the exercise on the gentle side while still being quite effective. As a result, this type of workout complements the enthusiastic spirit of maintaining our bodies fit, happy, and healthy.
This simple workout can help those with injuries, disabilities, and senior citizens improve their health and fitness.
Pros And Cons Of The Whole Body Vibration Exercise Machine
Let's start with some positivity and spread some effective vibes around.
Benefits of Whole-Body Vibration Exercise
List of benefits of using Whole-Body Vibration machines for exercising.
MIND
Because the activity is designed to complement a "lazy" lifestyle, it is possible to have a therapeutic session simply by being passively present. You don't have to use all of your strength to lift, hop, or churn! All you have to do is sit, stand, or lay down and let the machine do the rest!
A monotonous and robotic lifestyle is destined to increase stress levels and make a person feel depressed and uninterested. As a result, it aids in the synchronization of your work-life balance, reduces stress, and improves motion.
BODY
The machine does its job by toning your muscles and physique, even though you are only contributing passively to your fitness quotient. This fantastic exercise helps to enhance bone density and, as a result, strengthens your entire core.
MUSCLE TONE
It assists you in achieving your health goals by burning excess fat and toning your muscles. You can ace your style game with a toned, tight, and gorgeous figure, as this machine also tightens your muscle groups.
People with arthritis, Parkinson's disease, and multiple sclerosis will benefit significantly from the equipment.
Drawbacks of Whole-Body Vibration Exercise
With all of these positive aspects in mind, one must also consider the negative factors.
Whole-Body Vibration Exercise are Not recommended for:
Although the entire body vibration machine is amazing, with so many modern and outstanding functions, it does have some drawbacks.
It is not suggested for those with a history of operations, migraines, pregnancy, acute hernia, cardiovascular disease, diabetes, epilepsy, or any other neurological ailment, as well as many other sensitive conditions.
Limitations of Whole-Body Vibration Machines
Because this type of workout can become addictive, doing it repeatedly can injure the spine over time. As a result, be sure to limit your use to 15-20 minutes and adhere to the rules.
Combine this type of exercise with other forms of exercise such as jogging, Zumba, Yoga, walking, swimming, and so on.
Conclusion
All individuals with ailments and senior individuals gain a fresh enthusiasm from the complete body vibration workout. This incredible piece of equipment may be used to begin or end a workout.
However, it is necessary to set a time restriction for the same, as it is detrimental. Rather than relishing the entire workout by simply lying down, try combining different types of exercise to obtain a variety of benefits. Take precautions. Keep yourself safe.