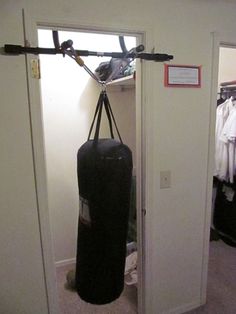 Many people complain that they don't have space in their home gyms. They ask for alternative punching bag options that can help them stay active through boxing. So, in this article we will discuss how doorway punching bags are going to fit in your routine.
Let's get started.
The Best Doorway Punching Bags You Can Buy:
Your doorway punching bags are small and soundless. So make sure that you either buy one from a reputable person or you create your own.
What If I Don't Have Space In My Room?
For all those who don't have space in home to hang heavy punching bags, the best option for them is to use a doorway punching bag. The purpose we will use doorway punching bag is because they are the best way to carry on with boxing.
Who Can Use Doorway Punching bags?
The doorway punching bags are great for all those who are using the punching bags for the first time, or those who just want to practice punches with light exercises. It is also great for those who want to do cardio exercises at home but don't have a proper punching bag. They can now get a doorway punching bag to do the same.
For cardio practice
For daily workout
For anger management
For venting out frustration
For fighting practice and reflex improvement
Best Doorway Punching Bags You Can Choose From
The fact is that there are not so many products we can choose from. Here is the short reviews of the best two.
Quiet punching is one apartment friendly punching bag that can help you keep a clean noiseless room. You can use this punching bag with any door frame because it comes in 28 inches to 36 inches width.
The installation of this punching bag is quite easy and you can install it without any professional help. The bag comes with a proper documentation guide to improve with the quiet punching bag installation.
It also comes with four hooks that can be installed and uninstalled from the doorframe within minutes.
Benefits:
Neighbors will not get disturbed
Suitable for daily workout
Helps vent out anger and frustration
Can be hit with bare hands. No gloves necessary
Can improve speed, accuracy, and muscle reflexes
Can be used for jabs, hooks, and crosses easily
So, the main question now:
Is it worth the purchase? Yes it is. If you live in a flat and don't have much space available for boxing practice, then this quiet punching bag can do wonders for you. It is not as good as a real heavy bag, but a great home boxing equipment to practice.
Learn More About Quiet Punching Bag
Second option is to use a pull up bar to hang your punching bag. We call this the gorilla punching bag stand because it is similar to the grip of a gorilla. This pullup bar door frame is of superior quality so that it can easily handle maximum capacity of weight. Currently, the gorilla doorframe pull up bar can only handle weight capacity of 300lbs.
Similar to the quiet punching bag, the gorilla punching bag also comes with a flexible size between 24 inches and 36 inches. You can bolt it easily within minutes with the self-explanatory instructions provided with the equipment.
The gorilla punchcing bag station can fit any doorframe size. You can keep the boxing bag separate after you are done with punching. The punching bag needs to be bought separately because it isn't available with the punching bag.
The gorilla punching bag is also great for those who have space in their house but are low on budget. In comparison with the punching bag towers, the pull up bar punching bag hanger is more cost effective.
Perfect for quick punching
Saves space and easy to use
Limit of 120lbs for punching bags and 300lbs for humans
Strong quality with flexible handle between 24 inches and 36 inches
Learn More Gorilla Doorway Punching Bag
Verdict
The doorway punching bags that we mentioned are of superior quality and come at a cheap price. If you are someone who is looking to save money and doesn't have space at home, they can easily get these workout punching bags.
Next question: Which is better of the two? Well, both are perfect! There is no right and wrong when you think of a doorway pullup bar. You only think about your budget, your requirements, and the features of the doorway punching bag handles.
For heavy bags: Gorilla doorway pullup bar is great.
For lightweight punching: Quiet punching bag is a good option