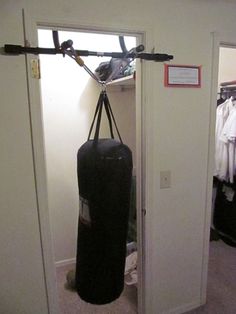 [Updated] In this article, you will learn how to make a cheap DIY homemade punching bag out of a pillowcase, rags and clothes, or sand while using a pillow cover or a duffel bag as the outer layer.
How to Make a DIY Punching Bag at Home?
With the increasing popularity of boxing bags, their prices have skyrocketed within a few months. However, due to their numerous advantages, it is worthwhile to have one at your place. Whether, it is for a workout session or to be used as a therapeutic punching bag, it is extremely beneficial.
In such a scenario, it would be economical to make a DIY homemade punch bag with pillows and some other household items that don't inflate your budget.
To get started with homemade punching bag with home supplies, you will need a number of items other than the pillows to make the home-made heavy bags. The list of items needed is given below:
Pillow cases (Optional)
Pillows
Ropes
Sand/Sawdust (Optional)
Old Duffel bag or a similar one
Duct tape
Hanging hook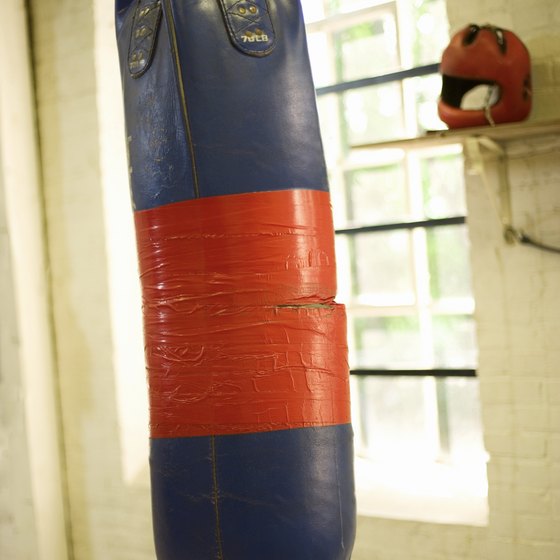 Once you have all these items, get down to work immediately to build your first cheap homemade punching bag.
Get Heavy Boxing Bags for Home Gym
STEP 1: Turn the Duffel Bag Inside Out
To begin with, turn the duffel bag inside out and examine it thoroughly to see if all the seams are welted well. Make sure there are no weak spots.
STEP 2: Fill the Bag with Pillow or Clothes/Rags or Even Sand
After you are done with examining, start filling the homemade punching bag with pillows and other clothes or rags. Alternatively, you can fill the pillow cases with sand. Use duct tape to close the cases securely and place them evenly in the duffel bag. Try packing the contents as densely as possible. Compress the pillows by stamping on them. Ideally, you should keep on filling the bag until you are 12 inches from the top.
Ideally, people prefer to fill a punching bag with sand because it mimics the human body.
STEP 3: Tie a Rope to the top-end
Shake the duffel bag from side to side to even out the pillows. Once done, close the bag and tie the rope around it tightly to make it as a homemade punching bag. Make sure to loop the rope around the duffel bag a few times. Make three or four turns around the bag and secure it with a knot. Also, a part of rope should be left hanging to enable you to hang the punching bag.
STEP 4: Use duct tape to wrap the bag
Another important step is to use the duct tape and wrap it around the bag horizontally. To ensure that none of the contents of the punching bag are visible, wrap the duct tape in a way that the loops of tape are overlapping each other. Continue to do so, circling the top, middle and bottom, until fully covered.
STEP 5: Use the End Ropes to Hang
Now you are almost done. Just use the end of the ropes to hang the homemade punching bag to the hanging hook or any other suitable surface. Alternatively, you can use this as a standing heavy bag by attaching it to a stand. There are many homemade heavy bag anchors available that you can use to keep the heavy bag at one place. This will help reduce its movement and you can punch it with more strength.
OR
Use a Custom Homemade Punching Bag Holder
There are many homemade punching bag holders that you can use to hang the heavy bag. These can be affixed with the wall or can be bolted to the ceiling beam. It also helps you avoid any major boxing bag mistakes during workout.
We have written extensively on this topic and found some exclusive homemade punching bag hangers that you can use.
---
Fillings for Homemade Punching Bag

Source: Youtube
Get Heavy Punching Bags for Home Gym
You can use pillow fillings for your punching bag. But for most fitness enthusiasts, pillow fillings are too light on the hands. So, here are a few alternatives of Home-made punching bag fillings:
Wood Dust for Homemade Punching Bag
Wood Dust are wood particles that generate when wood is cut. These are small fine particles and almost the same size as of sand particles. They are perfect for boxing bags because they are small and hard. This means you can fill the punching bag with wood dust (sawdust) to make your fitness punch bag stiff and taut.
Sand for Homemade Boxing Slip Bags
Sand is mostly used in boxing bags because the particles are solid and don't hurt the fingers while punching. Moreover, sand mimics closely the density of human skin. So, using sand for homemade punching bags is another great way to exercise punching.
Rags and Clothes
Rags and clothes are another way to fill a homemade punching bag. The rags and clothes are heavy and fill the heavy bag completely. This means users won't have to get wood dust or sand to fill the punching bags because rags are readily available.
Try a combo for Homemade Boxing Slip Bag?
Or, you can try a combo of two: rags and sand or wood dust and sand.
First add rags and clothes to fill the punching bag and then add sand or wood dust to inflate it further.
This will make the punch bag tough and sturdy.
Now it is ready for expert boxers.
That's it. This is how to make a punching bag with home supplies. And, if you come across a problem, simply comment here.
---
DIY Custom Homemade Heavy Punching Bag 
You must be quite familiar with the boxing bags if you are a boxer or you just practice boxing for fitness purposes. Punching bags, sometimes called heavy bags are usually found in the fitness clubs and boxing training facilities all over the globe. The fitness enthusiasts and boxers around the world use them as a cardiovascular and strength-gaining workout. A combination of quick kicking and punching requires significant focus and technique to enhance the performance results.
Source: Fitnessmagazine.com
Heavy Homemade Punching Bag
However, the weight of your boxing bag matters a lot in this regard. While practicing punching, you must be aware that your bag is heavier to an extent that is advantageous for you. Sometimes, you require a heavier boxing bag for challenging your strength and fitness level. But, before you consider making changes to the bag, keep in mind your objectives and existing level of fitness. If you think it's weight is not up to the requirement, here are some steps you can take to make it heavier.
Tutorial to Create Your Own Heavy Homemade Punching Bag
Take a scissor and remove any straps and hooks from your heavy bag.

Make sure to open one end of the heavy bag in order to expose the material stuffed inside the bag.

Now, it comes to filling your boxing bag. Fill it with a closed-cell foam of 1 inch and then pack it in a tight fashion. The closed-cell foam would maintain the shape of the bag and deliver maximum amount of weight.

Now measure the weight of your punching bag. If you think that the weight is still low to your liking, add more closed-cell foam. Keep on adding it until you get the desired weight of the bag. In case you feel that the weight has increased the maximum requirement, you can simply remove the closed-cell foam to achieve the target weight.

You have now come to closing the heavy bag. In order to precisely close your boxing bag, there are two steps you can take. You can either duct-tape the two layers together or sew them to close it perfectly. The duct tape would be extremely useful in increasing the lifespan of your punch bag. As far as straps and hooks are concerned, you can reuse them if possible.

After you have closed the punching bag, it is necessary to examine whether it has closed accurately or not. You can test the bag by inflicting string kicks and punches. If you observe the overall feel of striking kicks and punches on your heavy bag, you can figure out if some essential adjustments are needed to be made to the bag. In addition, if you do need to increase or lessen the weight of your boxing bag in future, you can repeat the process.
Get Heavy Punching Bags for Home Gym
---
Build Your Custom Homemade Punching Bag Stand 
Large punching bags need a dedicated stand. Or, you can suspend them in the air so that they move freely. But if your house doesn't have a heavy bag stand, you will have to buy one.
Buying a boxiing bag stand can be costly so in this article we will discuss how to build a boxing bag stand that is cost-effective and takes less time and effort.
But before we focus on building a boxing bag stand, let's discuss a few options that we have to build a fitness bag stand at home.
1.      Use a Pull-up bar as a punching bag stand
A punching bag can also be hanged from a pull up bar. There are many types of pull up bars and if you have one in your house, then you don't need a punching bag stand. Simply use the pull up bar as a way to hang your punch bag. It will not only work great but you can take it off or put if back when needed. A pullup bar heavy bag serves both the purposes i.e. pullups and pushups exercises and for use as a heavy bag stand.
As the pullup bar can easily handle your weight, you can use it for hanging heavy punching bags to the custom stand as well.
2.      Use the Fan holder as punching bag stand
Almost all houses have a hook in the ceiling to be used as the fan holder. If you have a room-sized gym in your house, then you can use the fan holder as a punching bag stand. These holders can easily lift 100lbs of weight because of their strength and rigidity and as they are hooked with the beam of the house.
If the boxing bag doesn't need to be moved, then using a fan holder as a heavy bag stand is a good option.
3.     Create Your Own Punching Bag Stand for Home
You can also create your own heavy bag stand with iron pipes and welding machine. In fact,  Howcast has a complete video on how you can easily create your own home made punching bag stand.
Video link: 
You will need six pipes of 4-6 feet each and one pipe of 8 feet.
Make sure that all pipes are at least 1 inch in diameter.
Now, join the four pipes at the bottom end in a cross shape.
Next, join the fifth pipe i.e 8 feet long, to the top of the cross shaped- pipe section.
Now, join two remaining pipes to the top of the punching bag horizontally. So that they both make a 90 degree angle with the vertical pipe.
Make sure that the top pipes are joined in a T shape position with the vertical pipe.
For more information about how to get this done, is by watching the Howcast 'Create your own punching bag stand' video.
4. Use a Hook for Punching Bag Stand
We have already discussed this one before. You don't have to buy any additional equipment. Simply buy a punching bag hook, or create one for yourself using pipes. Now, hang your heavy bag on these hooks. Just make sure that you have carefully fastened the hook to the hanger otherwise it will fall off sooner or later.
Here is a complete video about how to fasten the punching bag with the hanger.
Types of Punching Bags You Can Use with Stand
Here is a list of boxing bags that you can use with a DIY punching bag stand in your home.
Regular punching bag
MMA bag
Speed ball bag
Full-sized heavy bag
In short, you can hang all types of boxing bags with a stand except the torso heavy bag because it isn't made that way.
That's it.
Hope you now understand how to create or build your own punching bag at home with minimum resources.
Learn how to shorten Heavy Bag Straps at Home In Our Other Article!