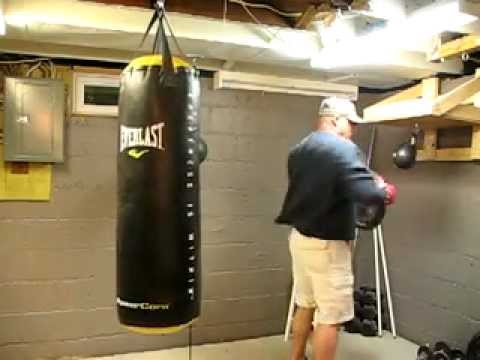 While searching for the best Muai Thai punching bags, you must have gone through the confusion of which punching bag to choose. There are numerous punching bags available in the market. Most of these bags are made for boxing because they are only three feet tall. Everlast and Title are two punching bag makers that are known for their home punching bags. But when it comes to Muai Thai, the design of the punching bag completely changes.
For starters, the punching bags for Muai Thai and kick boxing are not like your regular bags. They are around six feet in height because Muai thai trainees need to kick and punch them. Unlike the other punching bags, the muai thai punching bags are perfect for all those who don't have a partner or a second person to perfect their fighting skills. Third, these bags are heavy. I mean like really heavy. A single bag will be around 130lbs or around 60KGs. This is not the normal weight of a punching bag.
But it is because of this weight capacity that the people can easily use these punching bags for muai thai and MMA practice.
In this post, we will be discussing the tips and tricks to buy a Muai Thai punching bag for home gym. While you may not agree completely with the post, we all have our point of views. It is better that we tolerate and hear each other instead of killing each other when it comes to fighting. That is exactly what MMA and global institute of martial arts have taught us.
Features of MMA punching bags
–        Should be Strong
–        Should be Rough and tough
–        Should Come with warranty
–        Should be heavy enough to take hits
–        Should be at least 5 ft tall
While searching for a Muai Thai punching bag, make sure that you search for all these aspects. In most cases, the features of the boxing bag are written on the website. So, if you are buying the bag online, make sure to check the description.
 CHECK PRICE OF MUAY THAI PUNCHING BAGS
Muai Thai Punching Bag Quality
Apart from the physical features, the Muai Thai puncing bag should have a good quality material. Most punching bags are made of leather. But since leather is expensive, companies use a mix of polythene and vinyl for punching bag. Vinyl is also a great material and saves from wear and tear and from sharp objects. Moreover, because of the excessive weight of punching bags, you can use them without resistance.
Weight of Muai Thai Punching Bags
A decent quality muai thai punching bag for home gym can hold around 130 lbs of weight on an average. But you can fill it up to 200lbs – because the vinyl is powerful and can hold a lot of weight.
Note: We have not tested that Muai Thai punching bags can hold 200lbs. try it at your own risk.
 CHECK PRICE OF MUAY THAI PUNCHING BAGS
Features of Good Muay Thai Punching Bags
We know that it is hard to find a decent punching bag for home gym. So, we decided to fo the heavy lifting for you. Here is a list of the usual features that every Muay Thai punching bag should have.
1. Better Quality of Material
Most MMA punching bags usually come with good quality vinyl. These are strong, sturdy, and made of neatly stitched material. These punching bags are usually water proof. But you need to make sure that they are that way by visiting the official website of the makers. The unique that these punching bags provide to the user is totally worth it.
Check out the stitching of this Ringside punching bag
2. 6ft or 12lbs and More
Always aim for Muay thai punching bags that are at least 6ft in height. These punching bags usually have a 12 inch chain with hooks at the top end. These are used through the punching bag buckles so you can rest assured about them.
The height of 6ft is is excellent for Muay Thai punching bag. Make sure that the straps are 4 layer maximum strength so that you can adjust the length accordingly without the need of additional chains.
Finally, make sure that the weight is 130 pounds offered – that can be increased to at least 200lbs. Most muay thai boxers would want heavy punching bags so that they can train easily. Lightweight punching bags are simply not doable for many.
 CHECK PRICE OF MUAY THAI PUNCHING BAGS
3. Comes with Warranty
Finally, these Muay thai punching bags are not cheap. So, it would be a waste if you get a punching bag that doesn't even come with a warranty. A punching bag should be availale with at least 2 years of warranty. This is enough to keep your bag intact and keep you from most punching bag repair and maintenance charges.
In fact, after two years you can easily get a new one for the same cost or by selling this one. But, by getting a warranty, you virtually keep yourself safe from many quality issues of muai thai boxing bags.
Three Muay Thai Punching Bag Drills for Beginners
Here is a list of three basic muay thai punching bag drill that you should know about. These three drills are perfect for anyone who is looking for, then these are the punching bad drills to know.
Muay Thai Beginner Drills for Punching Bags
First and the most simple Muay thai beginner drill is to start punching and hitting the bag just to get a feel of it. The below video on muay thai basic skills will show you a combination of drills that you can try at home.
Muay Thai Bag Punching Bag Workouts
If you are an advanced Muai thai practitioner but still want to polish your skills then this muay thai bag workout. It consists of kicks, punches, and combos of both. There are around 5 different muay thai workouts – all to be performed with the punching bag. Check out this video to know more.
Combos for Muay Thai Punching Bag Boxing
The following tutorial is about combos of muay thai and martial arts. You can use these combos while shadow boxing or while playing on a punching bag. This workout is perfect for honing your skills and improving your self-defense.
That's it. These are some of the best muay thai punching bag workouts that you can easily do at home. So, if you don't have time, then just spare a few minutes on these workouts to get back in shape.
Should You Buy Muay Thai Punching Bags?
Now the BIG question. Should you get a Muay thai punching bag or should you use a free standing punching bag for your Muay thai and fighting practice? In most cases, people would prefer that you have a muay thai punching bag because it is built for fighters. The free standing punching bags are good but they aren't made for extreme fighters.
The hanging punching bag for muay thai will however keep you from all such maintenance issues. You can easily hang it or keep it in a corner if you desire.