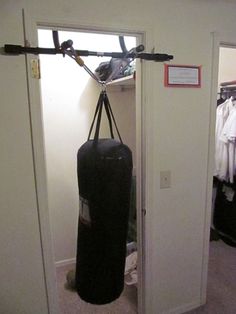 This guide will help you find a way about How to Hang Heavy Punching Bags In Apartment while decreasing the noise and bag's footprint
Unlike houses, apartments don't have a grand patio. Even the living lounge and porch area of are regular-room length. That's why thinking of setting a gym in an apartment is complex. Especially adding a punching bag to the ceiling, because the complexes roof-height is small and the person living in the portion above you will be able to feel the impact. Here are top three reasons why adding a punching bag to condo ceiling is a bad idea.
Sexy right?! Well that was it for the show. Keep reading about hanging punching bag in your condo because this girl ain't gonna do that!
Why Not Just Get Punching Bag Stand?!
How to Hang a Punching Bag in Apartment?
Learn how to hang a punching bag and avoid the mistakes that can let it down. There are numerous ways to add a punching bag but the safest ones are provided here.
[/su_note]
The video below shows how you can easily hang a punching bag in a home or apartment building with little problem. You may only need a drill machine and the punching bag hangers. The detailed process of how to hang the bag is provided in the video below.
Buy Punching Bags for Apartments
You need to make sure that the wood beam is at least four times the weight of the bag.
Get a wood beam that's four times the weight
Drill the wood beam and put the screw through it and close it tightly
Fill the punching bag with the matter of your choice such as wood dust, sand, old clothes and rags, water.
Add chains with swivels to the bag
Get a friend to lift the punching bag so that you can pass the swivel through the hanger
That's it. Your bag is properly hanged.
Hanging a Punching Bag in Apartment: What You Should Know
You need to make sure that the wood beam is strong enough to lift the weight of the punching bag in condos.
The bag shouldn't be hanged in a doorway.
Source: MelbourneAthleticClub
Hang Boxing Bag in Apartment with Pull up Bar
If you are thinking of buying a punching bag but don't have any place to hang it, don't worry. You can use a pull up bar to hang a punching bag easily. Here is how to do that.
Buy a punching bag that is around 30 to 50 kg in weight. A bag that is more than 50 kg can't be hanged with a single pull up bar.
[amazon_link asins='B077K7PF62′ template='ProductAd' store='sj0b3-20′ marketplace='US' link_id='972d7ff9-0bdf-4a91-a3a9-7df5e013c7a8′]
Use a hook or a carbiner to hang the punching bag. This way you can easily remove it from the pull up bar once you are done with punching.
If you don't want to remove the punching bag from the pull up bar, then make sure that the bar is placed in a corner. Otherwise, it will become an obstacle for other people.
Make sure that you don't hang the punching bag with a doorway pull up bar. Doorway pull up bars are weak and not properly fixed to the door frame. They can also damage the frame due to the vibrations caused by punching bag movement.
[amazon_link asins='B001151EJO' template='ProductGrid' store='sj0b3-20′ marketplace='US' link_id='7195a1e3-527c-4d6b-b8e6-85de139e1d73′]
Note: Hanging a punching bag from the pull up bar is one great way to get started with boxing faster. But make sure that your room, where you are going to hang the punching bag, has enough space for the punching bag and the bar.
---
Things Your Need: Hang Doorway Boxing Bag in Condos
Things to buy for Wall-mount punching bags
Things to buy for Free Standing Apartment Punching Bag
Why Hanging Heavy Punching Bag In Condos is a Bad Idea?
A heavy boxing bag is too heavy for apartment ceiling. That's why it shouldn't be used for flats, condos, or low ceiling townhouses. Homes, on the other hand, come with strong ceiling material. They can easily withstand 100 kilo weight.
Here are a few reasons why heavy punching bags are a bad idea for apartments and flats.
Unlike a house, where you have a separate room for punching and boxing, inside an apartment the same is actually not possible because of the limited size. You will either hang it in your room, or the lounge or the balcony. In the end, the punching bag will make the room messy because it will be staying in the middle of the room at all hours of the day.
Friends won't stay longer
Unless your friends are too hyped about fitness like you, they aren't going to stay longer. After all, think how it will look when you invite your friends for dinner and your punching bag is hanging in the middle of the room – the cherry on top, it smells!
They will come in the way
And, as said earlier, what if you have a huge tray of cups in your hands and the hanging punching bag gets in your way? What will you do then? 'Watch the tray!' Ouch!
But there is a solution. You can still hang a punching bag in the apartment with small tinkering and twisting. Here is how to go about it.
[amazon_link asins='B00PKI8VEY' template='ProductAd' store='sj0b3-20′ marketplace='US' link_id='69162219-2511-11e8-b260-d183af3e84b1′]
Buy Light-Weight Punching Bags for Apartments
---
Punching Bag Quality for Apartments: How to Avoid Them
Make sure that the punching bag you tend to buy is of high quality and uses polyester-made outer layer. This way it won't make noise when you hit it. The low-noise bags are great for apartments because neighbors are not disturbed by their presence.
The punching bags are of multiple types and the impact resistant punching bags should be your first choice if you are buying one for an apartment. Due to their ability of impact resistance, the bags are virtually noise-free. One good example of an impact resistant punching bag is of RDX Zero Impact G-Core Maya Hide punch bag
But as noise alone is not the problem in a condo, the weight hanging from the ceiling can also become a major hazard. That's why punching dummy bags of only low weight should be used. There are multiple low-weight bags available ranging from 3feet to 4feet. They usually weight between 30kgs to 40kgs when fully filled.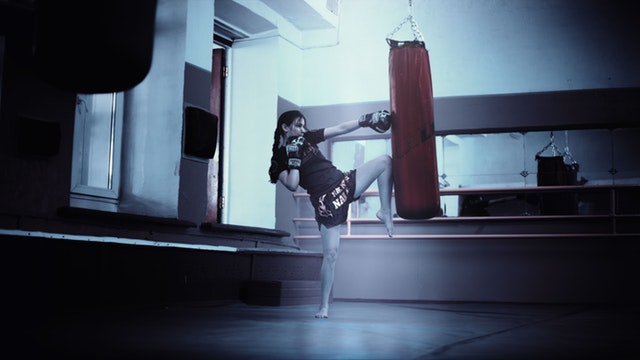 Best Punching Bags for Kick Boxing
Where to Hang a Boxing/Punching bag in Apartment?
This is the difficult part. The bag should be placed somewhere, where it doesn't become a hurdle for yourself or your neighbours.
We have provided a few ways that might suit you if you live in a small condos.
Doorway pull up bar for Hanging the Punching bag In Apartment
Though people use the doorway pullup bars for performing upper body and lat workouts but a few people only have an idea that these doorway pullup bars can also be a good fit for hanging small punching bags inside apartments.
You will need a doorway pullup bar of sturdy built and a hook that can be fixed to the pullup bar and a chain for hanging the punching bag. The chain may be available with the small-sized punching bag you buy.
Things to buy:
Use a Free-Standing Boxing Bags for Apartments
You can also go for a free standing punching bag instead because it doesn't take much space and is easier to move. The only problem with free standing punching bags is that you will need to put weight on it so it doesn't move while you kick it. Another thing to note is that the free standing punching bags are too large at around 7 feet. So, bringing them to your condo will be a problem, otherwise they are a pretty decent choice for apartments.
Why FreeStanding Punching Bags Are Good Idea?
Freestanding punching bags are not hanged by a ceiling so they don't damage the ceiling beams. They are also easier to move as you can easily move them to the corner of the room. So, in comparison with heavy punching bags, free standing punching bags are a better choice for users who live in apartments.
Read More About Free Standing Punching Bag Benefits
Should You Buy Free Standing Boxing Bag for Apartment?
You only need a good pair of gloves and a free standing punching bag for apartment to start your boxing workouts. It will be better if you can get a tutorial/guide/book/video series for your punching workouts.
Use a Wall-mount Boxing Bag 
The third way to add a punching bag in your apartment is through a wall-mount punching bag. The reason for using a wall-mount punching bag is that it is easier to use and the bag doesn't take too much space, nor it comes in the way of the residents. The user of the wall-mount punching bags can use them easily because they stay on the side and don't become a hurdle in daily activities.
Things to buy for Wall-mount Boxing bags
These are some of the best ways to hang a punching bag in an apartment. Through these ways, you will save more space, and the punching bag won't come in someone's way. Moreover, you will be able to use it at your will- No need to keep it hanging at all times. Further, as the punching bag is already of lower weight, you can easily use it in any way you want.
Buy Punching Bags for Apartments
Best Quiet Boxing Bags for Apartments
There is a great chance that if you live in a compact apartment, all that punching sound might be bothersome for your neighbors. Keeping that in mind, we have compiled a list of silent and quiet punching bags for condos that won't make much noise.
Quiet Punch Boxing Bag
Specially designed for apartments, the Quiet Punch is made out of soft cell foam and durable vinyl that keep the thuds mum. It provides great workouts and can be used for multiple training routines or as a simple stress buster. It is so strongly built that it can take a hard punch even without the boxing gloves.
Check Out How Quiet Punching Bag Looks
The Everlast Heavy Bag Kit
A full sized professional punching bag, the Everlast comes with an adjustable heavy bag chain, wrist wrap gloves and a ninety days limited warranty. The bag is made of vintage Nevatear and weighs almost 70 lbs.
Check Out How 70lbs Everlast Punching Bag Looks
Pro Impact Genuine Leather Speedbag
As the name suggests, it is made out of genuine leather for extreme durability. It offers a great cardiovascular workout well as stress relief. Its high-quality construction, welted seams, and latex bladder ensure it stays in shape even after intense usage. It is available in three sizes.
Check Out How Pro Impact Punching Bag Looks
For a punching bag that is affordable, easy to set up and provides fun workouts and stress release, you are sure to find something in this list that will suit your condo's needs.