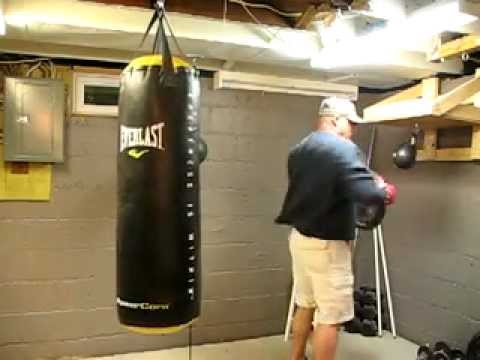 In this article, we will learn some of the best makeshift punching bags that you can use for training and home workouts.
Most of us don't have a punching bag available. Some don't have the money and some don't have the space to buy actual heavy punching bags.
So, the purpose of this article is to help them find an alternative to punching bag that they can use easily for boxing practice.
List of DIY Temporary Punching Bags
List of makeshift punching bags that you can use to start your home gym fitness routine easily.
Tires as Temporary Punching Bags
You will need punching bag gloves to use tires as punching bags but they work like a charm. Most tires are hard and rigid so they give the feel of human muscles. If you want a tough workout then the best way is to get tires as punching bags. You can get spare tires from any space tire shop for free. No need to go to even buy one because they are available everywhere in abundance.
Source: YouTube
Check Out More Punching Bags Online
Newspaper as temporary punching bags
This is a technique I learned in the Nat Geo series of Akshay Kumar. The series was about Kung Fu and most Shaolin monks use Newspaper or Leather bags to punch. They don't have punching bags like ours that are stuffed with sand or woolen clothes. Their punching bags are rough – made of softwood or even hot sand. You can imagine how their knuckles would be.
Source: The Forward
Check Out More Punching Bags Online
Books as Temporary Punching Bags
Another idea is to use books as punching bags. These can be old directories, old dictionaries, or other manuals that you don't want to read. Books have pages and pages are made of wood. So, they have a soft feel to them. You hang books in your room and use them as punching bags. The harder part would be to hang books. So, use a rope and make two holes on either side of the book to hang them.
Source: Wikipedia
Old School Temporary Punching Bags
You can also use an old school bag as a punching bag. Most school bags are made of the parachute material so they can easily hold sand and other material in them. Since they are no longer in use, you can add wood dust or sand in them and hang them to a hook. Now use them as punching bags for lighter weight exercises. When filled, school bags will be around 20 pounds. Yes, that isn't much but it will still do as a makeshift punching bag.
Source: WheretoGet It
Wheat Shoppers as Temporary Punching Bags
Wheat shoppers are made of wool and they can easily hold sand in them because sand is almost the same length as wheat. You can use two or three wheat shoppers – one on top of the other – and then fill them with sand or wood dust. Use them as punching bags for your workouts. It would be harder to hang them though. So, think of a plan that you can use to hang these wheat shoppers to hooks.
Source: Vippng
Check Out More Punching Bags Online
Wrap clothes around tree and call it a Makeshift Punching Bag
You can also use a tree trunk as a punching bag by wrapping clothes, tape, or form around it. This will decrease the impact but offer you a quality workout routine. I learned this way of creating a makeshift punching bag from iron borne kung fu videos on youtube. They use tree trunks for punching. But since not all people have strong fingers the best idea is to wrap clothes around these tree trunks and then use them for punching bag practice workouts.
Source: youtube 
Check Out More Punching Bags Online
Are Makeshift (Temporary) Punching Bags Durable?
The answer depends on many factors. It is important that you have a proper punching bag that you can use for all types of workouts and the makeshift punching bags let you do that.
Consider these these cheap punching bags as an alternative to what you will by for around a few hundred dollars at walmart.
You can make these makeshift punching bags yourself. Use them as rough as you want and when you are done with these bags, you can recycle them and create a new one.
The bottom-line is always WORKOUT. If you are in need of a great workout then you will need a punching bag to help you with that. Now if for some reason you can't buy professional punching bags, then what do you do? You get a makeshift punching bag that can do the SAME JOB FOR YOU, FOR SMALLER COST!
Ready to Create Your Own Makeshift (temporary) Punching Bag?
That's it. These are five punching bag ideas that you can use for makeshift punching bags at home. All these ideas are perfect for anyone who doesn't want to spend money on buying a new punching bag. They work in the same way. They are cheap, provide a great workout, and are a great alternative to real heavy punching bags.
Although all these makeshift punching bag alternatives will have their drawbacks they are still a good way to start learning how to fight, no?
If you have made a makeshift punching bag alternative yourself, then please let us know about it and we will add it to the list.