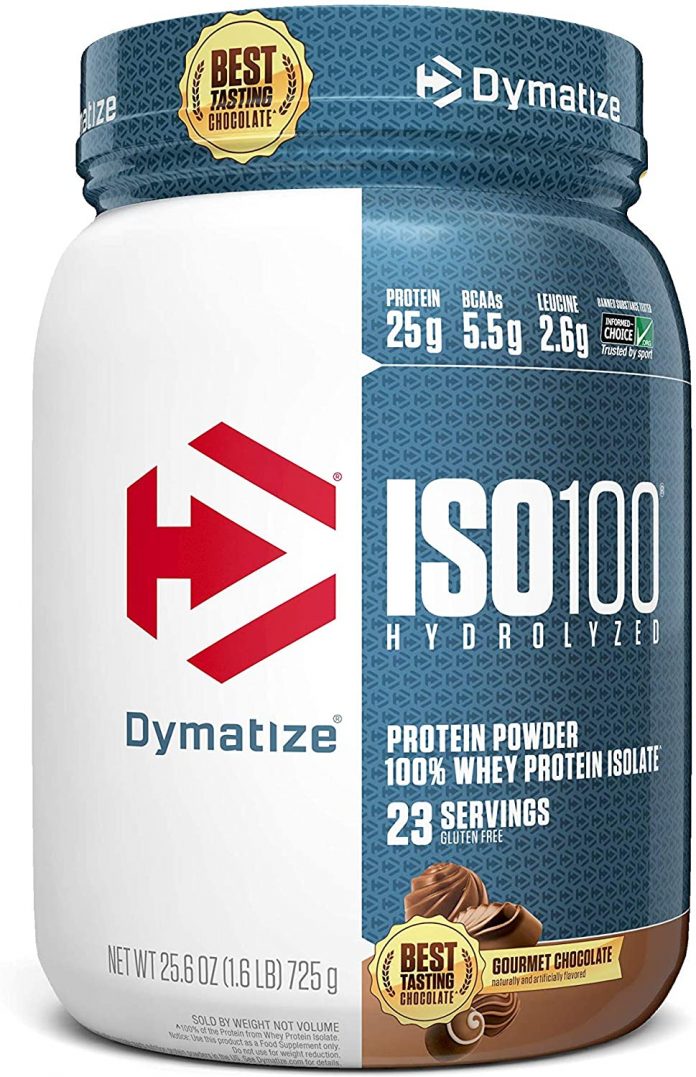 Dymatize is a popular pharmaceutical company that produces bars, protein powders, muscle gainers, creatine, glutamine, and other goods. The firm has an excellent reputation with third-party testing services like Labdoor, and their ISO 100 protein powder is their flagship product.
A hydrolyzed protein ISO 100 means that enzymes have broken down – the lowest fat, lowest calorie type of whey – into a condition closer to its base amino acids.
That means it digests faster than a conventional isolate, and while many people stress the importance of this for post-workout, I believe it's even more crucial if you eat whey before or during a workout. Iso-100 may be more beneficial for recovery than other supplements, and it's also quite affordable and tastes great.
Buy Dymatize ISO 100 Protein Powder
Dymatize ISO 100 Protein Powder: Nutrition Facts
One scoop has 120 calories, 25 grams of protein, 2 grams of carbohydrates (1 gram sugar and no fiber), and 0.5 grams of fat in both tastes. As a result, a supplement with 4.8 calories per gram of protein is created. (The highest possible score is 4 calories per gram of protein, which is only attainable if the protein contains no carbs or fat.)
With 160 milligrams of sodium, or 7% of the recommended daily intake, it's a little salty, but if you're eating it around your workouts, you'll need the extra salt. And it's not like there's a lot of salt in there.
Aside from that, there's not much to say about micronutrients. With 10mg of cholesterol or 3% of your RDI, it's pretty low in calcium and not unusually high or low in cholesterol.
Buy Dymatize ISO 100 Protein Powder
Ingredients of Dymatize Protein Powder
Hydrolyzed whey protein isolate is the first ingredient. Another ingredient is whey protein isolate (which isn't 100% hydrolyzed protein). The other ingredients include salt, soy lecithin (for mixability), cocoa powder, natural and artificial flavors, potassium chloride, and sucralose, known as Splenda®.
Benefits and Effectiveness of ISO 100
This is a straightforward ingredients list with no significant surprises – almost every protein powder on the market contains soy lecithin and sucralose, but most also add acesulfame potassium, an artificial sweetener.
Why get hydrolyzed whey in the first place is the fundamental question. It's crucial to understand the different types of whey, especially since Iso 100 is largely hydrolyzed whey. Whey isolate is more expensive and has most carbs and fat extracted, whereas enzymes or acids partially break down hydrolyzed whey. Many people consider it pre-digested, which is why some persons with digestive disorders may find it simpler to digest.
It is worth mentioning that ISO 100 contains less than half a gram of lactose per serving, so lactose sensitivities are unlikely to be an issue. It also contains soy and the artificial sweetener sucralose, which some people may find objectionable, but it's worth noting that soy lecithin does not affect testosterone levels.
Unlike much other whey, ISO 100 does not contain additional digestive enzymes such as Aminogen or papain, which may help alleviate indigestion in certain users.
Because there's so little lactose in this, it's unlikely to irritate many people's stomachs. However, if protein powders give you indigestion even when they're lactose-free, you might be missing out on the enzymes.
Price of Dymatize ISO 100 Protein Powder
The cost varies a lot: 1.6 pounds, or 24 servings, can cost anywhere from $29 to $56. Usually, though, the price is between $30 and $35. This works out to around $1.20 to $1.40 per serving or about 5 to 6 cents per gram of protein. The prices will drop when you buy a larger tub. 
That's a few pennies more per gram of protein than your normal whey protein, but that's not surprising given how much more expensive hydrolyzed whey is to create. Dymatize is a good value for money considering what you get.
Buy Dymatize ISO 100 Protein Powder
Taste of ISO 100 Dymatize Protein Powder
Gourmet Chocolate had a fantastic flavor. It's quite sweet and mild, so it tasted exactly like a frothy, creamy shake with milk. It's worth noting that a large part of the reason this tastes excellent with water is that it's fairly sweet, so if you don't have a sweet tooth, you might not love this product as much.
Final Verdict
Pros of Dymatize 100 Protein Powder
Tastes good with water

Helps you recover more quickly

Per calorie, protein intake is higher

Lower cholesterol

Lactose-free
Cons of Dymatize 100 Protein Powder
A bit expensive

Not completely hydrolyzed

Contains soy and artificial sweeteners.
If you're not an athlete, you won't notice much of a difference between hydrolyzed whey and standard concentrate or isolate, but if you're looking for a protein powder that digests rapidly and readily so you may recover as quickly as possible, Dymatize 100 protein powder may fit the bill.