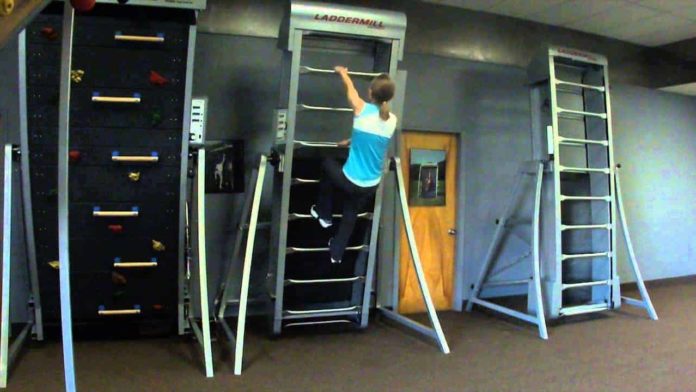 Here is a list of the best fitness equipment inventions by companies and individuals that users can have in their homes. These offer a fairly new way to workout. Some of these are quite fun to use and most of them can become your best workout partners.
Why Try New Fitness Equipment Inventions?
They give you a fresh idea 

They engage you more into the workout allowing you to get fit faster

Increase your fitness through unorthodox methods

Give you the right to brag to your friends about your uncommon fitness exercises

Allow you to workout at home in anyway you want
We must say that some of these are expensive fitness machines, but nonetheless are a great way to workout if you are looking for something new, something different.
List of the best Fitness Equipment Inventions
The frog is the full-body trainer and claims to be the first strength and aerobic training equipment. It works each & every muscle simultaneously. The equipment comes with two 10lbs resistance bands, two 20lbs resistance bands, two 40lbs resistance bands, and two 60lbs resistance bands. It allows adding three resistance bands per side to increase the resistance.
Overall it's good exercise equipment offering a full-body resistance workout but the problem arises with the price which is not fair enough when it comes to its utility. You can do the same exercises with the cheaper substitutes like you can do the push-pull horizontal exercise using an ab wheel which is a way cheaper i.e. it will cost about 10$ or less. For other exercises, you can go for the barbell or the pair of dumbbells which will save you a huge amount offering you a full-body workout.
It's a modern machine which is of great usage for young users and beginners especially to those who want to excel in strike training. It will cost you approx. 1000$ or more which is a considerable amount when it comes to its usefulness. There is another cheaper substitute available like a heavy bag which you can buy in a lesser amount. You will just need a pair of gloves, wraps and a heavy bag which not only costs less but also provides the same level of strength training. In fact, it will win the situation where you think about value for money because it has more utility and usefulness at a cheaper price than the expensive interactive boxing machine that offers the same workout.
Climbing is a good workout that strengthens your muscles, stabilize your heart rate and provide strength and cardio workout for your daily routine. A ladder mill is, therefore, a useful addition to the gym equipment. Through a ladder mill you get a natural climbing exercise that utilizes you upper body muscle to pull up and lower body muscles while pushing up helping you to achieve your fitness goal. The workout is no doubt useful but it is way too expensive at a price near about 4000 $. A pull-up bar provides a better and cheaper substitute instead. Just find a suitable door frame where you may fix it. This will help you to do pull-ups and chin-ups exercise while for the lower body workout you can do bodyweight squats & lunges etc. You can also use the climbing rope for the same purpose.
The best part about the ladder mill workout exercise is that it offers a great way to become flexible. You can do the ladder exercise only 20 times per day and you will feel the flexibility in your body. No need to workout like a donkey, be flexible, be agile, be like a monkey!
It's a compact and portable punching bag for the small spaces. It provides the same benefits as the heavy bag does but as the heavy bag takes more space it is not favorable for the places where you do not have enough space to hang it. The Quiet punch punching bag workout does not need you to wear wraps or gloves and does not cause strain to your joints. It does not cost much like the previously discussed exercise equipment but the utility is limited because you cannot strike it hard & throw stronger punches. However, if you are in a hurry or looking for a light-weight wholesome workout then the quiet punch punching bag can be a great way to go.
The Treadwall is another gym equipment that gives you full-body workout in your home gym like you are actually climbing the wall. It is more like a ladder mill and has the same substitutes aswell.It has adjustable speed and climbing angle but it is a pricier equipment everybody cannot afford. Therefore, one must go for the pull-up bar or the climbing rope to do the same exercise. 
I personally prefer the treadwall workout because it lets you grip items and become more flexible.Similar to the ladder wall, you can use the treadwall in your home gym. This one is also a great parkour workout and we will be writing a complete review about this product very soon. So stay tuned.
[amazon_link asins='B075FH4YGW,B074Q15PXP,B07KBD9J14,B07HM7L1VP' template='ProductCarousel' store='sj0b3-20′ marketplace='US' link_id='1a76b76c-701e-4531-9147-ca96e1eaf024′]
Are These New Fitness Inventions Great Fit?
The best part about this latest fitness equipment is that it provides you a new way to workout. Most of these workout machines are designed to fit all users, and come with a wide range of features that include the Performance Monitor 5, adjustable footrests, and caster wheels and many more features that can help you become more flexible in your workout routines.