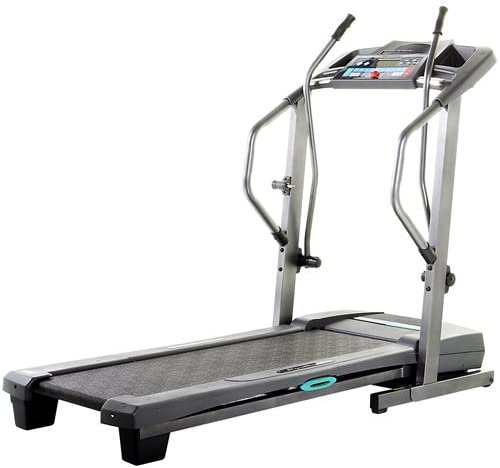 The revolutionary upper body exercise bar is a standout feature of the Proform CrossWalk Caliber treadmill. 
However, like others from Proform treadmill machines, this treadmill is of inferior quality. 
Is

Proform Crosswalk Treadmill Suitable for You?
This model is ideal for individuals looking for a treadmill with an arm exerciser. However, I must tell you that this treadmill is of low quality, so don't expect it to last long. If you're a committed runner, I recommend spending at least $1,500 on a treadmill.
Advantages of

Proform Crosswalk Caliber Treadmill
For most walkers, the 2.75 THP / 1.75 CHP motor is sufficient. However, I do not believe it is powerful enough for runners. This motor can reach speeds of up to 10 miles per hour and can be boosted by up to 10%. However, because of the treadmill's inexpensive materials, I don't recommend using it to its full potential. 
As previously stated, the CrossWalk Total-Body Workout feature on this treadmill includes the revolutionary upper body workout bars. You'll get a total-body workout, which will help you burn more calories. 
The 4-window LED/5×7 matrix console monitors feedback from your training, including speed, pace, time, distance, incline, pulse, and calories burned, so you know all you need to know at all times.
Proform CrossWalk Caliber Treadmill
The Proform CrossWalk Caliber Treadmill has 6 built-in routines and 2 complimentary iFIT CDs to add variety and flexibility to your training. You can also simply use the grip EKGTM Pulse Sensor to work out at your target heart rate. 
Other features include the CoolAir workout fan to keep you cool during extended workouts, the SpaceSaver fold-away design to save space when the treadmill is not in use, and the quick speed and Power Incline controls to alter the intensity of your workouts conveniently.
Proform Crosswalk Caliber Treadmill Limitations
The Proform CrossWalk Caliber treadmill is made of low-cost parts, which explains why its quality and dependability are so low. 
The Proform CrossWalk Caliber Treadmill is not one of my favorites. It may be superior to other Proform models, but it still falls short of other top-rated treadmills. 
If you are looking for a good entry-level machine, check out our Smooth 5.15P review. It is our best buy treadmill under $1,000 right now.
Total price: $799 

2.75 THP / 1.75 CHP motor 

55″L x 18″W Running Deck 

0 to 10 miles per hour 

inclination: 0 to 10% 

It is foldable

It monitors the heart rate

90-day warranty 
Proform CrossWalk Caliber Treadmill
Features of Proform Crosswalk Caliber Treadmill
Pulse sensor for EKG grip 

Workout fan CoolAirTM 

Control QuickSpeedTM 

Incline PowerTM 

LED display with four windows 

2 iFIT CDs 

Total-Body Workout with CrossWalkTM 

6 Workouts Included
Proform CrossWalk Caliber Treadmill