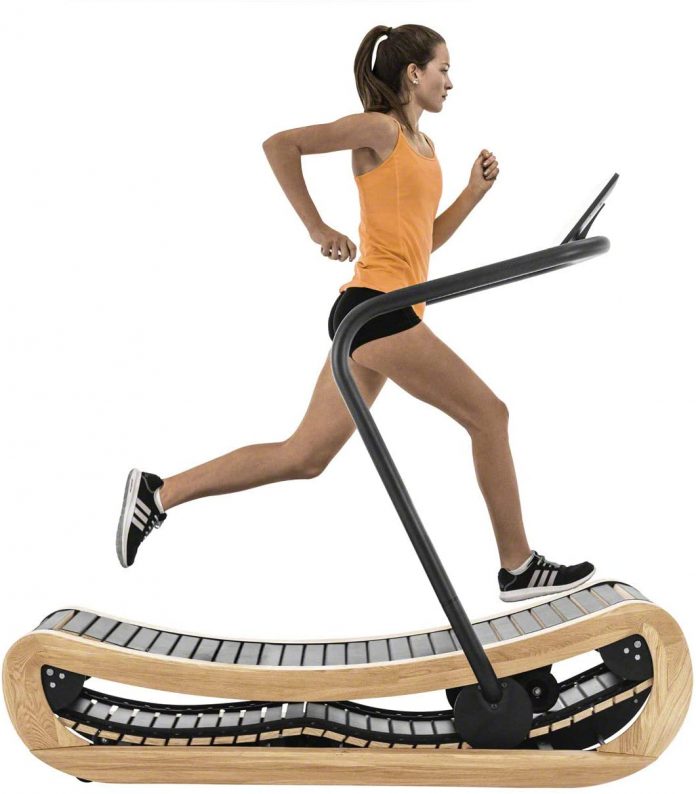 Is it painful to run or walk on a conventional treadmill? Then you should try a curved treadmill. This non-motorized running machine with a concave running surface decreases joint tension, burns calories, raises cardiometabolic demands, and can be used for physical rehabilitation. Here is a list of the top 9 best curved treadmills to look at, complete with ratings, a purchase guide, and benefits.
Best Curved Treadmills To Buy Online
---
The IN10CT Health Runner is a curved manual treadmill that is ideal for use in gyms, houses, and rehabilitation centers. By exerting more effort to propel the curved band backward, you can regulate your walking or running pace with these curved treadmill machines. Place the foot further forward to accelerate. Slow down by bringing the foot closer to the middle of the belt.
The Assault Fitness AirRunner is a curved treadmill that is gentle on the environment and lets you burn 30 percent more calories. This curved treadmill machine is ideal for biking, walking, and recovery. This piece of home/gym equipment uses no electricity. This curved treadmill has a belt life of 150,000 miles. It is robust and stable due to the metal frame and stoppers under the belt.
The Speedfit Speedboard ProXL is one of the most advanced curved treadmills on the market. This curved treadmill machine establishes a standard level of fitness based solely on your potential. It is a piece of great equipment for those looking to perform high-intensity interval training (HIIT). The treadmill introduces a short-time sprint running. It helps burn more calories in less time.
The RESOLVE FITNESS Reactive Runner has a large running surface that measures 19″ x 63″ and can handle most user stride lengths. The revolutionary curved treadmill machine shape minimizes joint effect and increases calorie burn while offering a more realistic training experience. The heavy-duty belt on the Reactive Runner is made up of 60 individual tread slats.
Buy Curved Treadmill Machines Online
The TZ-3000C Curved Treadmill is a double chip resistance device with emergency braking. This curved treadmill has a solid metal frame and PVC handles. The transport wheels enable it to be positioned almost anywhere. The LED console shows time, distance, heart rate, and calories burned. The striated, wide base makes for more stable running or walking.
Buy Curved Treadmill Machines Online
The running belt on the Gard Curved Mechanical Treadmill measures 1500 by 430 mm. It has an eight-gear system with manual, interval, ups and downs, weight loss, hill hiking, mountain climbing, flat burning, and racing modes. The LCD displays the following data: speed, distance, time, and calories burned. The crawler treadmill belt is driven by gravity and does not require electricity. It is both healthy and beneficial to one's health.
The curved running slots on the Xtreme Monkey Fitness Curve Racer Treadmill are made of rubber and synthetic compounds, which help withstand shock and protect the knees and other joints. The treadmill raises the size of the bearings to cut rotation by half. This significantly decreases noise. The additional oversized wheels make transportation easy.
Buy Curved Treadmill Machines Online
The Sprintbok Curved Manual Treadmill has a one-of-a-kind solid wooden frame that eliminates machine vibration when in operation. The curved foundation improves the running and walking experience for people of all ages. The incline provides resistance while still working the muscles. Running on this treadmill is fast and can help you burn up to 30% more calories. The treadmill has a sleek, robust handlebar that houses a 17.3" tablet for the new Sprintbok app.
One can choose from a range of pre-designed running workouts and scenery runs, as well as performance details. This unit requires no maintenance and is made up of 62 movable wooden slats, each with a linoleum finish chosen for its natural and long-lasting properties. Flexi-slats are excellent for shock absorption when moving.
The NNI Fitness Curved Treadmill is a smaller, more user-friendly machine suitable for people of all ability levels. The treadmill is a tough, accessible, and well-made solution for increasing fitness levels. This trainer features intuitive belt technology, making it suitable for both beginners and professionals. It burns 44 percent more calories than a motorized treadmill.
Buy Curved Treadmill Machines Online
Benefits Of Curved Treadmill Machines 
A curved treadmill will help you consume more calories.
A greater number of muscle groups are stimulated.
Has a gentler effect on joints.
Physical therapy may be used to rehabilitate joints.
Aids in the improvement of running shape.
Activates the brain, which improves posture.
Excellent for HIIT.
Does not use electricity
Environmentally friendly.
A curved treadmill is an excellent addition to any home or gym. Before you make your order, read through this comprehensive purchasing guide.
Buy Curved Treadmill Machines Online
Buying Guide for Curved Treadmill Machines 
Here are some things to consider before purchasing a curved treadmill:
Usability: A curved treadmill is ideal for people who want to burn more calories, jog, or run/walk without causing joint pain.
Stability: Determine whether or not all four points of contact with the floor are secure and durable.
Weight Cap: Purchase a curved treadmill with a daily weight limit that is greater than that of the majority of users.
Treadmills are heavy pieces of equipment. If you buy a treadmill for your home, look for one that is smaller. Even, for ease of transportation, choose treadmills with wheels and a rear transportation stick.
Warranty: Many curved treadmills have a warranty duration ranging from one to five years. You can swap parts or get free maintenance during the warranty period (depending on the company norms).
Buy Curved Treadmill Machines Online