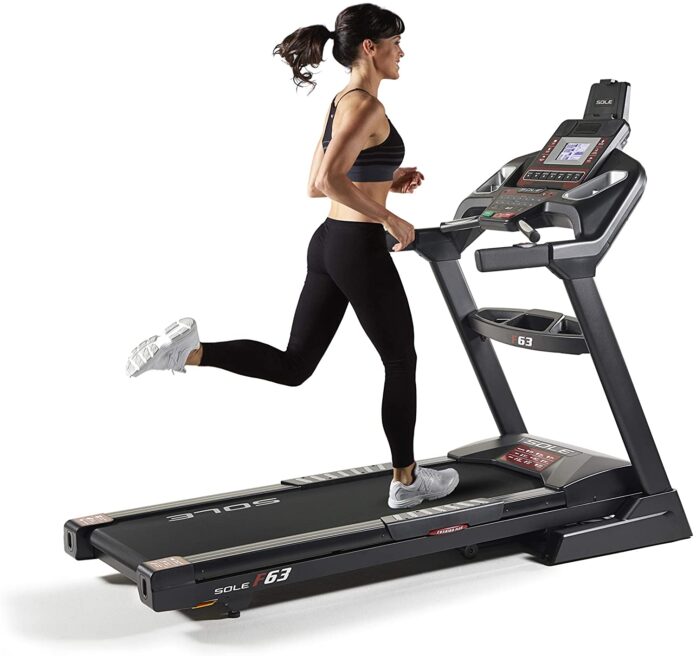 Do you know investing in your body is the finest utilization of your available resources? If you are a fitness freak too, then you know how awesome it feels to have your own specified collection of fitness equipment.
Having separate equipment for cardio, running, fat burn, heart rate monitor and muscle growth is long in the tooth now.
What if owing a single equipment is enough for most of your workout needs?
What if I tell you poor space in your basement is not an issue to worry about anymore?
Buying a treadmill that would be highly digitized and innovative in its making and extremely user friendly in its utilization?
Curiosity arousing? Let's fill out your curiosity!
Need a quick summary about the perks of getting Sole f63 treadmill?
A few things to know about Sole f63 treadmill machine:
1. It is known as the best 'price range' machine.
2. It is also called the smoothest treadmill machine to workout
3. It comes with a real-time LCD screen to help you monitor your progress.
4. It has 15 levels of inclined, helping you get your workouts to a new level.
5. Comes with a whisper deck that reduces friction upon impact.
Sole f63 Treadmill Machine – Perfect Home Gym Equipment
Sole f63  treadmill by Sole Fitness is one of the most innovative and latest treadmills that has consistently been top-rated in the fitness industry all around the world for its user-friendliness. Usually expensive treadmills have very complex systems difficult to comprehend for laymen whereas sole f63's efficient usage lies in its being easy to comprehensible features with no multiplex. 
Sole f63 treadmill is rated 9.3 out of 10 at Treadmill Reviews for its super quality and budget oriented price.
Sole f63 is a foldable space saver treadmill. If the lack of space is the issue around your basement then sole f63 is the answer as it has four wheels hence making it easy to slide it whenever necessary.
Let us give a slight overview to this innovation
Sole 63 treadmill has a 3.0 CHP motor with 12 MPH potential speed, a great equipment for jogging and mild running. Though the treadmill weights only around 250 pounds yet with its unprecedented weight capacity, it can carry around 330 pounds weight easily.
Its Running surface is 35 inches wide, 85 inches long giving you extra edge to stretch your body and a wide plane to walk or run at your comfortable zone. 
Its 58 inches height gives an exceptional upfront look providing satisfactory front angle for more focus and attention. 
Usually people worry about the capacity of motor sole f63 solves this query as it has a LIFETIME guarantee for frame and motor. 
Moreover, they even ease your tensions providing a 3 three warranty for electric parts.
Sole f63 Treadmill Console: What's New Technological Advancement? 
Sole f63 is the requirement of every modern club association and home fitness gym. The console of the treadmill gives you the essence to change programs according to your fitness level, physical and mental capacity, adjusting speed to minimum and maximum and also a heart rate monitor during your running pace. Moreover, if you are habitual of carrying some essentials with you such as a water bottle, your IPod to listen to music, there is a slight holder adjacent to the handle and also beneath an accessory tray that can be used for the purpose. You can also fix your tablet at the up front of the LCD screen during the workout while scrolling your social media feed.
Electrical features of Sole f63 that keep it unique in the priority pick up in the market are:
A simple 6.6 LCD screen with a white back-lit that keeps you updated about your
Daily burned calories

Running Time

Distance
Provides you with inbuilt essential workout plans
2 Heart Rate Modes

Manual and Custom Programs

Cardio

Fat Burn and Calorie
An inbuilt Bluetooth Speakers that helps you to
Play your non-stop music

Adjust volume through your phone

Charge your phone with an attached USB port
The most important feature is treadmill's up-to 15% (adjustable to your training level) incline that helps you
Burning extra fat daily

Enhancing endurance level

Extensive pulling and pushing provides more in-depth workout 

Increasing incline of treadmills upto 3%

keeps you from knee joints injury risk
Sole f63 when launched in the market became the most sold treadmills for its amazing features and budget oriented price range. 
How Sole f63 Treadmill Machine Benefits Daily Workouts?
Sole f63 treadmill machine provides you the gym-like environment at home where you can play your own playlist, watch the daily news along with your favourite morning shows (if you workout in morning). 
Purchasing a treadmill with a lifetime guarantee is a better option than a headache of monthly subscription fee to your gym.
Moreover, it keeps you updated with your daily progress to keep your enthusiasm and spirit high.
Should You Buy Sole f63 Treadmill machine?
Absolutely! If you are looking for a treadmill machine that is easy on the pocket, faster in performance, flawless to maintain, and perfect in working, then look no further!
The Sole f63 treadmill machine is your go-to choice.
Whether you want to lose weight, gain stamina, improve endurance, or get back in shape after a long day at work, this particular treadmill machine will help you get back on track faster than you can say Woah!
With the features it offers, you can easily get back in the rut without worrying about instruction manuals and all that.
The best way to start your workout, is always to GET STARTED!
Sometimes you don't even have to look at the instruction manuals because your daily workout is enough to get you back in shape. Exactly that is what the Sole f63 treadmill machine can help you achieve.