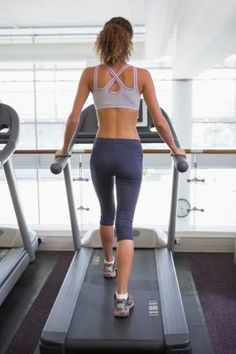 Looking for a small and compact motorised treadmill machine that you can easily store under the bed? Here are some of the best ones available with digital meters, heart rate monitors, and speakers
List of Compact Treadmill Under Bed
Being able to slide a treadmill beneath the bed is advantageous for people who wish to exercise but have small homes with limited space and don't want their workout equipment lying visibly around. The space under an average bed is about 14-inches, enough room to place a compact, foldable and portable treadmill and leave the rest of the room usable.
One such compact treadmill under bed that is ultra-compact and can fold into a height of just 10-inches, is the 59-inches long Evolve by Horizon. Once unfolded, the Evolve stands at a large size providing the workout area of about 17-inches by 45-inches. It gives the user the choice of two workout programs built into it. These include weight loss training or manual training. Running the ComfortZone walking belt on the Evolve is a 1.25 CHP motor with varying speeds of up to 6 mph that allows the user to either jog or walk, depending on the chosen program. The warranty covers 10-years for the frame, 1-year for parts and labor, and 5-years for the motor. Its maximum weight support capacity is about 250 lbs. According to the 2011 listings, the Evolve's retail price was about $800.
Pros:
Comes with heart beat and pulse monitor

Spacious. Offers more running space than other compact treadmills for home gym

Offers an audio jack and in-line speakers
Check price of The Evolve by Horizon
Another amazingly small compact treadmill under bed with a 6 percent incline rate, the LifeSpan TR200i can fold down to just the height of 11-inches and can easily be put away under the bed when not in use. Like the Evolve, this treadmill also has the maximum user weight support of 250 lbs. It also carries an LCD console that can display information like speed, calories, time, incline and distance. The console also houses built-in speakers and can easily connect with an iPod or an MP3 player to make the walking or jogging experience enjoyable. The USB port on the TR200i allows its users to connect their LifeSpan Fitness accounts and access different workout programs as well as get detailed reports about their workouts and health. The motor on the TR200i can go up to 8 mph. It offers a lifetime warranty for the frame as well as varying warranties on parts, labor, and motor. It retailed at the same price in 2011 as the Evolve.
Pros:
Comes with 21 trainer programs that you can try while working out

Quiet, lightweight, and easily folds and settles in small spaces.

Can handle a weight of 300 pounds at max
Check price of Lifespan TR200i
Offering the same features and benefits as the TR200i, the TR100 compact treadmill under bed is made for lighter use and cost a $100 lower than TR200i in 2011. It has the same dimensions, once folded, as the TR200i giving it the ability to fit under a bed or closet storage space. Sporting the same 1.5 HP motor as its latter model, the walking belt can easily run at a maximum speed of 8 mph allowing its user to either jog or walk on the 48-inch long and 17-inch wide workout space. While the USB port is a missing feature here but it does have a headphone jack along with heart rate sensors and speakers.
Pros:
They are ideal for small apartments, especially rooms where you don't have a lot of space.

You can easily push fold them and push under the bed after the workout is complete

You can listen to music during the workout by plugging in your smartphone or MP3 speaker to the TR100i treadmill machine.
Check Price of Lifespan TR 100i
IPO Slim Smart Walk Compact Treadmill
Available only in gray color, this Compact Treadmill for home gym is a feast for your eyes. But being visually pleasing isn't its only forte. This minimally designed slim treadmill offers some great features like 'Intelligent Speed Control', double speed mode and a shock absorbing running belt. Retailing at around $900s, this slim treadmill is a steal for the price.
Gymax Compact Folding Treadmill
This Compact Treadmill for home gym comes with a built-in app that acts as a personal trainer and helps you reach your fitness goals. As the name suggests, it's foldable which allows for easy storage and has a sturdy built quality that provides greater endurance. The multi-function console houses a big LCD that displays speed, time, distance, heart rate etc. The platform has a unique shock absorption system and this compact folding treadmill machine for home gym is priced at an estimated price of around $600.
Buy Gymax Cardio Exercise Treadmill
Benefits of Compact Treadmill Under Bed
You may have limited space or are bothered about the size of the machine. Keeping this little thing in mind, we are sharing with you 4 benefits of compact folding treadmill machines for home gyms.
Convenience
Compact folding treadmills offer great convenience especially if you live in a house that has limited extra space like small apartments or homes. These types of treadmills are great space savers and can be placed in the smallest of rooms in the apartment.
Compact Size
The secret behind their convenience is their compact size. They come in variable sizes, are foldable and mostly come with wheels so they can be easily put away after use in places like a closet or even under the bed. This makes their folding capability probably the most attracting feature and their biggest sales push.
Build Quality
Because they are made to provide the convenience of storage and usability in small spaces, they have a stronger and more durable frame. This is to ensure that unfolding the treadmill regularly or daily does not cause any damage to the machine itself.
Cost Saving
Normally, a treadmill would cost around a thousand dollars or so and would be a behemoth of a machine to be placed inside of a home. But a folding treadmill that provides all the features of a regular one and then some can be bought for just a couple of hundred dollars.
[amazon_link asins='B01M0L0D90,B01B76QKC2,B072R2T7K5,B004TGWUPE' template='ProductCarousel' store='sj0b3-20′ marketplace='US' link_id='a2e31565-dee8-11e8-a91f-79ef407fb10c']
Apart from these 4 benefits of compact folding treadmill machines for home gyms, they also offer many other benefits as well. Since they can be folded and moved around, they weigh lighter, require low maintenance and allow ease of cleaning under them. And for people wanting to live a healthy and active lifestyle under the constraints of small space, these treadmills are a saving grace.
Drawbacks of Compact Treadmill Under Bed
The ability to store your treadmill under the bed is quite a benefit, manufacturers sacrifice the sturdiness for the sake of portability. Many such treadmills are not made for heavy usage or for heavy people. Their life becomes even shorter if these treadmills are regularly used at maximum speed.
Key Takeaways:
Small compact folding treadmills are small but not sturdy like many regular sized treadmills.

They are not built for heavy people or for long-time usage

They should not be used at maximum speed for long times because that can damage the internal motor

Portable compact treadmill machine don't have all the required features that you will find in regular sized treadmill machines
Check Out Treadmill Alternatives for Home Gyms
Workout With Compact Treadmill Under Bed
Here is a workout that you can easily do on a compact treadmill under bed at home.
Courtesy of The Real Life.
The infographic provides helpful tips to get you started on the small compact folding treadmills. it is for everyone who wants to exercise irrespective of the gender or age.
Maintenance of Compact Treadmill Under Bed
Replace Treadmill Belt On a Treadmill Machine
1. Firstly, power off the treadmill and remove the plastic hood covering the motor. Remove it by pulling it forward.
2. Fold the treadmill next and bring it in position. Remove the screws that connect the foot rail to the platform, located under it on the right side.
3. Undo the latch to release the walking platform and pull it down. Take the foot rail off and put it away.
4. Undo the Alan screw at the back of the foot rail to release the tension
of the walking belt. Simply lift the rear roller from its mounting bracket.
5. Remove the front roller next. It is located near the motor hood. Fold
the treadmill up again, once the front roller is removed.
6. Unscrew the front and rear corner screws keeping the right side of the
walking board fastened to the frame.
7. Unfold the platform. Now lift and hold the walking platform up while
you slide off the walking belt.
8. Slide on the new walking belt and put the platform back in its place.
Fold up the platform and screw the rear and front corners on the right
side back on.
9. Repeat all the steps in reverse order to reassemble the treadmill
10. Plug it back into the outlet, turn it on and let it run on the lowest
speed for a minute or two.
11. If the belt is not centered properly, use the Alan screw on the rear
adjuster to center it. Make sure do this after turning off and unplugging
the treadmill.
12. Finally, apply silicone lubricant on the platform by lifting the belt
from its sides. Use a flat wood and evenly spread the lubricant.
13. Turn the treadmill on, setting it on medium speed. Walk on it to
evenly disperse the lubricant.
[amazon_link asins='B004TGWUPE,B00P6V09AE,B009QHLWUK,B00GN3D5FU' template='ProductCarousel' store='sj0b3-20′ marketplace='US' link_id='e609f269-dd4a-11e8-9a63-f5e96a70ac07′]
Alternatives of Compact Folding Treadmill Machines
While treadmill running is great for everyone. But if you are not the kind of person that walks on a machine each day for fitness and health, then these treadmill alternatives will suit you.
1. Dancing
One of the best ways to lose weight and keep yourself fit is by dancing. Dancing is not just moving your body to beat, but it has another essence that is to let you become free and move your body in a way you want. You can even design your own dancing format. Form you moves and you can rock the world. Isn't that beautiful? With that said, dancing is perfect way to get your fitness back. And, it is a great alternative to treadmill machines.
2. Fighting
Do you know what burns the calories most? Fighting! When you fight you burn a lot of calories because your whole body is attentive and trying to help you dodge punches and kicks. In fact, you are most alert when you are fighting with someone.
There is also another benefit of fighting and that is confidence. You get the most confidence when you fight with someone. You can easily overcome bullies in your life by fighting practice. That's why it is also a great treadmill alternative workout for home gyms. If you don't know how to fight, simply join a gym and you will become good in fighting in just a few months.
3. Stair Climbing
I often advice people that if they can't run, they should climb stairs. Why? because they can burn almost the same amount of calories by climbing stairs each day that they will burn by running. Stair climbing is a perfect exercise for those who don't have any problem with their legs and calves.
Note: If you have pain in legs, please ask your doctor before you start climbing stairs.
Climbing stairs is perfect for those who don't want to run on treadmills. That's why we have added it as a treadmill alternative workout.
Check Out Treadmill Alternatives for Home Gyms
Anyone can easily start running on the compact treadmill machines for home gym by using the beginner workouts provided above. So, start today if you haven't still started.