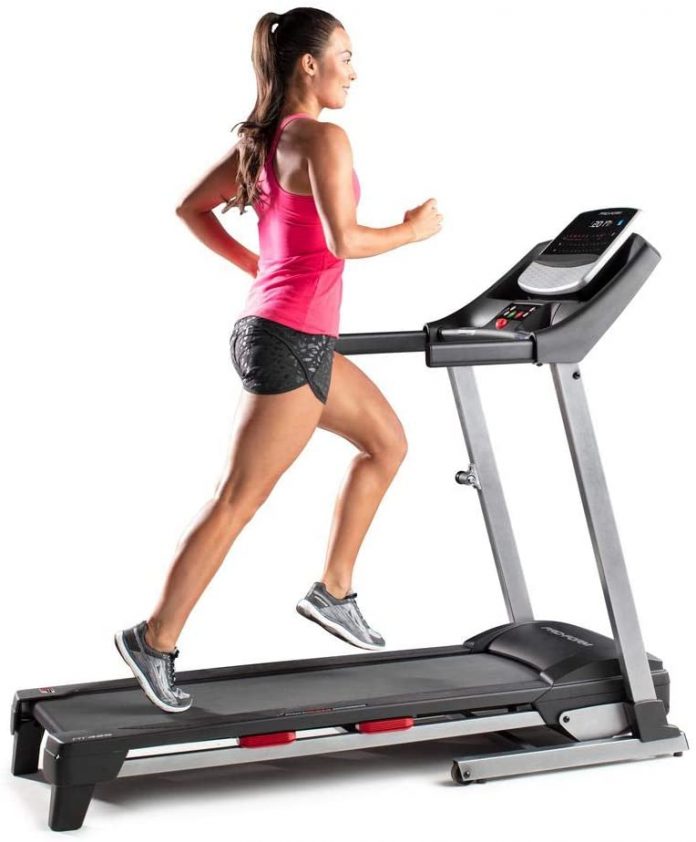 The Proform CrossWalk 425 treadmill is one of the greatest Proform treadmills with the revolutionary upper body exercise bar.
However, like other entry-level treadmills, the quality of this one is uncertain.
Is Proform CrossWalk 425 Treadmill a good fit for you?
This equipment is ideal for those who wish to get a full-body workout while running on a treadmill. However, I have serious doubts about this unit's ability to withstand the beating of a hard run. So, if you're a dedicated runner, I recommend spending at least $1,500 on a treadmill. (For further information, see our treadmills for sale page.)
Features and Advantages of Proform CrossWalk 425 Treadmill
This Proform MachTM 1.3 CHP drive motor is a wonderful choice for folks who enjoy light exercises. It has a top speed of 10 miles per hour and a 10% incline. However, I do not recommend that you use this machine to its full potential due to its low-cost parts.
As previously stated, this treadmill features revolutionary upper body training bars that provide an upper body workout while you run. There are also two CrossWalk® Calorie Workouts included. These programs push you to burn more calories by using your upper body arms.
Buy Proform CrossWalk 425 Treadmill Online
This is a sub-$500 model, so the 17″ x 50″ tread belt is quite good. Another innovation is the ProSoftTM Plus impact reducing cushion, which reduces the impact on your joints by up to 22% for ultimate joint protection when compared to road jogging.
A blue-tinted LCD display is also included with the CrossWalk 425 treadmill. This stylish console shows your pace, time, distance, calories burned, and pulse during your workout so you can keep track of your progress.
The EKGTM heart rate monitor is another feature offered with this model. Placing your thumb on the sensor embedded within the console allows it to read your pulse rate. This is ideal for folks who work out at a specific heart rate.
Finally, the Crosswalk 425's motor is covered by a three-year warranty. This warranty only demonstrates Proform's faith in its motor. The 90-day parts and labour warranty, on the other hand, shows that this item was built using low-cost parts that won't survive long.
Buy Proform CrossWalk 425 Treadmill Online
Who Needs ProForm CrossWalk 425 Treadmill Machine?
Consider ProForm Fit 425 Treadmill if…You need affordability.
What it lacks in the latest features, it makes up for in price.
It's one of the few treadmills you can buy for under $500.You plan on using iFit.
iFit has changed what you're capable of achieving with at-home workouts.
Luckily, this treadmill, despite the low price, still works with the app.
You like heart rate monitoring.
This treadmill comes with an EKG heart rate monitor.
You simply grip the handle, and you can easily stay within a targeted range.
Who Should Avoid Buying Proform CrossWalk 425 Treadmill?
If you require a longer warranty, avoid the ProForm Fit 425 Treadmill.
With this device, you don't get a lot of protection.
The motor is only guaranteed for three years, with even fewer parts and labor warranties
You're looking for foldability.
Some versions, such as the ProForm 705 CST, can be folded.
This permits you to make additional room in the space it currently occupies when you require it.
This model, however, does not have such capabilities.
You want to keep things simple.
Some reviews mention the need to tighten the belt every now and then.
At faster speeds, it tends to unravel.
What Proform CrossWalk 425 Treadmill Does Not Have? 
Because the Proform CrossWalk 425 treadmill is made of low-cost parts, its quality and dependability are below average. However, with entry-level treadmills, this is to be expected. However, when compared to other low-cost units, this one offers significantly more value.
Recommendation for Proform CrossWalk 425 Treadmill
The Proform CrossWalk 425 treadmill is a good option for folks who can't afford a more expensive treadmill. This unit is one of the best in its budget category; however, I would not suggest it to severe runners because of the cheap parts. So, if you're a serious runner, I recommend going to our best purchase treadmills page and selecting a treadmill that costs $1,500 or more.
Summary:
Price: $499

MachTM motor with 1.3 CHP

55″L x 17″W Running Deck

0 to 10 miles per hour

inclination: 0 to 10%

No, it is not foldable.

Yes, your heart rate is high.

3-year motor warranty; 90-day parts and labour warranty
Buy Proform CrossWalk 425 Treadmill Online
Features:
EKGTM (Electronic Heart Rate Monitor)

Controlling QuickSpeedTM

LCD display with a blue tint

Power Incline® is a trademark of Power Incline.

2 calorie-burning CrossWalk® workouts

Upper body arms with CrossWalk®

Impact Reduction with ProSoftTM Plus
Buy Proform CrossWalk 425 Treadmill Online
Best Place to Buy Proform CrossWalk 425 Treadmill
If you want to get a Proform CrossWalk 425, I recommend going to Amazon.com. They have the best deal on the internet. It is available for $499.99.