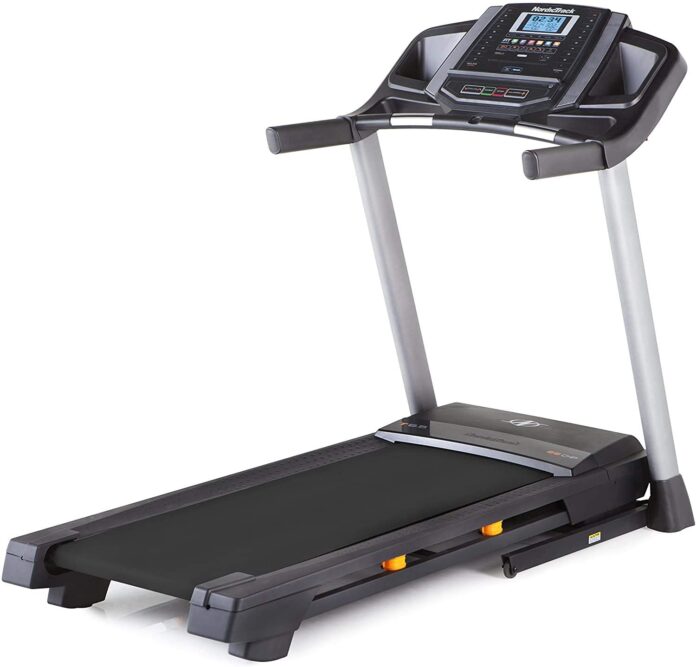 If you are a taller runner than the usual person and are seeking for the best treadmill for tall runners, we are here to help.
Treadmills as home cardio devices are the most common choice for an excellent aerobic workout at home.
As a tall man, the treadmill belt size, also known as the running area, should be your top consideration when selecting the proper instrument for you.
In addition, when planning your daily training regimen, which may include a range of workout programs, you must consider console height.
Best Budget Treadmill:

Nordictrack C990 Treadmill
One of the best-reviewed consumer treadmill with long running deck is the Nordictrack C990. It is not only a terrific treadmill program also one of the finest treadmills for low ceiling rooms and one of the few budget treadmills that can accommodate taller runners. Its 60-inch belt should fit almost any runner (but it may be a tight fit if you are above 6′ 5′′).
This piece of equipment is highly recommended by almost everyone who uses it, has excellent Amazon ratings, and can be delivered to your home with expert installation included directly from Amazon.
60′′ belt length

12 mph top speed

12% maximum incline
You will be able to sprint at up to 12 mph on a 12 percent slope, which is decent in comparison to the competition. The cutting-edge touchscreen console also comes with a slew of pre-programmed routines (32 to be exact), which should keep you occupied for quite some time.
Buy NordicTrack C990 Treadmills Online
Assembly will take some time (about 4 hours), but it should be pretty simple if you are handy, and once completed, it will endure virtually indefinitely.Potential drawbacks: Some onboard computer capabilities are locked behind a paywall (you will need to sign up for Nordictrack's iFit programme). Treadmills long enough to accommodate tall runners are a touch on the pricey side while being fairly reasonably priced (the options below are even more costly). For larger people, the treadmill's 20-inch belt width maybe a touch too small.
Best Mid-Range Treadmill:

LifeSpan TR4000i Folding Treadmill 
The LifeSpan TR4000i is a treadmill with long running deck. It is somewhat more expensive than the Nordictrack alternative, but it offers a few noticeable benefits, like additional inclination levels and a foldable, space-saving design. This is another excellent option for runners that are over 5′ 10′′ in height.
60′′ belt length

12 mph top speed 

15% maximum incline
8 compression shocks beneath the running surface provide a super-smooth running experience that reduces the impact on your joints and knees greatly. This treadmill's inbuilt computer is preloaded with 21 ready-to-use fitness routines to keep you challenged and in great shape for a long time. There is also a built-in fan to keep you cool, as well as step tracking (Intelli-Step) and other ingenious safety features.
The LifeSpan TR4000i's biggest feature has to be its folding capabilities, as the treadmill can simply be folded down and stowed away, saving you a lot of room in your house, basement, or garage.
Buy LifeSpan TR4000i Folding Treadmill Online
Potential Drawbacks: Despite the TR4000i's plethora of exciting capabilities, some reviewers say the LifeSpan model's console is a touch simple and does not quite hold up to the competition.
Best High-End Treadmill:

Assault Fitness AirRunner 
The AirRunner is another great treadmill with long running deck. It certainly lives up to its name as a unique vehicle. It is comparable to rowing on a machine, however instead of fixed speed and resistance levels, you control the pace with your labor and effort.
An AirRunner is propelled by your feet, and you may run as fast or as slowly as you like as long as you keep the belt moving forward. It simulates a more natural stride, aids in proper running form, and burns more calories than a standard treadmill. It also has a 62-inch long running surface.
62′′ belt length

Top speed N/A

Maximum incline N/A
It resembles a hamster wheel in appearance and is intended to better emulate real-world jogging while preventing you from creating an artificial stride. The shape and movement pattern is also substantially more difficult than on a standard belt drive treadmill, with Assault claiming that you will burn 30% more calories this way.
Buy Assault Fitness AirRunner On Amazon
A modest onboard computer measures your mileage and calories, but otherwise, this is pure free-running, ideal for HIIT, marathon training, and more. It is rated to last 150,000 miles on the road, thus presenting its durability. The running surface itself is a staggering 62 inches long, making it ideal for larger athletes.
Potential Drawbacks: Because it is rather pricey and designed particularly for high-intensity exercise so you can replicate jogging on the real ground from the comfort and convenience of your own home, this may not be the best match for everyone. The AirRunner is probably not for you if you want a more classic treadmill experience or just a less expensive choice.
What to look for when purchasing a treadmill with a long-running belt?
The length of the long-deck treadmill and/or the length of the actual belt or running surface is, of course, the most important factor.
Treadmills have a belt length of around 55′′, or 4′ 7′′, on average. You will need a treadmill that is at least 60 inches long if you are taller than 5′ 10′′ and prefer to run quickly (longer strides).
Here are some factors to think about pre-purchase:
Cost: Unfortunately, a longer belt appears to be associated with a greater price. The better-built and more durable treadmill models are generally more expensive, but this seems to be especially true for treadmills for taller runners. A decent quality treadmill that fits your stride length should cost at least $1000.
Stride Length: A belt length of 60+ inches is a reasonable starting point, but you should measure your stride while jogging to be sure. Running a defined distance (say, 50 feet) and counting how many steps you take is a straightforward, albeit inexact, way to accomplish it. To calculate the distance per stride, divide the total distance by the number of strides you have. To be safe, the length of your treadmill's belt should be a few inches longer than your stride length.
Weight Restriction: If you are taller than 6 feet, double-check the weight limit on your treadmill before purchasing. Most are rated to withstand at least 300 pounds, and several can hold up to 350 pounds or more. However, you must factor in your weight while deciding on purchasing to make sure you get a treadmill that will support you comfortably throughout the run.