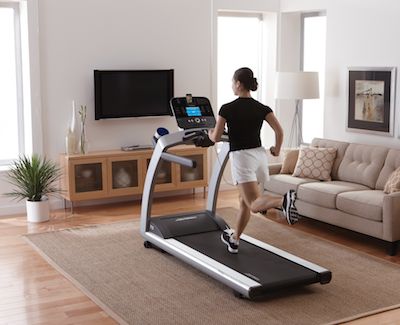 Looking for a small and compact motorised treadmill machine that you can easily store under the bed? Here are some of the best ones available with digital meters, heart rate monitors, and speakers
Being able to slide a treadmill beneath the bed is advantageous for people who wish to exercise but have small homes with limited space and don't want their workout equipment lying visibly around. The space under an average bed is about 14-inches, enough room to place a compact, foldable and portable treadmill and leave the rest of the room usable.
One such compact motorised treadmill machine that is ultra-compact and can fold into a height of just 10-inches, is the 59-inches long Evolve by Horizon. Once unfolded, the Evolve stands at a large size providing the workout area of about 17-inches by 45-inches. It gives the user the choice of two workout programs built into it. These include weight loss training or manual training. Running the ComfortZone walking belt on the Evolve is a 1.25 CHP motor with varying speeds of up to 6 mph that allows the user to either jog or walk, depending on the chosen program. The warranty covers 10-years for the frame, 1-year for parts and labor, and 5-years for the motor. Its maximum weight support capacity is about 250 lbs. According to the 2011 listings, the Evolve's retail price was about $800.
Pros:
Comes with heart beat and pulse monitor

Spacious. Offers more running space than other compact treadmills for home gym

Offers an audio jack and in-line speakers
Check price of The Evolve by Horizon
Another amazingly small compact folding treadmills with a 6 percent incline rate, the LifeSpan TR200i can fold down to just the height of 11-inches and can easily be put away under the bed when not in use. Like the Evolve, this treadmill also has the maximum user weight support of 250 lbs. It also carries an LCD console that can display information like speed, calories, time, incline and distance. The console also houses built-in speakers and can easily connect with an iPod or an MP3 player to make the walking or jogging experience enjoyable. The USB port on the TR200i allows its users to connect their LifeSpan Fitness accounts and access different workout programs as well as get detailed reports about their workouts and health. The motor on the TR200i can go up to 8 mph. It offers a lifetime warranty for the frame as well as varying warranties on parts, labor, and motor. It retailed at the same price in 2011 as the Evolve.
Pros:
Comes with 21 trainer programs that you can try while working out

Quiet, lightweight, and easily folds and settles in small spaces.

Can handle a weight of 300 pounds at max
Check price of Lifespan TR200i
Offering the same features and benefits as the TR200i, the TR100 is made for lighter use and cost a $100 lower than TR200i in 2011. It has the same dimensions, once folded, as the TR200i giving it the ability to fit under a bed or closet storage space. Sporting the same 1.5 HP motor as its latter model, the walking belt can easily run at a maximum speed of 8 mph allowing its user to either jog or walk on the 48-inch long and 17-inch wide workout space. While the USB port is a missing feature here but it does have a headphone jack along with heart rate sensors and speakers.
Pros:
They are ideal for small apartments, especially rooms where you don't have a lot of space.

You can easily push fold them and push under the bed after the workout is complete

You can listen to music during the workout by plugging in your smartphone or MP3 speaker to the TR100i treadmill machine.
Check Price of Lifespan TR 100i
Drawbacks of Compact Treadmill Machines
The ability to store your treadmill under the bed is quite a benefit, manufacturers sacrifice the sturdiness for the sake of portability. Many such treadmills are not made for heavy usage or for heavy people. Their life becomes even shorter if these treadmills are regularly used at maximum speed.
Key Takeaways:
Small compact folding treadmills are small but not sturdy like many regular sized treadmills.

They are not built for heavy people or for long-time usage

They should not be used at maximum speed for long times because that can damage the internal motor

Portable compact treadmill machine don't have all the required features that you will find in regular sized treadmill machines
Workout With Compact Treadmill Machines
Here is a workout that you can easily do on a compact treadmill machine at home.
Courtesy of The Real Life.
The infographic provides helpful tips to get you started on the small compact folding treadmills. it is for everyone who wants to exercise irrespective of the gender or age. Anyone can easily start running on the compact treadmill machines for home gym by using the beginner workouts provided above. So, start today if you haven't still started!
Summary
Reviewer
Review Date
Reviewed Item
Compact Folding Treadmill Machines For Home Gyms To Store Under Bed