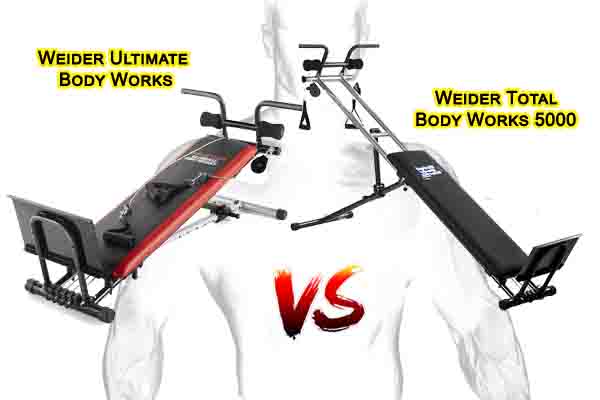 In the battle of the best fitness workout machines for home gyms, which one will come victorious? Find out as we compare the Weider Ultimate Body Works vs Weider total bodyworks 5000 workout machines.
In this post, we will be comparing their differences, similarities, the impact areas, prices, and user reviews.
---
Weider Ultimate Body Works Incline Bench Review
Weider Ultimate Body Works Incline bench is your perfect home gym partner if you prefer to workout at home because of the variety of exercises it can perform. The Weider machine is available with four resistance bands, and 50 pound stretch weight that allows users to easily through 50 different forms of exercises. The ultimate body works also offers its own 50 pound resistance bands and a pulley to target lats and triceps area of your body.
The reason people prefer Weider Ultimate body works instead of any other punching bag is because of the convenience and simplicity attached with it. The bench is easy to assemble and simple to maintain.
You don't need any extra equipment to exercise. Just start using the stretch bands and you are good to go. For those office workers who get free late at night and can't go to a proper gym, the weider ultimate body works acts as a proper one for them.
Check Out Weider Ultimate Body Works Review
Weider Ultimate Body Works Manual
The manual of the Weider Body Works can be downloaded from here. It is available in a PDF format and includes Ultimate body works setup instructions, assembly, and exercise charts.
Weider Ultimate Body Works Assembly
Weider body works exercise machine is pretty easy to assemble. Just unbox the ultimate workout machine and then use a plier or a range to get it assembled. Here is a full video showing how to assemble Weider body works machine.
Please note that Weider ultimate weight lifting machine's capacity is only 270lbs. So, make sure anyone using it has weight equal to or less than the described amount.
Here's what makes it different from the rest.
Convenience
Ease of Use
Full Body Training
Where you will be using multiple machine to perform workouts, the wieder ultimate workout machine does all of those at once. This means you don't have to wait in line to exercise, as you can do all this from the comfort of your home.
Weider body works machine's bench press has a sturdy metal built. It has a steel tubing construction that's durable and doesn't require detailed assembly. In fact, the assembly takes only 20 minutes for the full metal frame. Even with all the features available, the bench is only available for a couple of $100. This means it is easily within everyone's reach.

With Weider you can perform over 50 exercises that target triceps, biceps, chest, and shoulder muscles. Moreover, the resistance bands also allow you to target your leg muscles. This means you are getting full body training with this workout machine. Moreover, you get a complete instruction manual and exercise chart that shows more than 100 exercise forms possible with it. Weider also offers a footrest at the bottom of the bench so that you don't slip accidentally.

Weider Ultimate Body Works Features
The perfect name which suits with its functionality and its benefits.
Weider ultimate body works enables you to tone up or let your body perfect in shape and let you to be in proper health. It allows you to perform necessary exercises which can keep you and your body fit and healthy.
The greatest thing about this equipment is that, it comes with a marvelous manual which guides you to perform 100 different exercises.
None of the weights are required with this equipment, you will just have to perform simple exercises which will keep you fit and healthy.
You won't get bored with this machine early, as it enables variety of challenges for you to set up against yourself in case of fitness.
The steel frame of Weider ultimate body works is very sturdy and bench is greatly padded.
If we compare Total body works 5000 with this, it is an updated version we can say. As it has durable cover on the bench and offers variety of exercises to perform.
You can fold it up if you want to store it.
It is available for around $120+.
Check Out Weider Ultimate Body Works Review
---
Weider Total body Works 5000 Review
Weider Total Body Works 5000 is perfect for those who are short on money, but want a home gym for themselves. The bench press cum workout machine allows them to get most of the features of a home gym by using weight plates, cable pulley system, and resistance bands.
With Weider Total Body Works 5000, you get 50 pounds of natural resistance bands. These help you flex your body by using your own body weight and the resistance bands, both at once. Based on the incline angle of the bench, the workout benches can be adjusted in seven different positions. The lower the incline the easy it is to use the machine, the steeper it is, the tougher it gets to use the workout bench.
Though it is simple to assemble, but the variety of workouts possible with it can confuse the user. Its focus is still on improving the upper and lower body. At a cursory glance, the Weider total body works 5000 is simple, flexible, and easy to use. On an average, it can be setup within 20 minutes similar to Weider ultimate body exercise machine.
Weider Total Workout Machine 5000 Setup/Assembly
Weider Total Body works is easy to assemble in under 20 minutes. Here is an unboxing tutorial. Sadly, there is no unboxing video available at this time about the total body works.

Check Out Weider Total Body Works 5000 Review
Weider Total Body Works 5000 Manual PDF
The Total body works 5000 is designed to provide you killer abs, sturdy arms and triceps, and slick legs. Here is the complete PDF manual of total body works.
Weider Total Body 5000 is affordable but in comparison with the Ultimate body works, it costs way more. The Weider total body works and Ultimate body works target the same muscles and perform the same level of exercises, then why pay a couple of more dollars?
Weider Total Body works offers flexibility in strength training which isn't available with any other workout machine. It has weight resistance and greater range of motions. Moreover, due to its convenience and unrestricted movement, the body works machine is an ideal choice for all home gym goers.

The initial setup is simple. It takes less than 20 minutes to get it assembled. You can also easily fold it for quick storage against a wall or under the bed. The weider 5000 also offers a 90 day warranty. So, it is protected against major defects and malfunctioning of parts.

Weider Total Fitness Machine 5000 Features
Just like the ultimate body works it will also help you to get your muscles in shape and keep your body fit and healthy.
You can change the incline level or difficulty level as per your choice.
Not just this, 50 pounds of resistance can be added up into if you are fond of doing heavy weight exercises.
The 5000 model is designed to enable flexibility and strength of your body.
The basic difference between 5000 and its newer model is about its color and type of padding.
The 5000 is not so much durable or suitable for hardcore usage as compared to its latest model.
It is good for the people of height more than 5'3" and under 6'5".
It can bear the weight of consumer up to 250 pounds.
It is available around $150+.
Check Out Weider Total Body Works 5000 Review