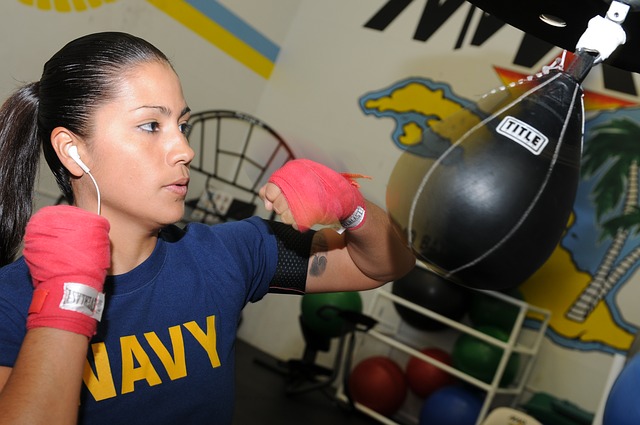 If you are interested to lose enough fat and get in shape or wants to the get fast your reaction, then punching bag workout is best for you. In this post, we are going to discuss the exercise routines of punching bags for beginners who are looking forward to some guidance. According to some stats, it has been concluded that a person can burn at least 10 calories, if he does boxing workout routines for one minute. Following are some tips for the beginners who are looking forward to learning some skills.
Beginner's List of Punching Bag Training Routines
Here is a list of punching bag workout routines that you can follow to train every day. They start with jabs, regular workout training punches. Then you get Jab-Cross-Jab, a tough drill to practice. We have also added stances to improve your posture while training with the punches.
>>> Get Finest Punching Bag for Workouts from Amazon
Jabs
When you are starting this kind of workout then it will be great for you to do such workout as a beginner. Because it will be proved as effective in your case as you just have to throw your jab only and hold your power hand in your guard position. One doesn't have to push punches on that heavy bag but one thing kept in mind that keep on moving around the bag. So, that you can punch it or you will be able to throw jab on it via different angles and positions.
Jab-Cross
After practicing with the jabs, the next punching bag training routine involved a combination of jab and cross. The jab hand is your left hand. Stand in a fighting stance and snap a jab into the punching bag. Bring it back as quickly as possible and while it is on its way back, turn your hip [change your stance] and throw the right punch [cross] towards the target.
Do remember to conserve some power. Because when you throw the right cross, it should also be effective.
Here is a workout video showing how to through jab and cross combination while training with a punching bag.
>>> Get Finest Punching Bag for Workouts from Amazon
Jab-Cross-Jab-Cross
It may sound simple, but it is actually a very difficult one to get through it. The reason behind this workout for the beginners is to train them for immediate and fast response and action. So that, he can throw two punches in a fighting stance effectively. Most of the beginners used to do a mistake in this case that they lean forward while throwing punches. What they actually have to do is to move slowly through such combination and practice for greater footwork which can help them in the best way. The right way is to bring back your foot up on the crosses and keep your hands between punches.
Once you get the hang of the training, try a combination of both jab and hook. Practice for a few days to solidify the punching bag training routine.
Get Best Punching Bags for Home
Hook
This is really a nice one punching bag workout for beginners. Pivot on your left foot like you will have to do on the cross and then twist to go up the line of your body in the punch. In this case, your left arm will go across horizontal to your body and you will have to maintain the elevated elbow across the center line which is necessary. Remember to keep the right hand up for protection and then return to the starting position.
Shadow Boxing
Before punching on a real bag try to do shadow boxing with the correct stance. This will help you punch on the target when you start with the punching bag.
Breathing Practice
During workouts, try to practice breathing. The better you breath the more punches you can deliver and with more impact.
Stance for Punching Bag
Stance is crucial during boxing. If you don't have the correct stance, then you will end up hurting yourself.
David Robson has some great tutorials here.
Punching Bag Fitness Routine Injuries: How to Avoid Them?
It is pretty common to cause yourself an injury while punching the heavy bag. However, most of the times it happens because of the bad techniques. However, if you ensure to use the right tactics, you can prevent such injuries. Following are some common punching bag injuries and ways to avoid them.
Sprained Wrist
Almost every other boxer becomes a victim of this injury. This is caused when you damage the tissues that link your forearm to your arm. In order to avoid this injury, you can use hand wraps. Make sure to wrap your wrist and hands securely so that no area is unprotected or uncovered.
Carpal Bossing
This injury is sometimes called bump on the wrist. This is caused by a knock to the back of your wrist. A bump is developed where the small wrist bones meet the long hand bones. Hence, the joint becomes bossed or swollen. Wrong boxing techniques lead to this injury.
There is no specific techniques of avoiding this injury. However, you can prevent it by taking care of yourself and being vigilant regarding your techniques of boxing. Make sure to take short breaks while pursuing your punching practice. Also, you can use a wrist brace to avoid this particular injury.
Get Best Punching Bags for Home
Heavy Punching Bag Workout Routine Ideas
There are so many punching out ideas available that we often get confused about which one to try first. But now worries, the beauty of boxing is that no workout idea ever gets old. You can add a little glamour to your heavy bag fitness routine by trying multiple combinations once you are comfortable with the basics.
30 Second Punching Bag Fitness Workout
The variations can be anything from 30 seconds standard punching workouts, to 30 second power punches.
Frenzy Heavy Bag Workout
Or, go for a workout frenzy of 30 seconds each. Then take a one minute break and then repeat.
Punch Harder
Do the same with a partner while working out. The partner holds the bag and encourage the other person to punch harder.
These are the best and recommended heavy punching bag workout routines for beginners. Stay tuned for more updates.
 Read more:
5 Best Ways to Use Assisted Pullup Machines
Century Punching Bag vs Everlast Heavy Bag: Which one to buy?