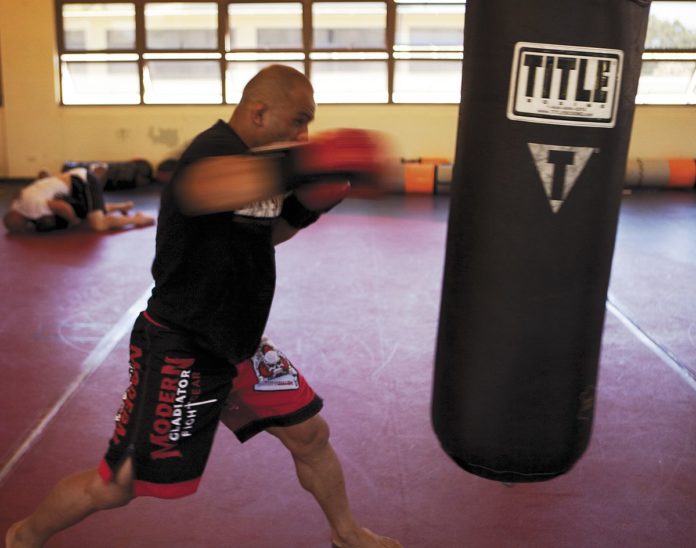 Leather is stronger than any other material that's why people used to have leather punching bags in the previous years. Today, synthetic leather, fibre, and even vinyl is used to create punching bags. These are not as strong as leather bags and would need to be replaced if more people are using them for punching practice.
That's why in this post, we are discussing the best leather punching bags you can find online. All these punching bags are perfect for anyone who is looking for heavy punching and hitting. 
Let's get started.
List of the Best Leather Punching Bags
Everything you need to know about leather punching bags for home, office, or gym practice.
If you're a Muay Thai fan, or simply, a Thai boxing fan, you should add this amazing modern-day boxing tool to your buying list. Fairtex is one of the leading Muay Thai equipment and clothing companies that has been making the best boxing equipment since 1958.
The Fairtex unfilled heavy bag is not less than a professional device for your boxing practices. No matter if you're training for MMA, must Thai or simple boxing, Fairtex has gotten your back. 
Fairfax heavy bags come in a variety of colours from white, black, red, yellow and other vintage colours too. The material of the bag is a high-grade and durable leather that lasts for a lifetime. Fairtex 
Banana heavy bags are usually delivered unfilled that can later be filled with any item of choice like sand, rice, wool or foam. 
The teardrop shape and the bottleneck gives an illusion of a human so you can have natural training experience. The Fairtex banana heavy is ideal for learning kicking, punching, drilling and clinching techniques.
Ring to cage Banana bag is one top-rated and highly recommended punching bag that is perfect for developing your kickboxing and muay Thai strength. 
Ring to cage punching bags come with a synthetic heavy-duty polyester vinyl outer shell which is a hundred times more sturdy than the leather –This is why these bags last more than a decade or even two decades. The tough outer shell is sewed faultlessly with a 6-ply polyester thread so you don't have to worry about the quality of the bag.
At the upper end, the bag encompasses leather reinforcements to which high-end metal D rings are attached–these rings help in the chain and swivel attachments. 
The bag comes pre-filled and closed with a unique lace system that gives it a more durable life. You can either attach the bag and carry out your MMA or must Thai training or you can also use it as a ground bag. 
Another phenomenal heavy bag for your combat lockbox training is this 40-pound never heavy punching bag. The everlast traditional bag comes mostly in a stunning jet black colour which makes it a treat for the eyes as well. 
Everlast punching bags come already filled with stuffing so you can have a hassle-free training on the go. The filling is usually a synthetic fibre which is designed to absorb shock and minimize injuries during the training. The outer shell is synthetic leather that is super durable when it comes to reliability and life of the bag.
The upper end has two heavy-duty nylon straps attached to the bag which helps in anchoring and positioning the bag. The 40 lb bag is almost 41 inches in length and has a diameter of 13.25 inches. The bag has various weight options and the length, diameter and functionality are according to your choice of bag. 
This stunning piece of equipment will blow your mind away while carrying out your training. The everlast vintage punching bag is a whopping 100lb when filled and is the most robust punching bag you will ever come across. 
The bag has a beautiful vintage look with the logo foiled in a golden colour enhancing the elegance of the bag. The material of the bag is a premium synthetic leather and the straps are made of nylon to provide grip and attachment. Filling material is a shock-absorbing natural fibre mix that provides a trauma-free training.  
The everlast vintage bag punching bag kit comes with a punching bag, heavy bag boxing gloves and 108 inches hand wraps. The combo is a little pricey but with all the specifications and features it is definitely worth it. 
This punching bag by Fairtex is a highly versatile box-training device that can be used for a variety of functions. Many, knee and elbow, Muay Thai/ kickboxing moves can be learnt from the bag including power kicks, high kicks, low kicks and jabs. 
The bag has an outer shell made up of a tough leather material giving it all the strength and endurance needed by a kick-box training tool. For the hinge, it has good quality nylon straps and hanging hooks that help in hanging the bag. Besides hanging, you can also mount the bag on the floor with the help of a pole. 
The bag comes unfilled with a capacity of nearly 140 kgs so you can add your desired material according to your will. This bag is available in a classic black colour and the quality is just on point. Don't worry if you're a beginner or a pro, Fairtex versatile unfilled bag has got you covered.
Bottom-line
We hope that this article has helped you find out the best leather punching bags that you can use in home, office, or gym.