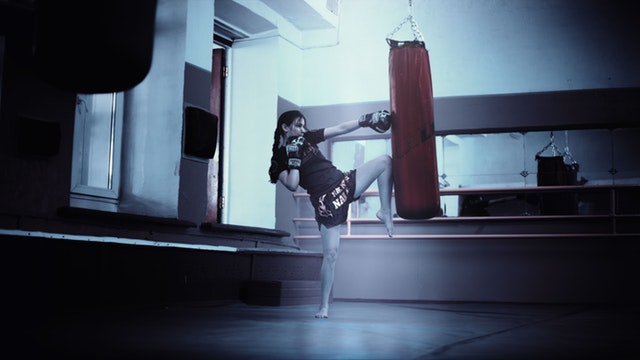 In this post, we will be discussing the positive effects of kickboxing and how it can help you get fit, gain strength, and improve your overall fitness routine. If you are aiming to become a kick boxer, then this article on the benefits of kickboxing is especially written for you. However, if you are looking to burn more calories faster, then this exercise routine can help you get started fast and easy. Let's get started with all there is to know about kickboxing benefits for beginners.
List of Benefits of Kickboxing for Beginners
Here is the complete list of kickboxing benefits for beginners that can help you become fit, flexible, and agile.
Burn excess calories & helps lose weight
If you want your calories to be burnt at an extensively higher rate, kickboxing would be your go-to move for that. American Council of Exercise (ACE) has carried out various studies that highlight the benefits of kicking, punching and kickboxing. It says that kickboxing can actually burn way more calories than your regular exercise and workouts. Incorporating kickboxing in the cardio and workout routine will help you burn muscle mass at a greater pace and hence increase your stamina and give a core strengthening effect. According to another study on the advantages of kickboxing workouts, during kickboxing and other punching and kicking activities, you burn the same number of calories as you burn while swimming. 
Enjoyed Benefits of Kickboxing? Get Started
2. Builds endurance & stamina
Kickboxing, being a vigorous and energetic exercise, increases your stamina to multiple folds( when done regularly). It helps you gain immense strength and power and let you control your body's flexibility and agility. Kickboxing has subjected to many trials and it has been proved as a core building and strengthening exercise by many different fitness organizations. According to one of these studies –which were carried out to see the effects of kickboxing on men–, kickboxing builds up the physique and increases stamina by Almost 7%. So start your kickboxing class and get that beast body ready.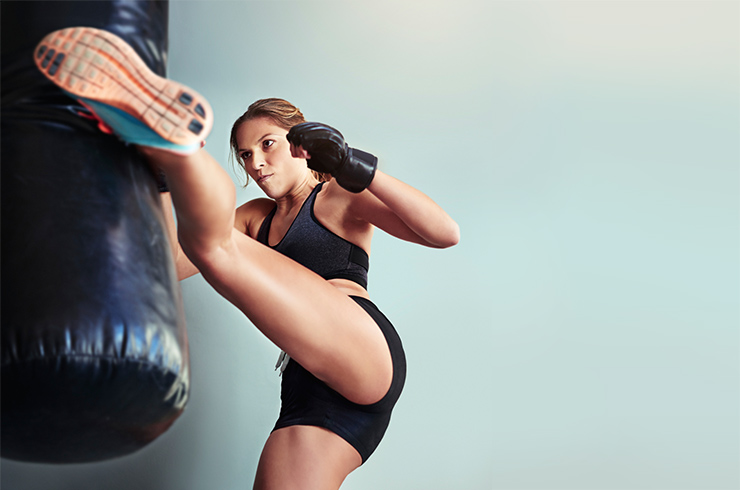 Source: Kickboxer at Australianunity
[amazon_link asins='B07BL36JD4,B07CKP9Q16,B0008G1OIS,B07ZRC244N,B000EZWPM2′ template='ProductCarousel' store='sj0b3-20′ marketplace='US' link_id='a8d63108-9f00-402d-9148-58ab8b05254f']
3. Improves hand to eye & muscle coordination 
Kickboxing doesn't only improve your physical health, but it also aids in strengthening your muscle coordination. Kickboxing has shown to have a positive impact on patients suffering from multiple sclerosis. In multiple Sclerosis, the connection between your brain and muscles weakens which results in poor muscle combination. As a consequence, your day to day motor activities like walking, talking, picking up stuff becomes a challenge. 
According to studies conducted by Euro Medical Sciences, kickboxing training for an extended period of time can improve neuromuscular coordination, muscle mobility, multi-tasking and balance of the body. So, that's another advantage of kickboxing workouts for beginners.
4. Helps maintain balance and increase reflexes
Be it reactive balance or be it anticipatory g balance, both need brain and muscle coordination to work. Anticipatory balance is kind of a voluntary balance that you use while planning on doing something like picking up stuff, moving your hand to drive a car or any possible work you do on purpose. While reactive balance is an involuntary movement which comes as a reflex of any sudden stimuli like when you are about to fall down and you at once gather yourself and balance your body to stay away from tripping yourself. So kickboxing basically assists in enhancing your brain sensitivity so that you can have control over your reactive and anticipatory balances. It also reduces the chances of falling or self-harming due to any muscle weakness. 
[amazon_link asins='B07BL36JD4,B07CKP9Q16,B0008G1OIS,B07ZRC244N,B000EZWPM2′ template='ProductCarousel' store='sj0b3-20′ marketplace='US' link_id='a8d63108-9f00-402d-9148-58ab8b05254f']
5. Reduces muscle injuries in old ages
Cardio, weight training and yoga surely are extremely beneficial when it comes to body toning and fitness however, they have nothing to do with your neuromuscular strengthening. If you want to have an athletic body with keen motor proficiency, give kickboxing a try. It enhances your balance, builds up your stamina and increases the attention capabilities of your brain. Besides these benefits, one of the most remarkable windfalls of kickboxing is its ability to combat muscle wear and tears. Athletes tend to have a lot of injuries while performing their respective sports, kickboxing can help avoid those injuries and gives a resistant effect from muscle soreness and havoc. Especially the older people are more prone to injuries so if you start to do kickboxing from a young age, you will have a strong and sturdy body in the old ages. , according to Journal of Strength and Conditioning Research. This is one benefit of kickboxing that we simply can't ignore. 
Nevertheless, you can also reap some injuries and muscle tears while doing kickboxing training. Kickboxing players tend to have hip, shoulder, back and knee injuries. But don't worry about that because kickboxing trainers are the most professional ones and they know how to minimize the risk of injuries caused by training.
6. Perfect Cross-Training Workout
If you are looking for break from the treadmill and cardio workout routines, then using the kickboxing workouts is one way to do that. These are essential for anyone who is looking to enjoy fitness with the usual kickboxing routines.
As a kickboxing benefit, if you want to take the kickboxing workouts to the next level then perhaps wearing wrist weights or ankle weights is a good way to start workouts. You can also wear a pair of lightweight boxing gloves for extra resistance.
7. Improves Posture
While we sit all day in front of a computer, we never think of improving our posture on a daily basis. That's where kickboxing workout challenges come to help. If you're hunched over a computer, the kickboxing workout challenges will build up your core muscles. They also help improve your posture and target them with perfect kickboxing routines. You can also use a combo of kickboxing routines and waist and abs for balance, and to execute each exercise carefully.
8. Gives You Confidence
Dr. Rose Windale of Healthzine.org says that kickboxing can help you release endorphins that are necessary to boost mood and make yourself feel more confident. So, another great advantage of kickboxing is that your endorphins will also make you feel happier and more positive for several hours after the workout.
Get Started With Kickboxing Workouts
9. Improved mental health
Kickboxing is one exercise that improves mental health. As kickboxing involves aerobic and anaerobic exercises, it can help alleviate mood. Kickboxing also increasing endorphins and produces changes in the brain that are great for reducing stress, anxiety, and depression. In short, kickboxing helps you get a complete peace of mind when you are tired and not fit for work. It will increase the blood rush that will automatically make you energetic and peaceful. According to Healthline, Martial arts, including kickboxing, and other forms of exercise have been linked to improved mental health and positive feelings.
Tips for Beginner Kickboxers
For all new beginner kickboxers, the best way to move forward is with:
Gradually increase kickboxing workouts
Always do kickboxing in expert supervision. This will reduce your risk of injury.
Find your goal. It can be anything such as fitness, weight loss, or competition or just learning to fight. Now choose kickboxing classes accordingly.
Participate in kickboxing sessions at least three days a week.
Stay hydrated and eat properly after kickboxing workout.
That's almost everything you need to know about the Benefits of kickboxing. If you have a benefit that we forgot to mention here, then please leave a comment below and we will add that benefit of kickboxing fitness workouts to our list.