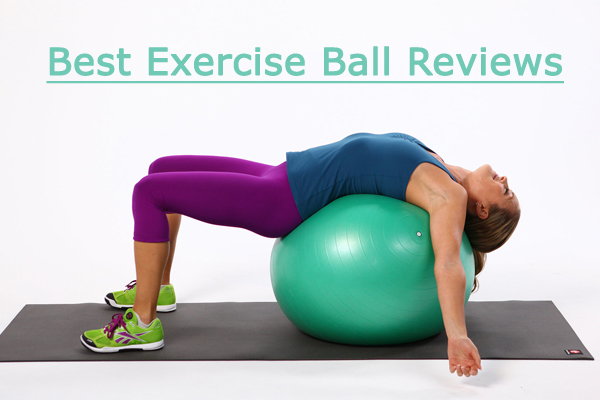 Want to lose weight and tone down your muscle as quickly as possible? You will need an exercise ball to help you do just that. There are multiple exercises you can do on an stability ball and they are really helpful in your workout when you do not have a partner to help. But if you haven't purchased an exercise ball before then don't worry as we will guide you about the types of exercises you can do with it and most importantly which medicine ball to buy.
What is the stability ball actually called?
One ball many names: Here is a list of names the fitness ball is actually called by.
Stability Balls
Pilates ball
Swiss ball
Swedish ball
Therapy ball
physio ball
gymnatic ball
Pezzi ball
yoga ball
Balance ball
Birth ball
Check our ratings of Yoga Balls before buying them
These round-shaped fitness equipment are also called as stability or fitness ball. These help rip your muscle, fix your posture and enhance your looks.
The benefits are of course numerous and in this small guide we cannot enlist all of them. But a few can easily be discussed just to give you a head start.
Benefits of Using the Best Stability Balls for Office/Home
Though many use fitness balls for fun and relaxation, but that is not always the case. And, that is not the reason these exercise balls were made in the first place. Below is a list of top benefits of using an stability ball.
It helps you stretch
One of the top benefits of using the best exercise balls for stretching is that it maintains a proper posture. By using the ball, you will have better way of properly trying different stretching postures. For example, without a stretching ball, doing the camel pose or the inverted cobra pose is pretty difficult. But with a fitness ball, you can easily try it without any risk.
It helps you maintain balance
Since most exercise balls are used for stability training, it would be unfavorable not to mention that benefit here. The main reason people choose a balancing balls is to improve their balance and posture. The reason these fitness balls have become so popular is because while exercising on them, people have to constantly maintain their balance or else they will fall. This is one of the abilities of swiss exercising balls.
Targeting Muscles
Another reason to acquire an exercising ball is because you can do any type of exercise on them. The fitness balls help you target different parts of your bodies such as arms, legs, back, core, chest and other muscle groups and tone them down. By targeting different muscle groups, you increase your own efficiency, mobility and balance.
Mobility with Stability Ball
Another important reason for buying an exercising ball is because of their portability. The fitness balls can be used at home, in gym or even outdoors. Just pick them up and take them anywhere you want. Moreover, the fitness balls do not require any maintenance and they are inexpensive to use. So you can easily store them in your closet until your next drill.
Tips to use a Balancing Stability Balls
In the start, you will find it difficult to work out on an exercising gym ball. The reason is that these do not need support and therefore you will have to adapt to change the way you work out. But worry not as we have provided a few tips below that will help you get started.
Work on your balance
Best Exercise balls do not have any kind of support. These are made to train your mobility, flexibility and balance. So, using a support like a bar or a wall will defeat the purpose of using a balancing exercise ball. Moreover, while exercising, a little instability is not such a big deal, because with time, you will get more stable and the workout will improve.
Wipe your sweat off
While exercising on the stability ball, it is better to keep it clean by wiping off the sweat. Otherwise, it will get slippery and become a hurdle in your exercise. The slipperiness can also become a cause of injury and therefore your workouts will get affected. Moreover, the rubber and sweat have ill effect on the body and can cause rashes and irritation.
Exercise in a safe area
As exercise balls are inflated by air, using any sharp object near them can possibly lead to a ball burst. Therefore, it is advisable to keep all sharp and pointy objects away from the place where you exercise with the stability (fitness) ball.
How to use a balancing ball for workout?
If you are starting now and do not have any idea about how to exercise on an exercise ball then this video is for you. The 10-minute workout video involves exercising techniques focusing on all muscle groups of the body. Make yourself look awesome by watching the training video and exercising side-by-side.
Things To Consider Before Buying a Stability Ball for Your Home/Office
Is finding the best stability Ball for weight training in home and office that hard?
There aren't much technical aspects to look into while buying the best exercise balls for yourself. But still we have made a list of things that you should consider while buying a fitness (exercise) ball. The exercise balls can be used in office sitting and for pregnant women as well. But those for pregnant women, are different. I will discuss that in greater detail in another of my posts.
Get a ball of proper size:
Focus on the sizing of the exercise ball. Every exercising ball is made in a different way and has slightly different preferences. So, get a one that suits your size and style.
Check durability before buying:
Hard plastic? Polyester? Take note of the material that can be used in your house and outside so it doesn't burst. The balls are of different materials, get one that has anti-burst technology so it can last longer.
Best Stability Exercise Balls & Brands
---
Rating
One of the best balls to exercise is superior fitness 600 pound ball. The reason is, it is affordable and better quality built. Plus, as it is built of anti-burst technology it can hold up to 600 pounds of weight without getting any damage.
Let's read more about its design.

Design:
The superior fitness yoga ball is made of thick PVC material that is non-sticky, anti-burst and anti-slip. This means while exercising you won't slip from the ball. Though we advise you not to do any stunts that can cause you any long-term damage, because one never knows.
One reason we liked the model is because of the stability ring provided with the ball, so it doesn't slip from underneath your bottom. The ball is available with resistance bands that allow you to do even more exercises.
Value for Price:
The ball is around $30-$40 on a discount, which is pretty fair deal. Because you won't just be buying the singly ball but resistance bands, stability ring and obviously a ball that can withstand 300KGs of weight.
Build quality:
The exercise ball is made of anti-burst and anti-slip technology and has a decent build quality. Not every ball can hold 600 pounds of weight and that's why we consider it to have a better build quality than most.
Pros
Made of anti-burst and anti-slip technology
Include resistance band and stability ring for enhanced workout
Can withstand more than 600 pounds of weight
Ideal for women

Cons
The ball is smaller than shown in the picture
---
This is the Best Exercise ball for Pregnant Women. Read reviews to know more.
Rating
Second ball in our list is Dynapro fitness ball. The ball is made of anti-burst and anti-slip technology and is made of extra-thick durable material so it will not slip away from under your body.

Design
The dynapro professional graded exercise ball is made up of anti-burst and anti-slip technology so we can say it is durable. But that is not the only plus point this ball has. The exercise ball can withstand around 2000 pounds worth of weight. This is much more than the previous ball we reviewed.
Moreover, the fitness ball is easy to clean and it made of heavy PVC plastic. The ball can be pumped manually using your foot. A pump is available with the plastic esercise ball.
Apart from that, you can clean it using a damp cloth. The ball is available in three sizes 55 cm, 65 cm and 65 cm. So, you have the liberty to choose one that fits your size for powerful and accurate exercises.
Value for price:
The dynapro fitness ball is or great value for the price it has. Not more than $30, that is pretty feasible price for a regular exercise ball that can take more than 2,000 pounds of weight. Plus, the fitness dynapro ball can be used with all your workouts. Importantly, you can use it not only on workouts but also as a desk chair.
Build quality
Durable, impressive build that can withstand huge pressure. 2000 pounds is around 800 kgs of weight. This equals to weight of a small car. So, this ultimate ball is something that can take a beating and withstand it.
We would say it is one of the best fitness balls to have as your workout gear.
Pros
Safe for both, kids and pregnant women
Includes workout guide from expert trainers
Won't break your bank
Takes up less room – fun workouts anywhere
Cons
Inflating the ball might take sometime
---
Rating
Third ball in our list is URBNFit exercise ball that is made of highest grade quality and is burst resistant. The ball can easily be inflated and available in a very decent price range.

Design
The finest Swiss fitness exercise ball is not only suitable for gym but it is durable and can be given as a gift to your loved ones who are exercise maniacs. The ball can support at least 300 pounds of weight. It has a hand pump available with it so you can easily inflate it in minutes. The grip is easy and doesn't slip. So, while exercise you won't have to worry about keeping ball at one place. Ut has extra ridges that provide a little bit of friction while working with the ball, the purpose is not to let it pass from under the feet.
The ball is available in four different sizes including 45cm, 55cm, 65cm and 75cm. Choose a size that fits you. As per the test, for people above 60kgs a full size ball will suffice. As for women, a medium sized ball between 55cm and 65 m will work perfectly.
The exercise ball has its own set of DVDs from professional trainers who have provided a step by step flow of exercises to work with the ball. It targets most muscles of the body and is a great fitness ball to get you started. Our recommendation is for beginners, who are looking for a decent low-cost exercise ball to go with it.
Value for the price
The ball is great to work with. It is affordable and durable. You can easily get it around $20 or more (please check the price on the website). Overall, it is a cheap fitness ball for home and office.
Build quality
The ball can support 300 pounds of weight. It is perfect for people of all ages and especially pregnant women who just want to remain in shape before the delivery. You can assemble it easily and will need only a few minutes to inflate it.
Pros
Best for pregnant women
Available with a hand pump for inflating it
Can hold body weight of people less than 120KGs
Better grip
Durable
Cons
Many have reported the pump is very delicate and can break upon use
---
Rating
This affordable Professional graded exercise ball is a good fit for anyone looking for cheap fitness balls to start exercises. It is affordable and strong. According to manufacturer's website, the home workout exercise ball can withstand a pressure of 2200 pounds. It has an anti-burst technology weight reading of 600 pounds. What this means? The ball can withstand at least 600 pounds without bursting (as per tests).

This is the weight of around six people though, so you are pretty good while buying the ball. Let's see its design.
Design
Made of anti-slip technology, the ball is has a solid PVC plastic material that has a gripping body and doesn't let you slip. This friction can be dangerous if you are working out naked and can have a burning sensation on the back of your body if you slip. So do not workout naked on this ball.
It is made of thick layers of strong material with ridges on all sides that doesn't let it slip.
This stability ball is available in four different sizes and colors depending on your taste. The sizes are 45, 55, 65, 75cm. It comes with a foot pump that can easily inflate the ball.
Value for the price
For around $20, this exercise ball has a great value for it is price. It is affordable and sturdy so you won't feel difficulty in doing work out on it.
Build quality
The ball can hold almost a small elephant. It is really durable and completely tested by the manufacturers.
Pros
Will not burst until 600 pounds (Tests reveal)
Anti-slip materials
Impeccably durable
Includes exercises and workout material
Cons
The ball is oval in shape as per many reviews
---
Rating
This professional ball by Trideer is a must-have training ball for healthy exercises such as yoga, pilates, and even fitness sitting at office. It is inexpensive and uplifts your posture.

Design
The trideer exercise ball is especially made with yoga and Pilates exercises in mind. Most of the exercises require at least some kind of support and that's what a fitness ball provides.
It targets your muscles and relaxes the body. The exercise ball is flexible and enhances coordination and balance. It is made of anti-burst technology so you won't be able to blow it up just by your weight.
Impressively, this exercise ball can hold more than 2000 pounds of weight without breaking a sweat. Yes, it is this much sturdy. The ball is available in multiple sizes ranging from 55cm to 85cm. Moreover, the anti-slip tech, built-in ridges and frictioned bottom, makes it a treat for exercise geeks.
Value for price
A decent ball that won't slip from underneath the feet. It can hold a good amount of weight. So, we can only say it fits the price. Go for it.
Build quality
This decent ball is made of epic quality. The manufacturers have tested it rigorously before selling it. It is a perfect ball for any exercise you want.
Pros
Impressively durable
Can hold 2000+ pounds of weight
Comes in multiple sizes from 55cm to 85cm
Includes workouts from experts
Cons
Is more oval in shape then circular
---
Conclusion
Finding the best exercise ball for your workouts isn't that hard. You just need to look for the amount of weight a fitness ball can hold, its durability, price and the accessories it will have.
A decent exercise ball should have at least a pump, a base support and fitness rings included, so users can start exercise as soon as the ball arrives.
So, what are you waiting for? Start ordering your exercise ball today and get exercising.
Also check out:
Rope Jumping Workout: How rope skipping can help you lose weight?