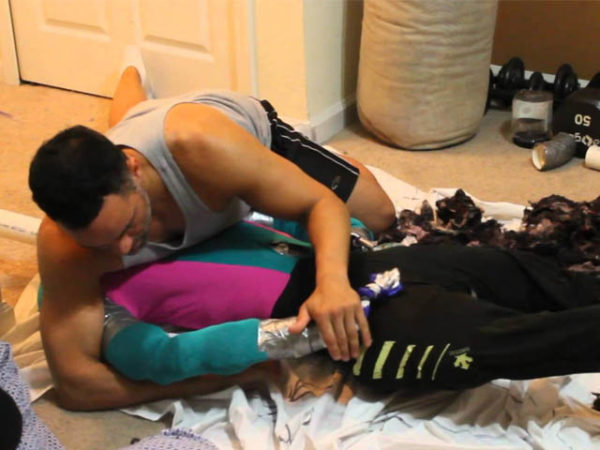 Dummies are a great way to practice any martial arts. They are easy to use and can't hurt anyone. You can easily get a grappling dummy to practice judo, mma, marital arts, and jujitsu.
Another reason people prefer grappling dummies for fighting practice is because their friends are not always free to workout with them. That's where grappling dummies fill the gap. They are an easy way to exercise and perfect fighting techniques.
Short On Time? Here is a Summary of The Best Grappling Dummies for Home.
Our purpose with this article is to help you make an aware decision. So, that you can practice more often and remain safe and healthy.
Let's begin…
How Grappling Dummies Came to Be?
History has revealed that grappling dummies always existed in some way. In the early days i.e. during Greek period, they were used as a part of the wrestling practice matches. In those days, Greeks used sand bags as grappling dummies instead of actual dummies. (Source: Wikipedia)
They were later made into better shapes by Turkish and Iranians, who used sand and clothes in dummies to use for fighting practice.
Fast forward to last century, Americans and Russians improved the grappling dummies even further. They made them into proper shapes that we use today. They also used rubber balls, sand, wood dust, and polythene plastic to make dummies stronger and more reliable. These dummies have now become an official part of gymnasiums and are used in the same way as punching bags are used.
If you are not sure which grappling dummy is the best for you, then simply check this list of Best Grappling Dummies for Beginners we have provided below.
List of the Best Grappling Dummies for Beginners
Beginners often find it hard to get the best grappling dummy for their needs. That's why we are offering them a list of the top grappling dummies in use in gyms and at homes. Whether you are establishing your own home gym or you are buying one for your gym, these combat grappling dummies won't be a bad bargain.
Also, a good way to buying these grappling dummies is to search for their reviews on multiple websites and then buy them only from top manufacturers online.
Some good manufacturers available on Amazon include Celebrita MMA and Combat Sports.
Combat sports is well known for its durable sports equipment. It doesn't disappoint with this grappling dummy either, in terms of quality and effectiveness. This dummy is suitable for practicing mixed martial arts, Jiu Jitsu as well as submission practicing. Its military grade vinyl construction allows you to clean the dummy easily. This dummy is suitable for all types of exercises such as throwing punches, kicks or tosses as it is stiff enough to resist blows. Another major advantage is that this grappling dummy comes already filled. Though, this can make it difficult to deliver it to your place, it will allow you to avoid all the hassle of filling the grappling dummy with different materials yourself.
Check Out Combat Sports Grappling Dummy
This is one of the best Grappling Dummies of judo for Beginners is designed to help you in your mixed martial arts training and to improve your grappling techniques. Made up of synthetic leather, QUADRO's grappling dummy appears to be durable and long lasting. Moreover, the product comes in different sizes. The 48 inches one can be used for kids whereas the 59-70 is suitable for adults. The product comes unfilled and any suitable material such as raw cotton or textile cuttings can be used to stuff it according to your requirements. A hanging strap is also supplied along with the dummy.
Check Out Quadro MMA Grappling Dummies
Celebrita is known for its quality leather products. This dummy is built tough to take throws and ground pound. Durable material is used in its manufacturing so that it can withstand forceful strikes and allow you to practice uppercuts, knee strikes, toss punches etc, without you being concerned about it tearing apart. This can, too be filled with any filler material like textile shreddings. Celebrita offers three sizes and three different colours in this grappling dummy. So far in our review, it is one of the MMA best grappling dummies for beginners.
Check Out Celebrita MMA Grappling Dummies 
Suples freestanding grappling dummies have gained popularity recently as a fitness training tool. It claims to be made up of durable material and backs up this claim with a 1 year warranty. Customers have praised it for being light weight and have experienced an improvement in their flexibility, speed and coordination by using this grappling dummy. Moreover, it also comes with an instructional DVD which can help you in training. 4 sizes are available in this model to cater for every age group and different heights.
Check out Free Style Grappling Dummy
Made of durable triple ply-synthetic leather, this judo grappling dummy for martial artists is well engineered to withstand all your blows and allow you to have an intense mixed martial arts session. It comes in two sizes which are 40" and 44" tall respectively. This MMA grappling dummy is mainly designed for youths.
Check Out Title MMA Grappling Dummy Reviews
While we have discussed many martial arts dummies. These are great if you want to kick or box. Simply fill the MMA dummies with sand and start punching them. They are not only heavy but give you the feel of an actual opponent.
However, not all of these punching dummies can fold. So, we decided to add ClassYak MMA Jiu Jitsu Dummy to our list. The dummy is made of artifical leather and perfect for all those who want shredded suitable dummy for practice at home.
Here are some specs about Class Yak MMA & jiu jitsu dummy.
Weighs aroundd 55kgs when completely filled
Suitable for both kids and adults. Adults usually prefer big-sized dummy of 70 inches
Can be filled with cotton, sand, or rubber granulars.
Dummy will be shipped to your house unfilled. So, make sure to buy sand bags with it.
Buy Grappling Jiu Jitsu Dummy for Home
---
Best Grappling Dummy Drills for Home
There are some of the best drills you can perform with a cheap your grappling dummy at your disposal. These allow you to improve your techniques. A few of them have been outlined for you below:
Back Control Drill
Back control is one of the most important and useful grappling dummy drill to develop. To master back control, it is crucial to practice it frequently. To practice back control drill, you have to hold this jujitsu and judo grappling dummy with a seat belt grip, keep your head close to the opponents and have your knees secured around theirs. Perfecting back control with the dummy can give you an upper hand over your competitors.
Side Control Drill
Side control grappling dummy drill with a freestyle wrestling dummy will enable you to learn another fundamental technique to tackle your opponent. During this drill, you have to place your elbow against the side of the dummy, close to the face and grasp the dummy's shoulder, while the other arm should go beneath the body. Control is established by having the opponent in this pinned down position. Additional pressure can be exerted to the opponent's face. A combat sports grappling dummy would allow you to practice all these moves easily and prepare you to use this against the real opponent.
Scarf Hold Drill
The scarf hold grappling dummy drill technique with a freestyle wrestling dummy is used when ground fighting. Sit next to the dummy with your side of the body leaning towards its chest. Place your right arm around the neck of the dummy and hold their arm tightly. This is done to prevent the opponent from freeing their neck. Then take the dummy's right arm under your armpit. Increase pressure and establish control firmly. While in this position, the opponent will find it considerably difficult to break free of your hold. Practicing this with a dummy will allow you to learn the technique well at your own pace. Make sure to keep your movements quick and secure the arm immediately as there are quite a few ways to escape from this scarf hold.
Source of images: Jujitsudummies.com, ultimatedummies.com
Best Grappling Dummy Alternatives
These are some alternatives of a grappling dummy to learn about drills and techniques to take down an attacker fast.
You can get a punching bag because it is a less expensive way to train. Most punching bags are between 60 pounds and 100 pounds. These are normal-weight punching bags and can be easily lifted and grappled-with during fights.
List of Best Punching Bags for Home
If you are not the 'punching bag lover' sort of guy then getting a exterior tire would be a good way to start grappling practice. These tires are hard, rugged, and but non-lethal. And, most importantly, these are low cost solutions for new grapplers.
Best Alternatives to Boxing for Home?
While searching for a good dummy I came across many posts suggesting that get a good Yoga ball because it is a low cost solution to a grappling dummy + you can do almost the same exercises that you would do with a grappling dummy. I am not sure how true that is but the thought sounds interesting. If you would like to get more information here is the link.
You can build your own dummy from scratch. People build grappling dummies with all sort of things including PVC pipes, wood, sack of flour, and many more home use items. You can do a quick search to build your own grappling dummy.
Here is a person making his own grappling dummy from home use items.
Finally, if you didn't like your own grappling dummy or for some reason you are not comfortable grappling a lifeless imitation, then join a Jujitsu club. There are many in the United States. This school directory by the Jujitsu federation of USA will be a great help in looking a good school. There you can find partners who are just like you and it will be a whole lot fun in practicing with them.
Final Word
These are some of the best sports grappling dummies. They are great for anyone who would like to learn to fight on his own. We hope our list of the best grappling dummies will help you choose the right grappling dummy for your workouts.