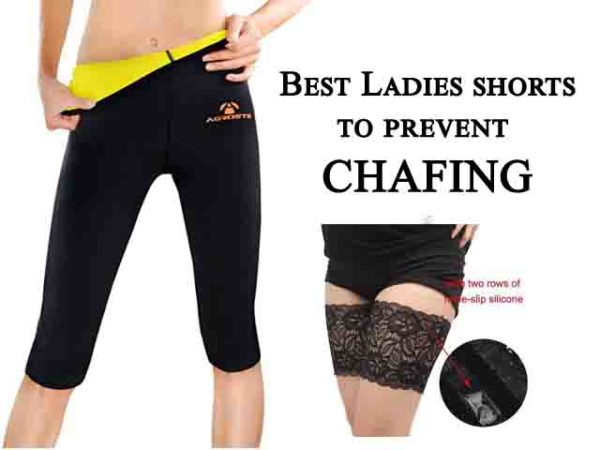 Problem with most females who exercise? Shorts ride up (chafing) while they are exercising. So, what is the solution? Shorts that don't ride up. Is that even possible? Yes, shorts are now available that limit chafing, due to their comfortable exterior. These shorts limit scratches on the thighs and provide a more pleasing workout to their users.
So, let's discuss what exactly is chafing and how it can become a nightmare for your body while working out.
Best Ladies Shorts that Don't Ride up while exercising
What you are going to read in this article:
What Exactly is Chafing and How to Prevent it?
Chafing is also known as the rubbing of skin while working your muscles. Whether you are walking, washing dishes, or exercising, chafing can occur anytime on the parts that rub together.
Bandelettes Elastic Anti-Chafing Thigh Bands
"Whether you're running, walking or doing cardio, the constant rubbing together of parts of your body—thighs, groin, or underarms—or fabric against your body causes friction that can weaken, wear away or chafe, the skin," says dermatologist Dendy Engelman, MD, of Manhattan Dermatology and Cosmetic Surgery
So, in order to avoid it, simply add a second layer of barrier. How is that possible?
Wear a second layer of clothing, or add powder, vaseline, or cream to avoid chafing in that area.
---
What is Chafing? Experts Reviewed
According to Healthline, repeated rubbing of moistured skin can cause irritation among pores. This results in rugged skin that becomes red because of the accumulation of blood particles in the affected area.
Reasons it happens? Source: Healthline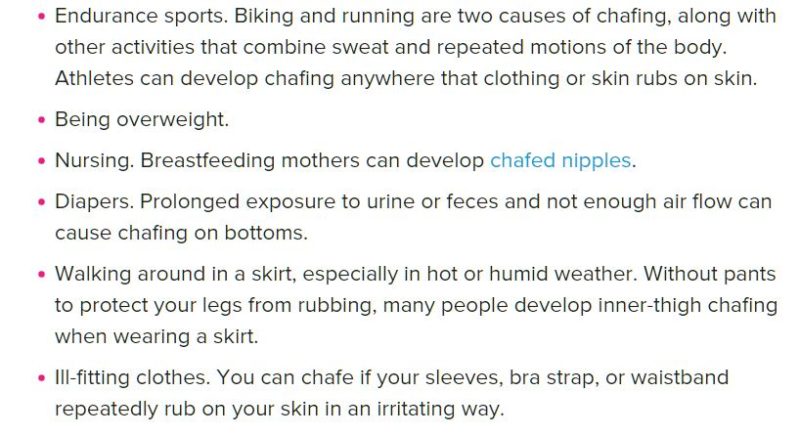 Reasons Chafing Occurs on Skin – According to Bodyglide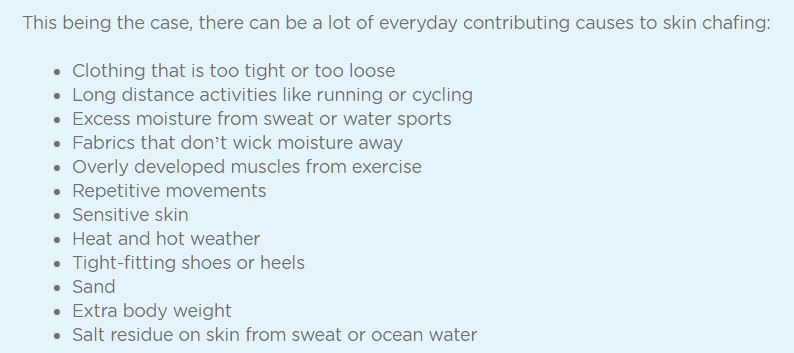 In short, it can be caused by anything such as tight clothes, rubbing of the fabric, sand or salt residue, repetitive movements, overly developed muscles, and even hot weather.
Chafing causes rashes and irritation and is more likely to occur on skin with sensitive tissue.
---
Here's a list of Lubricants to Prevent Chafing
There are certain lubricants available to decrease chafing on your body. Simply try anti-chafing talcum powder on the area that is affected the most by chafing, or wear silky underwear. You can also use anti-chafing balm to prevent it. All these products will help the skin move smoothly, without friction and irritation on the affected area.
Types of Clothes that Prevent Chafing
Compression Pants
Compression pants are designed for multiple purposes. One of those is to prevent chafing. These shorts don't ride up while exercising, improving workouts and exercise routines. They are tight, ventilated, and act as a second layer of your skin. You can wear them as an under-layer of clothing, or as your regular clothes – both ways work.
Check Out Anti-Chafing Compression Pants
Moisture Wicking Fabric
Moisture-wicking fabric mesh is a special mesh that prevents chafing by a 'catch, move and release' system. The mesh catches the moisture quickly, moves it off your skin, and then releases it for evaporation faster than other technologies. (Source)
Check Out Anti-chafing Moisture Wicking Fabric
Lycra
Lycra is a brand name for spandex. They are polyester fabric, quite similar to plastic, and help prevent chafing. They wick moisture, reducing irritation and chafing on the user's skin.
Check Out Anti-Chafing Lycra Products
Lace
Lace is lingerie line band that women wear on top of the thighs. While they look hot and help seduce the opposite gender, they are also a great way to reduce chafing on the thighs. In fact, there are lace bands available specially made to prevent chafing.
Check Out Anti-Chafing Lycra Products
Microfiber Clothing
Microfiber clothing are another breed of clothing to prevent rashes, or irritation on the skin. They are tight, ventilated, similar to compression pants, but soft and cozy. These clothes can be worn as an under-layer or regular clothing, keeping it breathable and light.
Check Out Anti-Chafing Lycra Products
Ladies Running Shorts to Avoid Chafing
Most of the ladies have claimed this problem that rather they used to tackle with chafing or their shorts ride up while running. That's why we are tackling here with such problem and introducing some new gens of shorts for ladies which will not ride up.
Best Ladies Yoga Pants to Avoid Chafing
Great quality material is used in the making of these compression pants.

It consists of 70cent of Neoprene, 15% polyester and 15% of Nylon, the combination of these materials makes it fabulous for use.

It helps you greatly in weight loss as the material which it is made of, increases the body temperature and allows you to burn fat in a speedy manner.

Best body shape can be achieved by using such pants.

Comfortable wear.

It is easily washable with hands by the use of cold water and soft detergent.
This hot body shaper enables you a great opportunity to get your body in shape.

It raises the temperature of your body and helps you in burning your fat and extra calories.

These compression pants are best to use for yoga exercises and for other fitness purposes.

These are completely breathable and enables a wonderful workout experience.
The most advanced yoga pants for women which contains pockets as well. it is made of quality fabric which allows you to perform workout in easy and enjoyable way.

These high waist yoga pants will enable you to get attractive body shape.

These yoga pants are easy to wash in cold water.

Satisfaction is guaranteed if you are buying this professional yoga pant.
Burn your calories and extra from your body by wearing these extraordinary leggings.

These compression yoga pants allow you to stay cool and comfortable because of the material by which these are made of. The breathable fibres of these yoga pants help you to stay cool and fit so that you can easily perform your workout.

It is suitable for crossfit, general exercises, cycling, yoga and hiking etc.
You will be able to burn your fat automatically when wearing this yoga pant as it will raise the temperature of your body.

It is so much effective and economical. It offers a fashionable appearance which differentiates it from its rivals.

Best for number of exercises or workouts, especially for yoga.

It offers a great fat burning opportunity to all of you as it reduces abdomen, waists and thighs.   
Finding the best womens shorts that don't ride up
If you are still unsure about what type of shorts to buy online that don't ride up the skin then simply go to any of the top ecommerce stores and start reading the reviews of the users. Though there are many fake reviews available online so select those that have at least 50 reviews available on them. Even we use the same criteria to select best women shorts that don't ride up. You can also check out our listing of yoga shorts and ladies exercise shorts and tights to make up your mind.
Best women's running shorts to avoid chafing
The reason we have selected the following running shorts to avoid chafing is because they are ventilated, and have adequate air flow. Most of these shorts are either made of neoprene, or compression pants so they keep the body dry while not becoming 'rash material.'
Just remember that you need the following features in women running shorts to check if they can avoid chafing:
They are long enough
They have long inseam
They have adequate airflow
They don't absorb water
They are made of light material
They remain cool even in highly hot temperatures
Here's a list of the best women's running shorts for marathon and exercising that you can easily wear for your regular workouts.
Best Women Shorts that Don't Ride up During Workouts
Most of the ladies have claimed chafing as a major problem during workouts. The shorts just ride up and are not really great for workouts.
Reason?
Most shorts are third grade low quality shorts that shouldn't bee worn during exercise. Here's a list of proper women's workout attire to wear.
The quality shorts which are made of 96% polyester and 4% spandex.

Such running shorts are best for workout and running purpose as it will quickly dry up the moist and you won't feel itchy during workout.

The elastic inner layer of this amazing running short enables a comfortable and tension free routine.

It is best and suitable for yoga, jumping, and running workout.

You can wash it easily with cold water.
A professional running short which is engineered with functional fabric.

80% nylon and 20% spandex.

The waistband which it has, is amazing as it offers you perfect fit and comfortability.

Reflective elements are enabled as well.

It is skin friendly and best for almost all types of exercises.
This name doesn't want to be get described pretty much, as well know very well.

It is made of 100% polyester and is of import quality.

These shorts are made totally for comfortable workout that will allow you mobility.

Breathability of this running short is great and it won't ride up while running.

Best for athletics and other workouts too.
Versatility at its best. Such imported and polyester made running short offers the multipurpose objectives to be fulfilled.

It is lightweight with the combination of compression pant and is suitable for running and yoga purpose.

Inside of it, compression pants are stitched which offers maximum mobility and eliminates the chances of riding up during running.

It has sweat defying fabric which will let you dry and comfortable.

Soft and comfortable elastic band offers perfect fit.
Nike Ladies white Tempo Running shorts
A quality product which is described by its name at the start.

The internal drawcord of this short enables a perfect fit and doesn't let it ride while running or while doing any other exercise.

Dri-Fit Crepe Inner Lining.

The Nike trademark is embroidered on it which gives a very attractive and pleasant look.

3.5 inch inseam, comfortable and small enough to be worn even inside trousers.
Are Anti-Chafing Shorts for You?
Ask yourself if following things occur to your skin:
Rashes on your skin
Irritation on the affected area
Redness and pain on the affected area while exercising
Rugged skin that has become sensitive to touch
If you exercise a lot and have healthy skin, anti-chafing shorts can save you from irritation and rashes on the skin.
Blisters and burns occurring on skin
Any of these occurring on your skin? Then, yes, anti-chafing shorts will help you reduce the pain and irritation.
Read More on Gym Clothing:
Best Precision Parkour Gloves : Reviews & Buyer's Guide for Free Runners