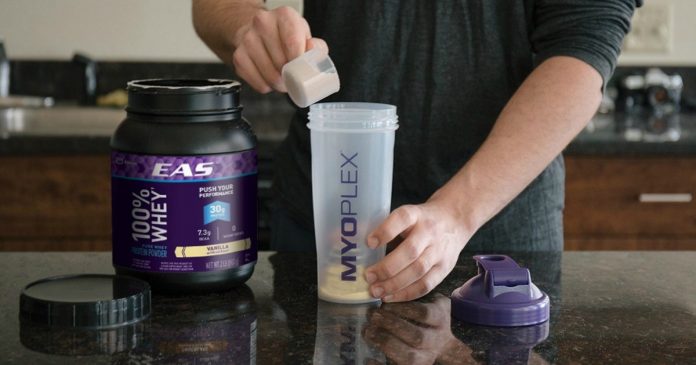 EAS is owned by Abbott Nutrition, a supplement business based in Ohio that prefers to avoid images of hulking, yelling bodybuilders in favor of a more friendly atmosphere. Their branding is more friendly and accepting of women than some popular supplement firms. EAS also sells a variety of supplements, including pre-workouts, creatine, BCAAs, ready-to-drink smoothies, and a few other types of protein powders, including casein.
We have their regular, chocolate-flavored EAS 100 percent Whey. Keep reading to see what makes it unique — also to see why it was so cheap.
Nutritional Facts for EAS Whey Protein
One serving size is fairly hefty at 43 grams or two full scoops. It also has a lot of calories, with 170 per serving. Thirty grams of protein, 6 grams of carbohydrates (2 grams of sugar, no fiber), and 2.5 grams of fat are all included in one meal (1.5 grams of saturated fat).
When it comes to micronutrients, there's plenty of cholesterol: 33% of your daily recommended intake, or 100 milligrams. There's also 160mg of salt (7 percent of RDI), 15% of your regular calcium, and 4% of your regular iron in this snack. So it's high in calcium and iron, but it's also high in cholesterol and salt, which may be a problem depending on your dietary constraints.
Ingredients of EAS Whey Protein Supplement
Whey concentrate is the only type of Whey, and it's the first element. On the other hand, pure whey concentrate is contentious in some circles because it contains the most fat and carbs and is the most prone to cause digestive issues.
Cocoa, natural and artificial taste, salt, soy lecithin (for mixability), carrageenan and xanthan gum stabilizers, artificial sweeteners, acesulfame potassium and sucralose, are the next components after Whey.
Benefits of EAS Whey Protein Supplement
Because this isn't a low-carb or low-fat protein powder, it's not as adaptable as an isolate or a mix of several types of Whey. It's also worth noting that, like a whey concentrate, this product has a lot of lactose and no digestive enzymes included in the ingredients.
This indicates that if you have a sensitive stomach, even if you aren't lactose intolerant, this product will likely cause digestive problems.
It also contains soy and acesulfame potassium, two substances that, while generally considered safe, are controversial in some bodybuilding circles.
However, if you can digest anything and don't have any dietary restrictions, EAS may be beneficial. However, I believe that this product might benefit from the addition of digestive enzymes, as whey concentrate isn't recognized for being extremely absorbent.
Price of EAS Whey Protein Supplement
The price fluctuates a little on the internet, but a 2-pound tub with 21 servings costs roughly $20. That works out to 95 cents per serving or $3.17 for every gram of protein.
The larger, 5-pound tub costs 45 dollars and provides 54 servings, or 83 cents per serving or 2.7 cents per gram of protein.
That is a very low-cost option. While EAS is 2.7 cents per gram, most protein powders are between 3 and 4 cents per gram — even Optimum Nutrition's Gold Standard is more expensive at 3.31 cents for the 5-pound tub, while MusclePharm Combat is 2.2 cents. It's therefore incredibly inexpensive, thanks to the fact that it's a whey concentrate that has been chemically sweetened and is devoid of digestive enzymes.
Mixability of EAS Whey Protein Supplement
It combines quickly and thoroughly, so you'll never have to struggle with wet whey clumps again.
Taste of EAS Whey Protein Supplement
I was expecting a strong flavor when I mixed it with a cup of milk because of the large serving size, but it's very mild. It's not very sweet or rich, so while it went well with milk, it didn't taste as good with water. Stick to milk if you want to be healthy.
Verdict: Should You Buy EAS Whey Protein Supplement?
EAS Whey Protein is a little rich in carbs, calories, and artificial additives, and it could create digestive issues, but if you think you can digest anything and want to save money on protein, this could be a fine choice for you. However, if you are looking for an affordable option, then an isolate-concentrate blend like MusclePharm's Combat Whey could be a better option for you. After reading about the Eas Myoplex whey protein review, you should be able to make an informed decision before spending your money.