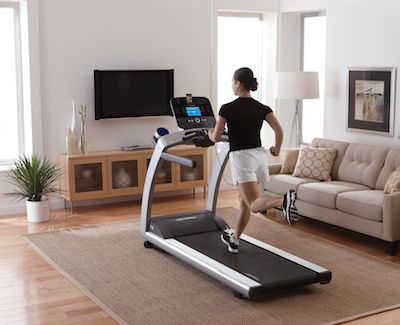 If you want a lighter and a smarter treadmill for your home gym or your office then IPO Smart Walk Slim Folding Treadmill is a perfect choice for you. It is a compact and stylish treadmill featuring excellent speed control mechanism which leads the machine to adjust the speed by the human movement trajectory, and a 0.5hp motor that assists walking and running. It comes in two attractive colors i.e., grey and pink with a unique design and smart technology in a small package. It has magnetic stickers to place it with the wall. You can place it on the tiled floor, wooden floor or floor mat as it is easier to drag due to its easy-to-pull design finished with rubber that does not cause scratches at the floor.
Get IPO Treadmill Smart Walk Slim Folding
Features of IPO Smart Walk Slim Folding Treadmill
Intelligent Design:

The IPO Smart Walk Slim Folding Treadmill is intelligently designed to cater to all the needs of sprint runners

Plug and Play:

With the treadmill, you can easily start exercising because it is a plug and play device. It means you only need to plug in the power, walk a few steps and it will automatically start without pressing  a single button

Automatic Speed Adjustment:

The speed will automatically increase if you run on the front part of the treadmill. It reaches 3 mile per hour at max speed. You can decrease this speed by running on the back part of the folding treadmill.

Constant Speed:

If you want to keep a constant speed, you can run in the middle part of running belt.

Magnetic Attachment:

The IPO treadmill comes with powerful magnets in the back foot guard. These are attached to the SMART WALK treadmill to keep it affixed to the wall and save more space. This makes it a perfect machine for small apartments.

Sliding Pulley:

The bottom of the IPO smart walk treadmill has a pulley attached to it. This makes it easier to pull out or put back under the bed or small corners.

Minimal Footprint:

It only requires 0.7 sq.ft to keep the machine steady. With a minimum height of only 1.85 inch, you can store the treadmill under the sofa, or the bed.  
Get IPO Treadmill Smart Walk Slim Folding
The IPO Smart Walk Slim Folding Treadmill is a simple plug and play exercise device, which you just need to plug in and walk three steps and here you go having an ideal and effortless workout. It has a hydraulic handrail which you can lift up to a specific height in order to control the speed ensuring safety when you run. It can bear up to 110 lbs.This treadmill has an ultra slim and sleek design which has also won the gold medal in ISPO Global Design Awards. It can be stored in a very congested space like under the table or bed. If you want to speed up your workout you need to run or walk on the front part. The speed will keep increasing till it reaches the maximum speed i.e. 3 MPH. Walk on the middle part so that the speed may remain constant and run on the lower end in order to slow down.
IPO smart walk treadmill features Double speed mode. If the handrail is not lifted, the speed remains 3.73 MPH however, if you raise the handrail the speed increases and reaches up to a maximum of 4.97 MPH. You can lift the handrail up if you want to jog or run faster. It also features a shock absorption running belt having six compression shock absorbers. It is equipped with a Bluetooth and an LED monitor that displays the time, distance, steps count and burnt calories. It has fast speed button for 2 and 4 miles per hour speed. This under-desk treadmill is 38 inches wide and 68.5 inches long and comes with a lifetime warranty for frame and motor, 2 years warranty for parts and 1 year for labor. The height is adjustable between 33.5 to 52.5 inches and can accommodate anyone between 4' 10" to 6' 8" height.
Pros of IPO Smart Walk Slim Folding Treadmill
It has a light and stylish design

It can be adjusted anyplace greater than 0.7 sq. ft.

It has a smart speed control mechanism

Pulley bottom that does not cause scratches to the floor.

Magnetic wall stickers ensuring stability and safety.

It has a double-speed mode.

Easy to use plug and play system

Intelli-guard safety features stops treadmill when person stops walking
Get IPO Treadmill Smart Walk Slim Folding
Cons of Ipo Treadmill Smart Walk Slim Folding Treadmill
It can be used only by those people who have weight less than 350 pounds.

The IPO Smart Walk Slim Folding Treadmill is not inclined.
What Reviewers Say About IPO Smart Walk Treadmill?
Never buy a thing if it doesn't have positive reviews. That is our strategy and motto and that's what we always teach others. So, we picked some of the finest, and unbiased reviews to help you make an aware decision. These reviews are of people who have bought the machine and used it. We have taken them from Amazon and rephrased them because we are not allowed to directly copy content from the website. So read on to know what these people liked the most about the IPO smart walk treadmill machine and why?!
Get IPO Treadmill Smart Walk Slim Folding
The IPO Smart Walk Slim Folding Treadmill is completely space efficient and will work in office or home. I have personally bought it to exercise in my free time. And, I am very happy with the results it provides. It is a solid machine to job on and it feels smooth and secure. The treadmill weighs about 64 lbs. It was well-packed when it reached my house. And, I only had to plug it in the socket and use. That's it.
The only thing I didn't like about his machine is that the cord available with the IPO smart walk treadmill is pretty short and needs to be plugged in directly to the wall. Using a powerstrip is not recommended as per the manual. So you need to put the treadmill right next to a wall outlet.
Get IPO Treadmill Smart Walk Slim Folding
The IPO Smart Walk Treadmill is sleek and durable. It is a perfect space saver if you are a new treadmill user and would like to use it for sometime. This treadmill looks like a beautiful, slim smart phone. I bought the one in gray color. However, you can buy it in gray or pink colors as per your will.

This is a great treadmill for me because it can easily fit under the bed. It doesn't take any space apart from the few inches under the bed, but that is bearable since I don't have anything placed underneath my bed. The IPO treadmill is also great to unpack, set up, and use. I've only had it for a week so i can't say anything long term, but so far I'm very happy.

The IPO Smart Walk Slim Folding Treadmill is great in design and all. But what I found disappointing was that the IPO Smart Walk Treadmill isn't really good for WALKING. My natural walking stride must be too long and I can't possibly stay within the short "accelerate/decelerate" range of 28 inches to maintain a constant speed. 

Another problem that I face with this IPO smart walk machine is that when I try to decelerate, the treadmill just stops, which is very annoying. This makes me think that this treadmill, if not defective, is too sensitive.
That's it.
Should You Buy IPO Slim Walk Treadmill?
It is totally up to you. The IPO Smart Slim Walk machine is perfect for all those who have a small space in their apartments. If your apartment has small space, then this is one great treadmill machine to have.
Get IPO Treadmill Smart Walk Slim Folding