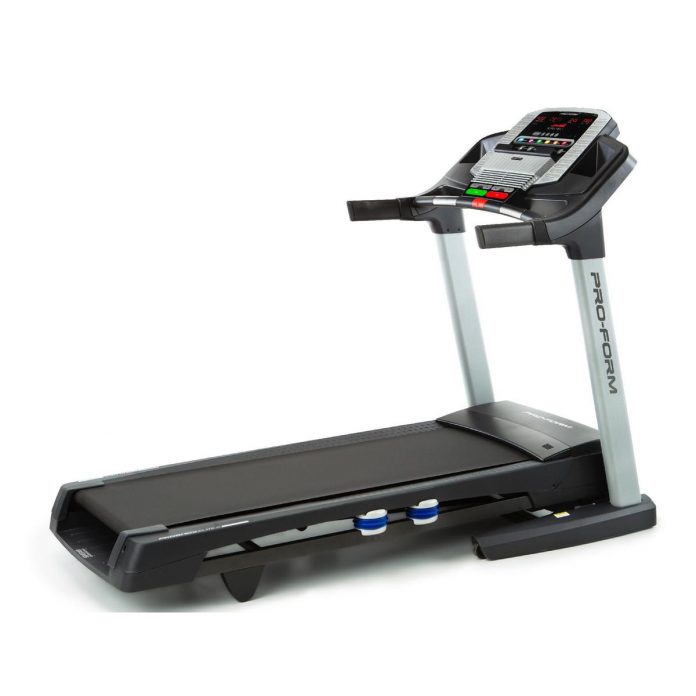 Reviewers call it 'WOW! This is a great, rock solid treadmill for the money.'
But we shouldn't only tell about the good parts of the ProForm Power 995 treadmill machine. Let's discuss in detail if this treadmill is for you.
ProForm Power 995 – An Overview
The Proform 995 SEL treadmill is a stylish and affordable entry-level treadmill. The numerous features of this model are the main reason people purchase it. 
Pricing of ProForm Power 995
It's the most feature-rich device for under $700.
You can buy the ProForm Power 995 machine from any Treadmill & fitness store in your area or order it online through ProForm store or even on Amazon. The button below will take you directly to the ProForm Power 995 product page.
Is ProForm Power 995 Treadmill a Good Fit for you?

 
This treadmill is ideal for beginners who don't want to spend a lot of money on a good machine because they will just use it a few times per week. If you believe the following description applies to you, continue reading. This new version could easily be the type of model you are looking for.
Problem with ProForm Power 995 
This treadmill, however, is not suitable for serious runners. Its quality falls well short of what serious runners demand. They would be better off investing in a machine that costs $1,500 or more.
Would ProForm Power 995 Benefit Seniors?
Yes! It would be a perfect treadmill machine for all those seniors who would want to exercise at home.
For seniors looking to:
Get fit at home

Increase their stamina

Workout within the comfort of their home

Looking for a cheaper home gym treadmill machine
The treadmill machine will perfectly fit for all those that would want to find a treadmill machine that is cheap and offers all the apps that one would need to start with workouts.
Benefits of Proform 995 SEL Treadmill 
The 2.75 HP Silent StrideTM motor on this treadmill ensures a smooth and silent workout. Furthermore, the spacious 20″ x 55″ tread belt ensures that you are always comfortable when jogging. 

Joint, ankle and knee ailments are reduced thanks to the unique cushioning technology. It absorbs the shock for a smoother ride. It can also be adjusted for a softer or harder stride.

The 0-10mph QuickSpeedTM, 1.5-10% Power Incline®, and 2-lb. ErgoGripTM hand weights allow you to adjust the intensity of your workouts to suit your needs. 

The iFIT.com technologies are compatible with the

Proform 995 SEL

treadmill, providing you with inspiration, coaching, and fitness customization. If all of these iFit capabilities perplex you, you can jump right into one of the eight built-in routines. 
Fitness Programs With Treadmill Machine
This model comes with an 8-week program to help you get in better shape. It comes with an eight-workout CD that plugs into the iFIT communication port to provide you with a personal coach and high-energy music. Shape It Up! a strength training video and a guidebook and planner are included.
This treadmill also incorporates the EKG2 Pulse TM Sensor, which allows you to work out in your ideal cardiac zone. Simply grasp it and look through the PulseViewTM panel to see your heart rate. 
Experts' Opinions for Proform 995 – Weakness
The first flaw that experts identified with this model is its quality. It's built of low-quality components, which is why I strongly advise against running on it. Furthermore, the guarantee is extremely short, making purchasing it quite dangerous. 
Expert Recommendations for Proform 995
If you're a beginner runner who can only afford a low-cost treadmill, the Proform 995 SEL treadmill is one of the best low-cost treadmills on the market right now.
This type, however, is not recommended for serious runners. You should invest in a machine that costs at least $1,500. If you cannot afford it, I recommend looking at our best-rated treadmill for your budget range. 
2.75 horsepower motor 

55″L x 20″W Running Deck 

0 to 10 miles per hour 

250-pound user weight capacity 

It comes with 1.5 to 10% inclination

It is foldable. 

90-day warranty 

Belt Dimensions: 55″ x 20″ 
Features of Proform 995 Treadmill Machine
A great treadmill of iFIT.com

12 built-in workouts 

EKG2 PulseTM Sensor and PulseViewTM window 

8-week body transformation programme 

2-pound ErgoGripTM Hand Weights 

Custom CushioningTM System 

Incline Power
Where Can You Buy Proform 995 Treadmill Machine? 
If you want to get a Proform 995 SEL treadmill, I recommend going to Proform.com. They have the best deal on the internet. It is available for $689. 
Similarly, you can also buy the machine from the following ecommerce stores:
Purchase on Amazon from $535.92 

Walmart has it for $452.70. 

Sears has it for USD 419.99. 

Purchase from ProForm from $799
Note: Proform 995 Treadmill machine has been discontinued. However, you can still buy this machine online from a thrift store or as a used product.