A pair of perfectly-fitted gloves is what every boxer fancies. Boxing gloves come in different sizes. The glove size is given in oz (ounce) which actually corresponds to the weight of the gloves and therefore it's level of protection. To help reduce the risk of injuries, boxers need to wear different sized gloves for different training types.
8oz and 12oz are the two commonly used sizes of gloves. When compared to each other, the size difference between 8 oz and 10 oz gloves is minimal to the naked eye. However, there are significant differences between the functioning and usage of the two.
Best 8oz vs 12oz Boxing Gloves You Can Buy:
2. Everlast Pro Style Training Gloves
3. Venum Contender Boxing Gloves
All About 8oz Boxing Gloves
Which Situations are 8oz Gloves Suitable for?
8 oz gloves are fighting and competition gloves. These gloves are used in boxing fighting nights. The fighting boxing gloves come in two different types: lace-ups and general gloves. A lace-up glove provides a more customizable fit as it allows you to tighten or loosen the laces for a better hand. However, the fact that you will have to need someone to lace them up is a bit irritating. On the contrary, a general fighting glove is similar to a training glove used at the gym. A person weighing in the range of 51kg-65kg range can also use the 8 oz gloves for punching bag work. These are used regularly in the stadiums of Thailand especially for Muai Thai practice
How does the Size Vary with the Weight and Gender of the Boxer?
The more the weight of the boxer, the bigger the gloves needed to be so that they provide requisite safety and better workout experience.
For Men boxers
Men boxers weighing in the range of 51-65kg can use 8oz boxing gloves for bag work. Those weighing above this range will have to opt for bigger sizes.
For women boxers
A woman who ways between 45-50kg can hit the bag with an 8oz. And for those beyond this range, they should go for bigger sizes of course. They are best for the use of women and youth.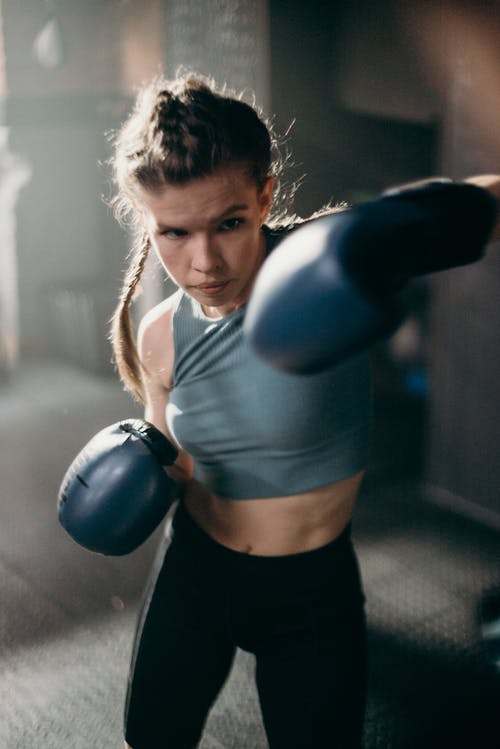 All About 12oz Boxing Gloves
Which Situations are 12oz Suitable for?
Best suited for light sparring and pads, 12oz gloves provide better protection as a result of additional padding. They work remarkably well when doing a drill with your training partner. Undoubtedly, 12oz glove is the best overall training glove to buy if one has no know-how of the sizes and specifications. Neither too big nor too small, straight down the middle.
How does the Size Vary with the Weight and Gender of the Boxer?
For Men boxers
If you are in 63-76kg range, 12oz gloves can be used for bag work. The same goes for 74-90kg range.
For women boxers: 8oz vs 12oz
For women under 45kg, we recommend a 12oz glove for sparring only. However, the women above 60kg can also use these gloves but for bag work only.
Here, we have summarized the whole story for you to get an overview of the right glove size for the right person and the right situation as well.
| | | |
| --- | --- | --- |
| BOXING GLOVE SIZE | BOXER WEIGHT | FITS FOR |
| 8 oz Boxing Gloves | Up to 50kg (up to 110 lbs) | Fighting and completion only |
| 12 oz Boxing Gloves | 45kg – 67 kg (100-150lbs) | Pads and Light Sparring |
Advice: Use boxing hand wraps (or mitts) to absorb perspiration and extend the lifespan of the gloves.
In addition to affecting the quality of your training, the choice of a wrong glove can increase your chance of injury, fracture, and concussions over time. A heavier glove will offer more protection to your hand, but will also slow down your punching speed. Therefore you will have to be cognizant of the size of the training gloves that suit your requirements, you just can not neglect the significance of it, can you?
FAQs About 8oz vs 12oz Punching Gloves
Should I get 8oz or 12oz boxing gloves?
The 8oz boxing gloves are more commonly used for fighting and cage fights. They are the most used gloves for karate, MMA, Muai Thai and other boxing fights. They are also used for practice with speed bags. However, 12oz gloves are good for sparing on a heavy punching bag and for regular bag work. They are used for training practice around the world.
If you are not sure which gloves to buy for your boxing practice, then go for 12 oz glove because they are the all-rounder.
What are 8oz Gloves Used for?
The 8oz gloves are used for knockout matches because they directly impact the body. These are great for aggressive punching practice as well. If you are looking for lightweight punching or for fight gloves, then 8oz will be a great purchase.
Should You Use 8oz vs 12oz Gloves for Heavy Bags?
You can start with 12oz boxing gloves for heavy bag practice and then go all the way to 16oz. Usually 12oz, 14oz, 16oz gloves are used for heavy bag practice. This includes both sparring and bag work practice.
Buy Boxing Bags Online at Amazon