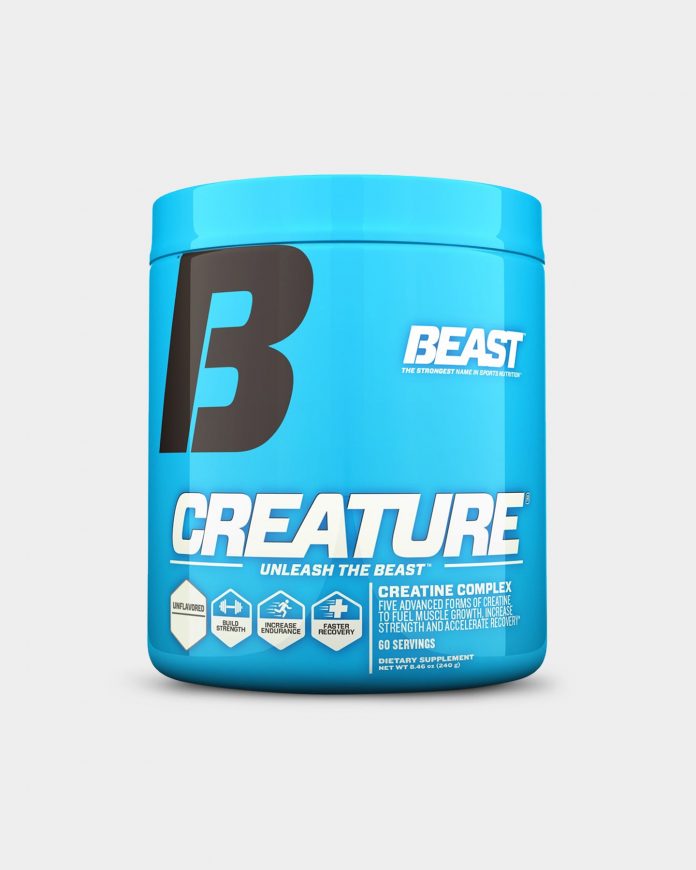 Why are there five types of creatine in Beast Creature Creatine?
Beast Sports Nutrition is based in Boca Raton, Florida, and while their products are aimed at bodybuilders looking to grow muscle and lose fat, they also sponsor a couple of powerlifters. They sell some unique goods, such as a thermogenic supplement that causes your body to sweat and Creature, a combination of five creatines.
What are their contributions to the table? Read further about my Beast Creature Creatine review! 
Buy Beast Creature Creatine Supplement Online
Ingredients in Beast Creature Creatine
We don't know how much of each component is in these unique mixes, but the "Creature 5x Complex" has 4 grams of five creatines: creatine monohydrate, di-creatine malate, creatine anhydrous, Crea-Trona® (a type of buffered creatine), and creatine gluconate. In the following part, I'll go over these in greater depth.
Banaba leaf extract, biotin, cinnamon bark extract, and chromium picolinate make up a 92.5-milligram blend of "creatine optimizers."
Natural and artificial sweeteners, as well as silicon dioxide, an anti-caking agent, make up the balance of the contents. It's worth noting that we tasted the citrus flavor, which is turmeric-colored naturally.
Benefits of Beast Creatures Creatine
A simple rundown of creatines used in the Beast Creatures Creatine is as follows:
Monohydrate is the most popular and well-studied form, having strong correlations to muscle hypertrophy, power, endurance, and neurological effects.

Di-Creatine Malate is creatine that has been bonded with malic acid, a flavoring agent present in apples and other fruits.

Creatine anhydrous is ordinary creatine that has been dehydrated even further, giving it a little more creatine per gram.

Creatine that has been buffered is somewhat more alkaline than ordinary creatine.

A glucose molecule has been linked to creatine gluconate.
Some of them, such as malate and gluconate, "enable for greater creatine entrance into muscles" or boost "solubility and absorption," according to Beast. Some of these may be more easily dissolved in water. However, there is no proof that they are more effective. The only actual, peer-reviewed study I could find was on buffered creatine, and it concluded that it was ineffective for raising muscle creatine or improving performance.
Buy Beast Creature Creatine Supplement Online
It's possible that certain non-monohydrate forms of creatine, such as malate, gluconate, and buffered, are softer on the stomach than monohydrate. Some people get cramps when they take conventional monohydrate, and anecdotal evidence suggests that these symptoms are alleviated by using these alternate types of creatine. However, because this medication contains monohydrates, you may still have cramping if you use it.
What about creatine enhancers? Beast doesn't really explain why they're particularly helpful at optimizing creatine, but many of them, such as the banaba leaf, chromium, and cinnamon, have been related to decreased blood sugar and/or improved insulin sensitivity.
This is odd because many people strive to raise their blood sugar when they take creatine in the hopes of improving muscle retention. Beast may be moving in the opposite direction because better insulin sensitivity lets you absorb nutrients from your food more efficiently, which could help you absorb the creatine more effectively.
Chromium is commonly given at 1 milligram, banaba extract at 1 gram, and cinnamon extract at 250 milligrams as a supplement to increase insulin sensitivity. Beast has 50 micrograms of chromium and less than 90 milligrams of the other components, which is significantly less. That's not to say they won't affect your blood sugar in any way, but it'll usually be minor.
Price of the Beast Creature Creatine
For around $22, you can get 60 servings for 36 cents each scoop or 9 cents per gram of creatine. When compared to pure creatine monohydrate, that's a bit pricey, but if you enjoy the notion of testing different types of creatine and think the optimizers could be effective, one may perceive this to be an amazing deal.
Buy Beast Creature Creatine Supplement Online
Taste of the Beast Creature Creatine
I tried the Citrus flavor, which is artificially flavored and sweetened, and it was quite nice, reminding me of a lemon-flavored soda. However, because it's naturally colored with turmeric, it had a very little turmeric flavor as well. I didn't mind it, but if you can't handle the flavor, you might want to avoid it.
Should You Buy Beast Creature Creatine?
While there isn't much data to back up the unique types of creatine, and the optimizers are dosed too low, it's a surprisingly low-cost product. It's a couple times the price of ordinary monohydrate, but at less than ten cents per gram, it's still a bargain. This isn't a bad bet if you like the notion of ingesting multiple types of creatine — especially since it may be easier on the stomach — but don't expect them to deliver dramatically improved outcomes.
I told what I could about my Beast Creature Creatine review -the choice is yours now! 
PROS of Beast Creature Creatine
Biotin is present (70 percent RDI)

Insulin sensitivity may be improved.

No artificial colors are used.
CONS of Beast Creature Creatine
Four of the five forms of creatine have little evidence to back them up.

Blended exclusively for you

Artificial tastes and sweeteners are used.
Buy Beast Creature Creatine Supplement Online