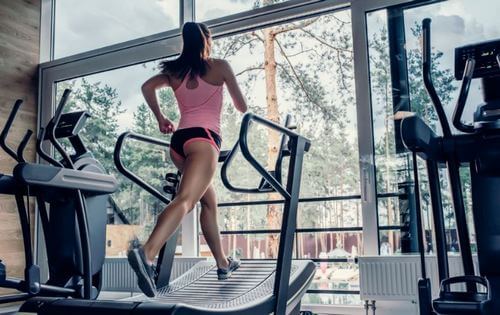 You don't need to be a pro to start working out in your home gym. You just need a little isolated space and adequate equipment to start fitness training. Treadmills are a very popular way to exercise and they are loved by fitness-oriented people all around the world. But when it comes to choosing a treadmill, there are certain limitations that one should consider while starting treadmill workouts in their own home gyms. 
But not everyone wants a treadmill. A few reasons for people searching for treadmill alternatives include:
Treadmills are monotonous

Treadmills can be expensive

Treadmills can take more space

Treadmills need more maintenance

Treadmills are not used on a regular basis

Treadmills don't support multiple workouts
So, we created a list of possible treadmill alternatives that people can buy for their home gyms. Most of these are not like treadmills but they serve almost the same purpose i.e. helping users burn more fat and get fit faster.
[amazon_link asins='B0193V3DJ6,B07WDS7FK2,B07R39MBMF,B01M0L0D90′ template='ProductCarousel' store='sj0b3-20′ marketplace='US' link_id='92e8af9c-6184-42f3-9f55-7ccbe89e4e63′]
The reason we came up with this list was because people were asking questions like 'what can I do instead of a treadmill?' and 'what are some alternatives to treadmills for cardio workouts'. We observed that most people simply don't want to run on a treadmill. Either they have open space where they can take short sprints or they are happy with working out indoors using elliptical machines and stair climbers. So we decided to add them to this list. Keep reading and let us know if you come across any treadmill alternative that can become a part of this post. 
Below we have some of the best treadmill alternatives for home gyms that are worth giving a shot. Also, if you want to learn about resistance bands, you can do that in our how to buy resistance bands post.
Tread Climber as Treadmill alternative
Tread Climber is a 3 in 1 multipurpose machine, it gives a combined effect of a treadmill, stepper and an elliptical. The three zones being low, moderate and vigorous can provide different levels of workouts. The up and down motion of a treadclimber feels like you're walking in sand, increases heart rate and if you're walking without the support of side rails, you are doing more of a core workout.
It is a better alternative to the treadmill if you're an arthritis sufferer. It will increase the heart rate at a low-speed level. It is more compact than a treadmill and saves a great deal of space fitting perfectly in the homes.
Focus Muscles:
Legs, Butt, and Back
Elliptical Trainers as Treadmill alternatives
The elliptical is another incredible alternative to the treadmill for a home gym. And if you're a beginner then is is the perfect workout machine for you. It isn't like working on a treadmill, instead think of a cross between running and cycling. If you have ever paddled a boat through your feet, then that's akin to using an elliptical trainer.
It will prepare your body for a high impact setting. Elliptical is easy on the bones and joints and great for a fitness routine startup. It provides you with enough resistance to build strong bones and joints while working on your core at the same time.
Focus Muscles:
Legs, butt, back, and hands
Cross Trainers as Treadmill Alternatives
Max trainers are one handy option for people looking for a work out the machine to fit at home. It has an extremely low impact work out an option that burns more calories and tones your lower body perfectly. And works on your upper body too if you are using the handles too. It has various versions and the machine is priced accordingly. But the prices are definitely lower than a treadmill.
The max trainers give fast and guaranteed results in a short span of time making it prominent among the fitness experts. They also increase stamina, and are helpful for females who simply can't run for longer durations. They can get more stamina and tone their body by using the max trainers.
Focus Muscles:
Legs and back
Rowing Machines as Treadmill Alternatives
Rowing machines are great for people who want full-body strength training. Rowing machine pertains to each and every muscle group of the body increasing your core vitality. Rowing action makes you work from head to toe, hence burning more calories. This is a great alternative to the treadmill in a home setting. Rowing machines are provided with screens displaying all the necessary information like time-lapse, split time, strokes per minute, and the distance.
 Also, they not only workout your legs but also your lats, triceps, and even strengthen the back muscles of your body. Therefore rowing machines are a great alternative to treadmill workouts.
Focus Muscles:
Lats, back, triceps, and legs
Yoga as Treadmill Alternatives
Yoga is not only a workout or training it's more like a meditation. Yoga can be done a gym alternative with expecting the same results as that of gym workouts. Every poses you hold during yoga embrace every single muscle of the body, defining your core. From kundalini kriyas to the various mudras, yoga helps you lose weight and build muscles. It saves time and requires zero equipment and occurs to be super effective and if you are a little careful there is not a single chance of injury hence it is safe as compared to the immensely heavy machines. 
The reason we have added it as an alternative to treadmills because yoga focuses on stretches to increase stamina. Now most people won't go for a cardio workout, that is where yoga asanas come in handy. They can use the yoga postures to enhance their fitness and do it all for almost 90% less cost.
Focus Muscles:
Whole body + Increases Endurance