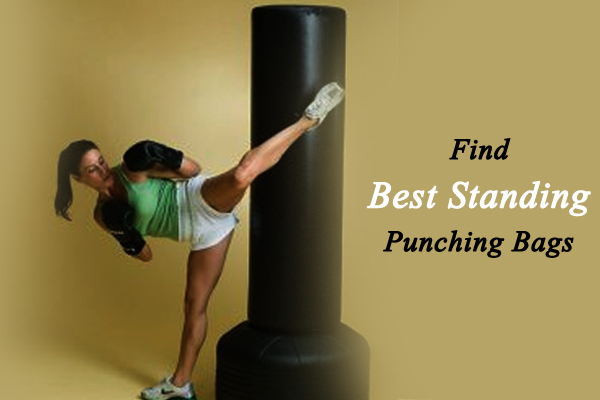 If you are practicing martial arts then there are chances that you may want to practice with a real person. However, you can't find real person everywhere and that's where a punching human torso helps.
Available for around 200$, the torso punching bags include a human torso without limbs and legs. The curves and linings are clearly visible in the dummy bags and that's what attracts the customers. Most of the dummy punching bag buyers are either martial artists or boxers. These dummy bags are available for professional gyms as well as home gyms.
Here's our set of recommendations for the best mannequin punching bags.
| | | |
| --- | --- | --- |
| | | 4.5 Stars |
| | | 4.8 Stars |
| |   | 4.4 Stars |
For those who are in a hurry, this is the crux of the whole article on dummy punching bags. We have prepared this list so you know what type of products we are reviewing and if they are worth the purchase or not. We have also added our own rating. Of course, the best bag is the dummy BOB XL, but you can also go for Century BOB dummy bag if you are tight on a budget.
Can we use mannequin punching bags at home?
Yes. These can easily be placed in a small corner of a house. Treat them just like a regular punching bag because they are one!
You won't have to worry about anything just use them whenever you want to and then clean them. You can also wrap them up with a sheet when not in use, that is how you clean a dummy punching bag.
If you are in for more fun, then get a MMA punching dummy target. This is how it looks:
Some of the finest dummy boxing bags available in the market are Bob dummy boxing bag, where Bob stands for Body Opponent Bag (BOB). Second, we have Gymenist Dummy Punching Bag. Both bags are decent and provide value for the money, however unlike traditional standing or hanging punching bags they are a little costly. So, make sure you need a dummy punching bag, before buying them.
Why use Mannequin Punching Bags for Training?
They provide more precision in learning fighting
You get an idea how and where your punches and kicks will land while hitting the opponent in real life
They train you for competitions better than hanging or standing punching bags
They provide ultimate training for fighting an opponent
They are stable and anyone can train on them
They are perfect for professional gyms and home gyms alike
Best Mannequin Punching Bags to Buy (Summary)
Century Body Opponent Bag (BOB) Dummy – Best Human Torso Punching Bag
Overview
Bob Dummy Punching bag weighs around 270kg. It can be filled with either water or sand and it remains table even during powerful. The bag has garnered a huge amount of positive reviews from buyers and is considered the finest standing boxing bag in the market because of its body-line features and sturdy shape. This century punching bag is used by professional martial artists, fighters and boxers. Most people have now started to buy it for setting up home gyms because of its absolutely satisfying quality. The bag can take hits, kicks and punches and remain stable at all times.
Buy Century Bob Dummy Bag on Amazon
Features
The dummy punching bag has a height of 60-78 inches. It is shaped as a human torso so that's around 2.5 feet of width area. However the width varies at different angles throughout the bag. It is around 270 pounds in weight when the bag is fully filled with either sand or water. To prevent it from falling down during punching, the bag is filled with weight at the bottom.
It is hard to lift the bag but it can be rolled to move from one place to another inside a gym. It is a preferred human torso bag for home gyms.
What to expect?
The BOB dummy punching bag is a lot of fun to strike. Not only will it boost your fighting techniques but will also allow you to train for real-world scenarios. Let's get it straight. With a regular bag you are not aiming for any specific body part like stomach, chest, heart or kidneys. But with this bag, you are doing that. It makes your aiming great and target specific. This is especially helpful if you want to improve your striking accuracy.
Should you use gloves?
The bag is great to use for all kinds of fighting endeavors such as punching and kicking. But due to its realistic features, which include rough edges than a normal bag, it would be better to use punching bag gloves before using this bag to prevent any injuries. The bag weights around 270 pounds and is relatively stable to strike.
Will it fall?
Bob dummy punching bag is specially made for professional fighters who are willing to pack every bit of weight in their punch. The standing boxing bag will take the hit and not fall because it includes weights in the base. This is one reason to use it for professional fighting practice in gyms.
However, the weights at the bottom can become a hurdle while moving the punching bag. That's taken care of by emptying the base.
Pros:
Best dummy bag for practicing real-world fighting scenarios
Practice hits on specific body parts
Can withstand heavy hits. Therefore, is one of the best dummy bags for professionals
Cons:
Pricier than other punching bags in the market
Difficult to move in gym due to filled base
Body Opponent Bag XL (BOB XL) Punching Bag – Complete Human Dummy Package
Overview
The body opponent bag extra-large (BOB XL) human torso is similar to the regular stand but a little bigger on the bottom side. It has the whole human torso from knees to the top. Only the limbs are missing. The extra section gives you more striking area, which is great if you want to practice full body shots, usually through kicks and punches.
Just like the original Bob dummy punching bag, the features are clearly visible on all parts of the human torso in XL .
Buy Century Bob XL Bag on Amazon

Features
It has multiple height settings ranging from 60-inches to 82-inches. The XL bag is four inches taller than the original bob punching dummy. But it weighs the same at 270pounds, just like the original dummy. The fighting stand has a plastic base that can either be filled with water or sand.
What to expect?
The punching dummy has a human shape, so it is great for real-world scenario boxing. The increased torso area for hitting makes it great for hitting and fun to practice your moves.
The dummy punching bag is useful if you want to practice lower body boxing or kicking. Not dummy bag provides this much clarity while hitting the punching bag. But with this torso stand, you can easily practice hitting the shins or the abdominal muscles.
Just note that the head tends to wobble when it is hit with punches. The more the intensity of punches the more it will wobble – pretty similar to the head of a real person.
Pros
Provides more area for strikes and blows
Clear visibility of facial and body expressions
Wobbles on a hit. Just like a normal dummy punching bag does
Cons
$100 costlier than the regular Bob dummy punching bag
Isn't really needed for practicing as the regular human-shaped stand for fighting practice will do the job 
Gymenist Standing Punching Bag – Best Dummy Bag for Beginners
Overview
Next we have gymenist Standing boxing bag that is 70-inches in height and can be used for home gyms and professional boxing clubs. The standing punchimg bag is great for all types of martial arts and boxing trainings using kicks, punches and elbows. The human-torso stand is red in color and resembles the upper area of the human-torso.
Buy Gymenist Standing Punching Bag on Amazon
Features
The dummy bag is 70-inches in height. It can be filled with either sand or water, but many prefer to fill the baggage with sand for safety and extended use. The gymenist standing punching bag includes floor suctions. These give you options to use it on any surface that would allow suction. The cups can be filled with water or sand for stable boxing.
What to expect?
You can easily practice punches, hooks, upper cuts, belly punches, high-kicks, round house-kicks and even abdominal kicks with this punching baggage .
This dummy punching bag is great for MMA strikes and kicks. The round house kicks can be used for the
While practicing with this bag, it will train your kickboxing skills and cardio, both at the same time. The human stand is one of the greatest aids to your workout as it will allow you to practice strikes like you are hitting a real person. The human dummy bag is of the same height as an average person.
Pros
Cheap and sturdy. Can be used by beginners and advanced users alike
Martial artists and MMA fighters can use the Gymenist dummy bag for strikes and punches
Helps you practice like you are hitting a real person
Cons
Only half the torso is available in Gymenist punching bag. If you want the full one, check out the Bob XL dummy bag would be a good idea
Other Human Dummy Punching Bags:
The above mentioned human stands are some of the best dummy punching bags in the market. They are easier to use and have a great number of reviews. But if you think they won't help you achieve your goal then there are many other dummy bags in the market.
[amazon_link asins='B003QOHSLQ,B00329TVEM,B00LWEH0ZQ,B000KUU1U4,B071JRH5DQ,B00787ELAS' template='CopyOf-ProductCarousel' store='sj0b3-20′ marketplace='US' link_id='e884de2f-97a1-11e7-93a0-51a33d092f15′]
Check out Human Dummy Punching Bags Here
Read more about Best Punching Bags' Reviews Below:
Best Free Standing Punching Bags – Reviews and Buyer's Guide
Adidas Defender II Duffel Bag – Best Traveling and Gym Companion