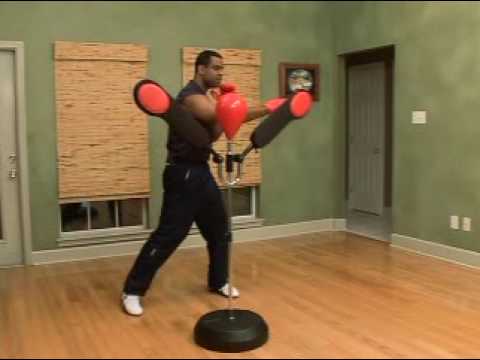 If you're looking for a fun kickboxing workout, you can now bring your favorite aerobic training equipment to the comfort of your home. The Carepeutic BetaFlex Aerobic Kicking and Boxing Trainer is the perfect fitness equipment to practice all your boxing skills. It inspires professionals and experts all over the world to follow an active lifestyle with quality aerobic training sessions.
The BetaFlex Aerobic Trainer is the ultimate kickboxing equipment to optimize your workout and relieve stress while burning more calories. Hence, it provides an industrial-grade design with three punching targets at affordable prices to help professionals achieve routine training at homes.
Let's discuss its pros, cons, and features to know more about Carepeutic BetaFlex Aerobic Trainer before making any purchase decision. Without further ado, let's plunge into the guide.
Buy Carepeutic BetaFlex Punching Bag
---
Pros of Carepeutic BetaFlex Aerobic Punching Bag
Robust Design
This aerobic kicking and boxing trainer incorporates a flexible and sturdy design along with three punching bags. It's an ideal solution to target various parts of your arms and provide versatility to your body for different purposes. Further, the equipment has adjustable arms that can easily rotate backward and forward, or up and down to meet specific user requirements.
Portable Gym Equipment
This high-quality and heavy-duty base aerobic training equipment has a polyurethane foam punching ball that doesn't require any inflation. With an adjustable height of around 50-70 inches, the Beta flex aerobic trainers meet the different heights of their users. Hence, it's portable, unique, and flexible to provide a true home gym experience to its users.
Relieves Anxiety and Stress
For users having a difficult time to cope with their anxiety and stress, this boxing equipment helps them relieve everyday stress and manage their calories. It has a strong core that supports users who want to strengthen their reflex muscles. The spring-mounted punching ball and the easy-filling base provide convenience to the users. The users can choose either water or sand and fill up the base up to 144 lbs.
Buy Carepeutic BetaFlex Punching Bag
---
Cons of Carepeutic BetaFlex Aerobic Punching Bag
Carepeutic Betaflex Aerobic Boxing Trainer doesn't have any major cons. Some minor ones are that it doesn't have gloves included:
Gloves Not Included
The Carepeutic BetaFlex Aerobic Trainer doesn't include any gloves in the package. Therefore, users have to buy gloves before starting their boxing and workout sessions at home.
But… you can easily buy gloves for kick boxing right? So, this is not a major con of the Carepeutic Betaflex Aerobic Boxing Trainer. With that said, lets move to the features of Carepeutic Betaflex Aerobic trainer.
Buy Carepeutic BetaFlex Punching Bag
---
Features of Carepeutic BetaFlex Aerobic Punching Bag
Adjustable Targets– It has three individual targets for men, women, kids, and older people. Due to this, the aerobic trainer bag is easily adjustable in multiple positions. 
Heavy-Duty Base- This boxing equipment has an easy-to-fill and heavy-duty base to help users fill water or sand whenever they are ready. 
Steel Spring Construction– It has foam-made punching balls and a durable steel spring construction to align with the kickboxing standard.
High quality Foam: The Carepeutic Betaflex boxing bag trainer allows users to easily target the pads. The pads are high quality foam, they are durable and long-lasting – perfect for people who would like to take their boxing practice to the next level.
Buy Carepeutic BetaFlex Punching Bag
Why Buy Carepeutic BetaFlex Punching Trainer?
Up and down, forward and backward rotatable arms mimicking real
Adjustable height of punching bag and mounted hands with springs ideal for a variety of users.
Professional kickboxing standard with advanced heavy duty base and steel spring.
Make yourself look like a skilled kick boxer with a complete aerobic workout that can be done at home or at the gym in just 30 minutes per day.
The easy-to-fill base will hold up to 144 pounds of water or sand. Just minor assembly is expected.
3-target professional kicking and boxing trainer for aerobic workout.
Verdict: Should You Buy Carepeutic BetaFlex Punching Bag?
The Carepeutic BetaFlex Aerobic Kicking and Boxing Trainer is the perfect way to improve your shape and level of fitness. It's a professional fitness instrument that offers durability and stability to every user simultaneously. Overall, it provides efficiency and supports users in their ultimate kickboxing quest to deliver vigorous punches. 
So, if you're looking for a piece of incredible fitness equipment with industrial-quality punching balls, you can go for this affordable kickboxing trainer. It can strengthen your muscles and improve coordination and agility for a seamless experience. It's an ideal trainer for your kids as well to get extra support during their early kickboxing practice stage. 
Buy Carepeutic BetaFlex Punching Bag