Tough question right? But you always wanted to know the answer! So, we decided to include it in our list. Let's see which one is the toughest. Aqua punching bags or Sand bags.
Aqua Bag, as the name implies, is the most contemporary form of punching bags and is filled with water. Yes, you heard it right, these bags, in contrast to the conventional heavy bags stuffed with sand, have water inside them. 
Due to a large number of benefits that these bags have to offer over the traditional ones, they are being considered as the first choice by many boxing professionals. To name a few of them, we would say Canelo and Golovkin. These professionals have been sighted using aqua bags several times.  
And it's not just these two professional boxers there are many more who recommend aqua punching bags because of the equal distribution of weight. 
One reason that we understand makes Aqua punching bags great for users is because they mimic our body. Since our body has 70% water, the aqua punching bags with their thick skin and water inside act as a perfect replica for that.
Features that Make Aquabags ᾽The Go-To Punching Bag᾽ for Every Man Jack
There are a handful of features that make the aqua bags a better option in comparison with sandbags if you are considering buying a new one.
They are Cheap and Cheerful
The water (aqua) bags cost a lot less than heavy punching bags, thanks to the municipality that we don't have to pay for the water at least. They are shipped empty and take less space, which further dampens the shipping price. You won't have to worry about storing all the sand, just dispose of the water and you are good to carry the bag anywhere you like. 
On the other hand, with sand punching bags you have to take the whole bag because you can't fill these bags on the spot. This also makes the sandbags heavy and it is impossible to lift them for a long time because of their excessive weights. Some heavy punching bags are over 60lbs and you simply can't take them with you to many places.
Tear-Drop Canelo Water Bags Allow Better Workout
Quite interestingly, the aqua training bags do not have the same old shape as that of the conventional bags. They come in unique teardrop and pear shape. This has been specially designed to allow a greater number of strikes combinations such as hooks, jabs, and uppercuts. Another reason they are in the tear shape is to balance the gravity and the shape of the bag. If these bags were circular like the regular punching bag, the water would sprinkle within the bag.
The shape combined with the water filling and flexible material gives you this realistic feeling as if you are hitting a human body, ideal for professional boxers and MMA fighters.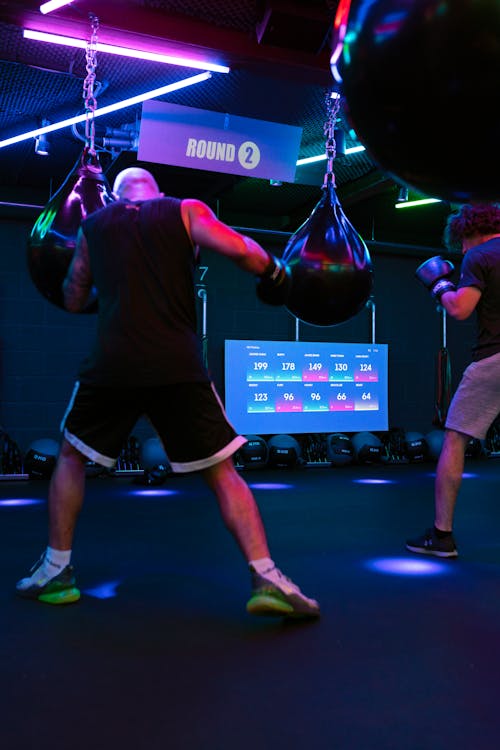 These Bags are Long-Lasting and Impermeable
The water bags are durable, lasting as long as 2 years. These aqua bags will give you the same feel years after the first day you hit them. No settling, no hard spots, even after years of use. The ability of water-filled bags to absorb more kinetic energy eliminates the chances of hard spots, often found in sandbags. These aqua bags are gale proof so they can be used indoors as well as outdoors. Who doesn't want to get a tan while working out on a sunny beach, thanks to the UV resistant property of these bags?
The Water Filling is More Forgiving
The flexibility provided by the water filling allows for a better landing of your punches. Even if your punch is too powerful or at an off-angle, the elasticity prevents your arms, hands, and knuckles from injury. In fact, the upper skin of the water punching bags is shiny and not rugged like the regular heavy punching bags. It means that you can even punch them with 8oz boxing bag gloves. 
Are Canelo Aqua Bags Really Better?
Although Aqua punching bags offer many benefits. But there are two schools of thoughts in boxing. One favors aqua bags while the other favors sand bags. 
Moreover, there is no scientific evidence available that aqua punching bags are better than sandbags. However, claims have been made by the water-bag manufacturing companies about how the aqua bag is way better than the traditional ones. 
The only evidence exists is from experienced professionals and ordinary users who have used both aqua and sand punching bags. Most of them have spoken volumes in favor of aqua bags. There is no doubt in stating that Aquabags gives you a whole different level of training experience. If you are looking for a softer, safer, smoother, and healthier training tool, Aqua Bag is the ideal option for you.
We hope now you have the answer about whether are aqua punching bags are better than sandbags.
FAQs About Canelo Aqua Punching Bags
Can Aqua punching bag absorb punches?
Yes Aqua punching bags can actually absorb punches so you can hang them almost anywhere. They don't move to and fro like the regular sand heavy bags do. The hydrostrike bags are perfect for regular hard striking.
2. Can I hang Aqua Punching Bags to the Ceiling?
Yes, you can hang the aqua punching bags to the ceiling. In fact, with regular hydrostrike punching bags you will get a chain for hanging. You will have to buy the mount separately.