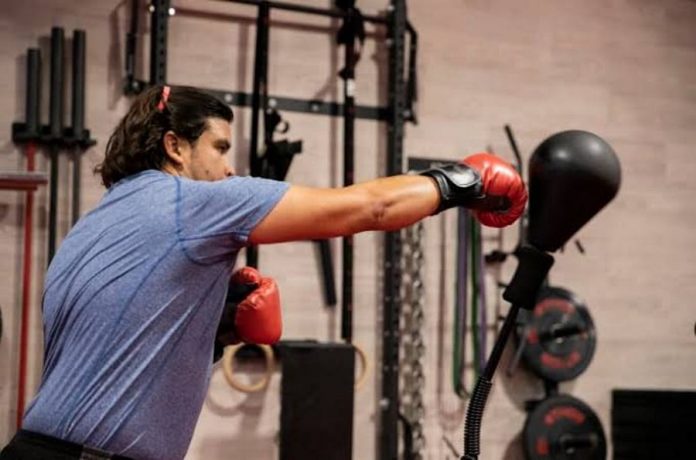 Imagine having a compact-size punching bag as a novice trainer or fitness enthusiast to manage the accuracy, timing, and distance. The Ringside Fitness Reflex Bag has everything to set apart your fitness goals and help you perform daily fitness sessions. 
Considering the design and purpose in mind, this punching bag is unique when compared with other punching bags. It has a different composition which makes it easily accessible to other fitness users and boxing lovers.
Complete Review of Ringside Fitness Reflex Bag
If you're looking for a complete review, you're at the right place. Here's a little bit of information about the Ringside Fitness Reflex Bag regarding its pros, cons, and specifications to help you make the buying decision. Let's jump into the review right away!
Buy Ringside Fitness Reflex Bag Online
---
Pros of Ringside Fitness Reflex Bag
Dynamic Design
This punching bag is ideal for trainers to practice realistic boxing while learning to develop accuracy, distance, and timing. It has a smooth design that mimics the boxing environment and allows the users to adjust the height based on their needs. 
Synthetic Material
It provides lasting durability to fitness users due to its strong body and robust design. The Ringside Fitness Reflex Bag indicates a sharper design with a synthetic leather-made body to extend its use for long hours. It's a perfect solution for beginners to fill the plastic base tank with water or sand and enjoy practicing for a long time.
Portable and Reliable
While this punching bag looks small and steady, it also provides great reliability and portability. Due to its unique lightweight body, it's easier to carry around anywhere at any time without any hassle. It's easily accessible and takes up less storage than other punching bags. Also, it's flexible to use as it has a super-versatile design.
Affordability
The Ringside Fitness Reflex Bag is quite affordable and doesn't cost much when compared to other expensive punching bags. Some of the providers even offer a long-time warranty and low-cost delivery to save your money.
Buy Ringside Fitness Reflex Bag Online
---
Cons of Ringside Fitness Reflex Bag
Limited Training
Expert fitness trainers or boxing champions may not see any worth in this punching bag as it has a compact size and a limited capacity to handle various heavy workouts. Moreover, it has a limited ability to cope up with the punches and sidekicks.
Not Suitable for Experts
The Ringside Fitness Reflex Bag is more suitable for kids and older people than fitness experts. Since experts require more strength training and a stronghold and this punching bag can only provide precision and accuracy to novices.
---
Features and Specifications of Ringside Reflex Bag
Some of its worth-mentioning features and specs include:
Durable Synthetic Leather– This Ringside Bag integrates durable synthetic material to provide durability and a lasting impact.
Adjustable Height– It has a flexible height ranging between 49″ and 69″. 
Plastic Base Tank– The tank is fillable with up to 125 lbs. of water or 140 lbs. of sand.
Weight Capacity- Its assembled weight capacity is 145 lbs.
---
Verdict: Is Ringside Fitness Reflex Bag Worth Purchasing?
The Ringside Fitness Reflex Bag is ideal fitness equipment for fitness enthusiasts and boxing starters. It provides great support to users by helping them maintain accuracy and timing. Compared to other punching bags, it has a compact-size design and a robust mechanism.
However, it isn't feasible for fitness experts as it can provide basic training more than strength training due to its limited capabilities. Overall, it's a cost-friendly punching bag with portable characteristics to move around anywhere you like and want.
So, if you're looking for a punching bag with flexible abilities and training qualities as a starter then this bag is the right choice for you to practice all you want. 
Buy Ringside Fitness Reflex Bag Online