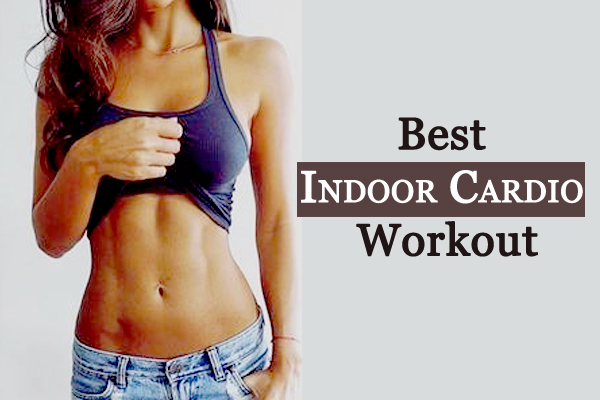 Cardio workout is crucial to transform your body. It isn't possible without some tough exercises. The cardio vascular workout not only trains your body to lift more weights but it also help the body become more nimble and adapt to transformation faster.
If you cannot go to gym, that isn't a problem. If you cannot afford to have a home gym or buy the best quality home gym equipment, that still isn't a problem until and unless you are devoted to losing weight and devoted to getting yourself fit and healthy.
Below is a list of the Best indoor exercises without equipment
The list includes burpees, crunches, jumping jacks, pushups and squats and all the exercises you will need to stay fit while working out at home and without any special home gym workout equipment.
INDOOR CARDIO WORKOUT
30 JUMPING JACKS
5 PUSHUPS
25 HIGH KNEES
7 BURPEES
10 CRUNCHES
7 SQUATS
5 PUSHUPS
10 CRUNCHES
5 PUSHUPS
7 SQUATS
30 JUMPING JACKS
1 MINUTE WALL SIT
5 PUSHUPS
25 HIGH KNEES
Repeat 3-5 times
This is the core exercise routine for indoor exercises that can be done without any equipment. If you only try this routine daily and repeat it 3-5 times, you will start to grow muscles without any professional help. So, what are you waiting for? Still, looking for a more simple routine to follow? There isn't available.
Listen, fat-burning indoor cardio exercises require hard work and this is only possible if you follow the routine that I have mentioned above.
Can you lose weight with indoor exercise?
The best way to lose weight fast and effectively is by performing the HIIT (High-Intensity Interval Training) workouts. These workouts save time and are easy to do. besides they burn fat intensly fast and the best thing about them is that you don't need any advanced workout equoipment to do them.
Below are the benefits of HIIT workouts:
Save time on exercising. The HIIT workouts can be done in less than 30 minutes
Fat burn fast. The body always stays in high-caloric burning state because of the routine you follow. This is even faster burning ratio than running 30 minutes straight.
No equipment needed. HIIT utilizes body weight for exercises therefore no need to buy any equipment for your gym
Improved heart health: bimproves the heart-rate and provides complete cardio workout for flexibility
Increases your metabolism. These HIIT workouts increase the production of HGH (Human Growth Hormone) that are responsible for improving the metabolism and they also make you look younger.
Can indoor exercises burn calories?
Any type of exercise is great for our bodies. But we all know that workout routines do not work as well as we want them to, especially when we are working towards losing weight. But there is one intense workout routine known as the HIIT workout routine that can benefit you a lot. Many people aren't aware of the HIIT routines and how effectively they can help people burn calories and lose weight.
They only require around 20 minutes of the user's time and only five days of workout is enough to make people shredded. The best thing about HIIT workouts is that these trainings are intense and will burn calories even faster than working on a treadmill for an hour. Some scientific communities have even proved this notion.
Still, people have mixed option about it. But for us, we think those who don't want to buy equipment for home gym and want to transform their bodies without any gym equipment should try the Indoor Cardio Workout exercise routine.
Read more:
What are the best gloves for parkour and should you wear them?
Best Mini Stair Stepper Exercise Machine Reviews
Best TKO Punching Bags – Reviews, Features & Prices