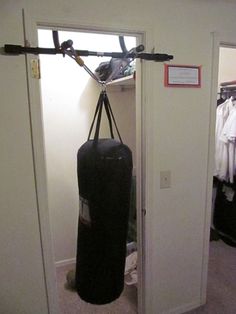 The workout is so much necessary as we all have to get some sort of extracurricular activity for the strengthening of our bodies. Without these activities, we will become dull and weak and won't be able to perform our duties properly. On top of that, we will get health problems that will weaken us further.
One of the best exercise or workouts that anyone can do within ten minutes is boxing on a punching bag. The punching bag based workout can help you in many ways to provide satisfaction, relief, and most importantly takes out the frustration.
Following are the Six Benefits of Punching Bag Training Everyday and workout routines to follow.
Punching Bags Remove Stress
One of the best benefits of a punching bag workout is that it provides stress relief to the individual. Suppose your boss was mad at you and he gave you tons of work. You are stressed out with all the work piled on your desk. There is no way to take your anger out except to punch a wall or a bag. Then why don't you?
Punching bags are made to help you get over your anger issues.
Even research says that punching bags are great to help you keep physically and mentally fit.
If you are doing it in the right way and on daily basis, then you can get rid of so many tensions and anxieties by putting out your stress on the punching bag.
Punching Bags Build Physical Strength
When you are performing boxing on a punching bag, your upper and lower body is engaged in the routine. And, according to statistics you burn more fat when you are hitting a punching bag then throughout you one week of walk. So, what is better? Walk or Punching bags?
Not everyone can do punching but if they learn it, they can easily do it.
Punching a boxing bag is similar to actual combat in which you hit another human. The good thing is that with a punching bag you are actually practicing real life combat training. So, it is great for real scenarios and building physical strength of the body.
•    Punching Bags Improve Body' Shape
When you use the punching bag, your upper and lower body get better, faster, and tough. It will help you get solid and you won't be hurt by small things because the body will start to cope with that by itself.
Punching is hard in the beginning, but once you get the hang of it, it will be great workout routine for staying fit, healthy and practicing actual combat.
One of the benefits of using a punching bag everyday is that your stamina is being tested all the time. In the beginning, you may feel it so tiring but day by day, you will feel the improved body strength and increased stamina as well.
So, keep moving while working out with upper cut, lower jab, and so on… This unintentionally helps to get your body in shape. When you will perform this punching bag workout or boxing workout, you will have a smart and well-shaped body.
•    Punching Bag Makes Fists Iron-Strong
In the beginning of your workout, you may find it difficult or painful but when you keep on punching the bag on a regular basis you will get better at it. This means stronger fists. They are great when you want to train harder and you can then show that to your friends.
These also come in handy in actual combat, but we won't be discussing that here. Just know that stronger fists can help you in many ways.
Please note: Be sure to do it in the right way, otherwise, you may fracture your wrists.
Punching Bags are Low Cost Fitness Activity
The best thing about using a punching bag for workouts is that it is a low cost activity and requires minimal skills to start. You can learn on the way. The only things needed to start punching bag workouts at home are
A punching bag

Pair of gloves

A punching bag stand
And you are good to go. In fact, you can replace your regular workout program with the punching bag based workout routine.
Punching Bags Help with Combat Preparation
One reason that I have already discussed above is that by punching a boxing bag on a regular basis you prepare yourself for actual combat.
The punching bags pretty closely resemble the human body. By punching them regularly you know how hard you need to punch to make an impact on someone's body. This not only make you more aware and combat-ready, but it also helps you ascertain the accuracy of your punches.
Punching Bags Increase Defensive Skills
Let's suppose the bag is swinging towards you. You slip to the side and it passes right beside you. Similarly, if the bag swings toward you you can hit it three fast hooks. There are multiple variations you can try to increase your defense. That's how you increase your defensive skills.
•    Punching Bags Provide a Great Experience
No matter what exercise we perform at our home or at the gym, we see the results sooner or later. Just like that, the punching bag is a great workout which comes out to be so much fruitful in form of many benefits like, increased stamina, fat burning, and power etc.
---
Types of Punching Bag Boxing Routines to Try:
Here are few ways in which you can use punching bags to increase your physical fitness. Increase your stamina by using punching bags each day.
Before punching on a real bag try to do shadow boxing with the correct stance. This will help you punch on the target when you start with the punching bag.
During workouts, try to practice breathing. The better you breath the more punches you can deliver and with more impact.
Throw all punches from fighting stance
Stance is crucial during boxing. If you don't have the correct stance, then you will end up hurting yourself.
David Robson has some great tutorials here.
Also Read:
Best Books to Exercise at Home without Equipment
Five Amazing Benefits of Home Gym to Make You Start One Today
Five Best Books Every Free-Runner Should Read
Summary
Article Name
Benefits of Using a Punching Bag Daily
Description
Here are some of the greatest benefits of hitting a punching bag on a daily basis.
Author